Jean-Baptiste Nini (1717–1786)
France, 1777
Terra-cotta, Height 5 3/4"
Courtesy of Nathan Liverant and Son;
Research and text by Kevin J. Tulimieri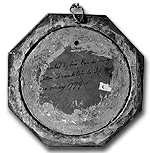 At 71 years of age, Benjamin Franklin embarked on the most important adventure of his long and illustrious career. In December 1776, Franklin left Philadelphia and traveled to Paris, France, in an attempt to encourage King Louis XVI to support America's fight for independence.

Welcomed by the leading French thinkers such as Voltaire, Franklin was revered as the embodiment of practical wisdom. Franklin immediately became a sensation among the highest levels of French society. Although he gained wide acceptance at the Court of Versailles, an official treaty of alliance with France was difficult to obtain, as the king was reluctant to get involved with a cause that seemed to be up against overwhelming forces.
It was during this difficult period of negotiations that Franklin met the passionate 29-year-old Major Jonathan Loring Austin (1748–1826) from Massachusetts who brought him very important news from America. Born in Boston, Austin graduated from Harvard in 1766 and quickly became a successful merchant in Kittery, Maine. By 1775, Austin had established himself as a major in a New Hampshire volunteer regiment and later earned his spot with the Massachusetts Board of War.

Franklin's biographer, James Parton, wrote: "Few men have won immortality more agreeably than Mr. Austin, the bearer of dispatches who brought to Paris this tremendous intelligence." The valuable information Austin brought to Franklin related to the important details of the capture of General Burgoyne's Army at Saratoga on October 17, 1777. Secretary of the Massachusetts Board of War, Austin was appointed special messenger and left Boston on October 31, 1777, to give Franklin the splendid news.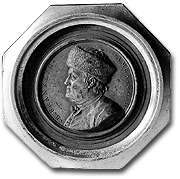 On December 4, 1777, Austin arrived at Passy, a small suburb outside Paris. He was greeted by Franklin and a host of American and French dignitaries, including Silas Deane, Arthur Lee, and the Count de Beaumarchais. Franklin's biographer captures the exciting moment when the group learned of the news: "When Mr. Austin's chaise was heard in the court, they went out to meet him, and before he had time to alight, Dr. Franklin cried out: 'Sir, is Philadelphia taken?' 'Yes, sir,' replied Austin. Upon hearing this Dr. Franklin clasped his hands, and turned as if to go back into the house. 'But sir,' said Austin, 'I have greater news than that. General Burgoyne and his whole army are prisoners of war!' The effect was thrilling, electric, overwhelming, indescribable….The envoys and Mr. Austin hastened into the hotel and spent the rest of the day in reading, copying extracts, and writing dispatches, Austin himself being pressed into the service to assist. 'The news,' said Mr. Deane afterwards, 'was like a sovereign cordial to the dying.' Beaumarchais, who had for several days in an agony of despair, feeling himself to be on the brink of irrecoverable ruin, was almost beside himself with joy. He straightway ordered his carriage and drove towards Paris with such a furious pace, that the vehicle was overturned and one of his arms dislocated."

Franklin invited Austin to stay with him while he was in Paris, and the two became close friends. In the spring of 1778, Franklin decided to send Austin on a secret mission to London to inform the British opposition on the state of affairs in America. Franklin prepared papers of introduction for Austin and arranged a place for him to stay. Austin was welcomed into English society and lodged with the Earl of Shelburne. He attended Parliament often and even had dinner with the king's own son, the future King George IV.

Austin's stay in London was cut short as the French Crown announced its alliance with Franklin and the American Colonies. Austin returned to Philadelphia in May 1779 and registered a memorial with the Continental Congress to be reimbursed for expenses. On June 10, 1779, Austin had returned to Boston and penned a letter to his new friend, Dr. Franklin: "Sir, I cannot omit the present favorable Opportunity by Capt. Thompson, who proposes going himself to Paris, to return your Excellency my most sincere thanks for the many Civilities you were pleased to honor me with while in France—The important news I had the Honor of caryying [sic] to Passy, which operated so favorably in our Country, the Disposition of all ranks of People, their Attachment to our Cause, added to the Confidence reposed in me by the Commissioners, in employing me so near their Persons [sic], render'd my Stay in France very agreeable." Austin goes on in the letter to inquire about future employment in France, with Franklin or any of his friends. Franklin's polite reply was that there were no positions worthy of his acceptance at the time.

Franklin's affection for Austin, and the "tremendous intelligence" that he delivered, continued for the rest of the statesman's life and is reflected in the gift of this terra-cotta portrait, which he inscribed to Austin.