by Dan L. Monroe


The Peabody Essex Museum in Salem, Massachusetts, is one of the oldest museums in the country and the first in New England. It was opened in 1799, just sixteen years after the founding of the nation, and nearly three quarters of a century before the establishment of the Metropolitan Museum of Art in New York and the Museum of Fine Arts in Boston. The museum has recently completed a $125 million transformation, reaffirming the vision of its founders.

The museum was the inspiration of local entrepreneurs who collected works of art and culture from their maritime ventures overseas (Fig. 1). Convinced that America must take its place among the world's great nations, they established a museum to display their treasures and increase knowledge and appreciation of art and cultures dramatically different from their own. To this end, they provided visitors with experiences that engendered international perspectives rare for their time.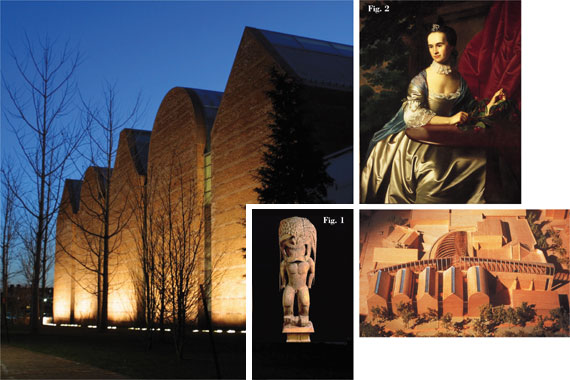 Fig. 1: Kukailimoku, late-18th-century/ early-19th-century breadfruitwood. Hawaii. Courtesy of Peabody Essex Museum. Fig. 2: Sarah Erving Waldo by John Singleton Copley (1738-1815), ca. 1765. Oil on canvas. Courtesy of Peabody Essex Museum. Bottom Right: Architect's model of the $125 million transformation, and the new building.


By 1821, the museum founders recognized the need to pay homage to their own history and began to collect American art and material culture from New England (Fig. 2). Historically minded proponents of the museum served as pioneers in our nation's preservation movement by later expanding to include architectural elements and buildings, the first being the John Ward House in 1910. As a result, now more than twenty historic properties, including four National Historic Landmark buildings, offer period house installations from three centuries. Toward the end of the nineteenth century, John Robinson, with the museum's director Edward Sylvester Morse, began the first systematic collection of maritime art and culture, making the Peabody Essex the first museum in the nation to do so.


Fig. 3: Vertical Vase #5, Sidney R. Hutter, 1997. Cut and polished glass. Courtesy of Peabody Essex Museum.


Generations of dedicated collectors, scholars, staff, and trustees have continued to build the collections in keeping with the changing ideas, values, and conditions of our country. The collections they amassed are exceptional for their provenance, age, quality, and significance, and include art from China, Japan, Korea, and India; Oceanic and Native American art; African and African-American art; American decorative art (Fig. 3), folk art, portraits, and costumes; maritime art; photography; and architecture and design.

Though these holdings are of superlative quality and scope, the majority of them have never been adequately displayed. For the first time in its history, the Peabody Essex Museum will be able to showcase all of its collections, some of which are among the finest of their kind in the nation.

The building, which opened June 21, 2003, was designed by world-renowned architect Moshe Safdie. Twenty-six new or redesigned galleries, encompassing 250,000 square feet, feature the museum's collections, some of which are highlighted in the following articles. In addition, the 200-year-old Yin Yu Tang merchant's house from rural China has been reassembled and is presented as part of the transformed museum. The museum now has one of the largest suites of galleries on the East Coast dedicated solely to changing exhibitions, along with a new 190-seat auditorium and a spacious art education center called Idea Studios.


The new Peabody Essex Museum integrates art and culture in ways not found elsewhere. To view the expanded and improved museum and collections, visit daily 10:00 a.m. to 5:00 p.m., Thursday 10:00 a.m. to 9:00 p.m. For more information, call 987.745.1876 or visit www.pem.org.

Dan L. Monroe is Executive Director and CEO of the Peabody Essex Museum.