by Bruce MacLaren


As part of the recent transformation of the Peabody Essex Museum, a suite of galleries devoted to art and culture from India, China, Korea, Japan, and Southeast Asia has been inaugurated. The new exhibition spaces will present these collections in an innovative way, displaying examples of historic Asian export and domestic arts alongside expressions of contemporary art and culture.


Fig. 1 (top): Yin Yu Tang facade. Courtesy of Peabody Essex Museum; photography by Cheng Shouqi.

Fig. 2 (above): Teapot, early 20th century, Anhui or Jiangxi province. Porcelain with overglaze and inscription (The nature of stone is to be unyielding and thus [it] is my real friend. Bamboo, empty within, is [modest] thus [it] is my teacher). Inscription further notes that the teapot was a gift in 1902 from a Mr. Cheng Huan to his cousin, Huang Zizhi of Yin Yu Tang. Courtesy of Peabody Essex Museum; photography by Jeff Dykes.


The new galleries mark an evolution in direction for the museum, which has a distinguished history of collecting and displaying works of East Asian art since its founding in 1799. Long famous for its outstanding collections of Asian export art, the museum is now placing greater emphasis on exhibiting the domestic arts of Asia.

Yin Yu Tang
Several exhibitions and galleries highlight Chinese art, but one of the most exciting elements of the new museum is Yin Yu Tang,1 a merchant's house (Fig. 1) from the late Qing Dynasty (1644-1911). From southern China's Anhui province, Yin Yu Tang is the only structure of its kind in the United States. Situated on the museum campus, it stands as a finely crafted example of vernacular Chinese architecture. It also affords a unique opportunity for cultural understanding. Enriched with a wealth of documents, letters, possessions (Fig. 2), and family histories, Yin Yu Tang opens a window on the changing lives, values, and traditions of its inhabitants over the course of two hundred years; from the intricately carved latticework announcing the affluence of the first owner to inscriptions chalked on the walls that echo slogans from the Cultural Revolution of Mao Zedong. An interpretive gallery adjacent to the house provides further insight into the family, the house, and the village with interactive examples of complex architectural joinery, short films of the region, and family photographs.


Photography

Fig. 3 (bottom): Island Pagoda by John Thomson (1837-1921), 1870-1871. Carbon print. Peabody Essex Museum, Salem, Mass.


Fifty-two photographs from the museum's collection of 15,000 can be seen in Masterpieces of Asian Nineteenth-Century Photography, the inaugural installation in the museum's new permanent photography galleries. Among the early photographs in the exhibition from China, Japan, India, and Tibet are portraits and rare prints of Buddhist temples, early urban settings, and grim battle scenes. The work of well-known photographers Felix Beato, John Thomson (Fig. 3), Milton M. Miller, and William Saunders and others is also featured. Much of the photography collection came directly to the museum as contemporary works, the result of the prescient visions of collectors Thomas Franklin Hunt (1841-1898), Albert Farley Heard (1833-1910), Charles Goddard Weld (1857-1911), and Edward Sylvester Morse (1838-1925).


Japanese Gallery
The newly installed Japanese art gallery will present one of the world's largest such collections outside Japan in a fresh approach, concentrating on aesthetics, the Japanese love for nature (Fig. 4), aspects of spirituality, and entertainment. Recently acquired works join those donated by nineteenth-century collectors such as Edward Sylvester Morse, an early museum director who contributed greatly to the understanding of Japanese culture in the United States. Contemporary art, including works by ceramic artists and printmakers, will also play a role in the installation. Visitors to the new gallery can look forward to seeing ceramics (including examples of seventeenth-century Arita ware), lacquerware, metalwork, netsuke, screens, masks, and woodblock prints, as well as changing installations of scrolls and flower arrangements that will be exhibited in the custom-built tokonoma display alcove of the type found in Japanese reception rooms.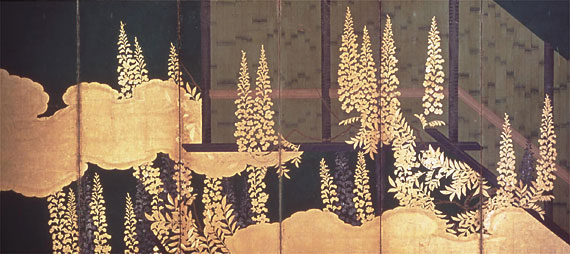 Fig. 4: Wisteria at Dusk, folding screen, Hasegawa School, Japan, 17th century. Ink, colors, and gold on paper. Courtesy of Peabody Essex Museum; photography by Jeff Dykes.


Drawing on the museum's ever-expanding collection, the new gallery will continue to focus on aesthetic distinction as a vehicle for understanding and experiencing Japanese art and culture. For example, the gallery will regularly pair objects that came to the museum under Morse's guidance with more recent acquisitions that display the same qualities of intricacy, refinement, simplicity, or splendor. Future plans call for taking Morse's initiative in new directions to explore video arts, multimedia works, and other modern Japanese artistic expressions.

Korean Gallery
The Yu Kil-chun Gallery, named for a member of the first Korean delegation to the United States (1883), honors one of the founding donors to the museum's collection of Korean art. By focusing on Yu Kil-chun's important early donations, the gallery explores two principal functions of nineteenth-century Korean art: to elevate the secular world and to communicate with the sacred. Works from the royal court, the gentry, and the emerging middle class exhibit a range of forms and techniques, including exquisitely painted screens (Fig. 5), neatly embroidered textiles, and elegant porcelains.


Indian Art

Fig. 6: Durga by Bikash Bhattacharjee (1940-), 1985. Oil on canvas. 41-1/2 x 39-3/4 in. Courtesy of Peabody Essex Museum; photography by Jeff Dykes.


The Peabody Essex Museum has been acquiring contemporary Indian art for 200 years, and the recent gift of the Davida and Chester Herwitz collection makes a wonderful addition to the museum's holdings. The collection, which will be shown in changing exhibitions in a new 2,800-square-foot gallery, encompasses more than 1,000 works from the second half of the twentieth century and includes masterworks by M. F. Husain, Manjit Bawa, Tyeb Mehta, and Ganesh Pyne, as well as works from younger artists such as Atul Dodiya, Rekha Rodwittiya, and Ravinder Reddy. A variety of media, including oil painting, works on paper, and sculpture, testify to the energetic, diverse, and inventive pool of artists that attracted the Herwitzs' attention (Fig. 6).

South Asian Collection
Next to the gallery of contemporary Indian art is the new South Asian gallery. The first exhibition explores the theme of "Heroes, Guardians, and Saviors." Drawing on a collection of several thousand objects, the museum will showcase images of Mahatma Gandhi, Mother Theresa, Hanuman, and other cultural icons that reveal a broad array of creative influence and artistic patronage in India.


The new Asian galleries at the Peabody Essex Museum are a tribute to the remarkably diverse and dynamic cultures of China, India, Korea, and Japan, and the museum's exhibition schedule underscores its continuing dedication to Asian art. Now in its third century, the profound relationship between the museum and Asia is illuminated in a provocative redesign that honors the importance of the museum's export art collection while challenging it with new ideas drawn from the most contemporary expressions from these cultures.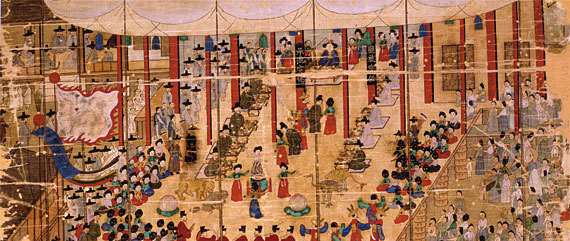 Fig. 5: Banquet for the Governor of Pyeong-an, detail of third panel of eight, Korea, 19th century. H. 128 cm, W. 58 cm. Colors on silk. Courtesy of Peabody Essex Museum.


Bruce MacLaren is Assistant Curator of Chinese Art at the Peabody Essex Museum, Salem, Massachusetts.


---

Yin Yu Tang translates to "hall of plentiful shelter."