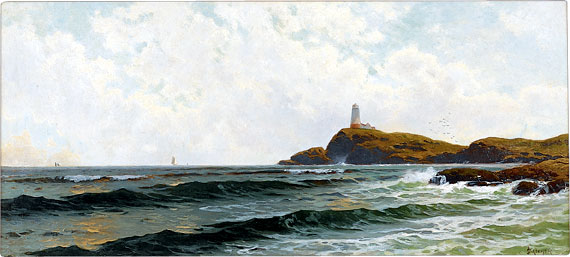 (American, 1837–1908)
White Island Lighthouse, Isle of Shoals
Circa 1883
Oil on canvas, 15 x 33 inches
Courtesy of Godel & Co. Fine Art, Inc.

Born in New Hampshire, A. T. Bricher grew up in Newburyport, Massachusetts, and in the 1850s studied art at the Lowell Institute in Lowell, Massachusetts. By the 1860s he was a Boston neighbor of Martin Johnson Heade (1819–1904). Their relationship is vague; however, it is known that before taking a studio near Heade, Bricher concentrated on Hudson River School landscapes, but afterwards shifted his gaze toward the sea in a most Heade-like manner. Another contemporary was Winslow Homer (1836–1910), who also devoted much of his work to showing the ocean in its various moods. Like many New Englanders, all three artists moved to New York City seeking a better economy, but each never forgot the rocky shores of his native land, returning again and again, on canvas if not in person.

This painting exhibits stylistic qualities most likely dating it to the early 1880s, after Bricher's move to New York City. Furthermore, the work lacks the patented 1885 Aaron Draper Shattuck stretcher keys found on all later examples by the artist. Additional research has revealed that Bricher exhibited a medium-sized painting at the Brooklyn Artists Association in 1883 titled White Island, Isle of Shoals. The seascape above, of the same subject and period, recently resurfaced in a Long Island collection.