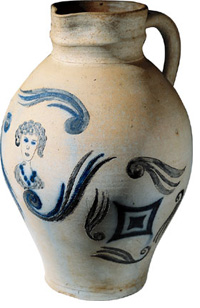 Probably western Pennsylvania, circa 1860–1880
Approximately three gallons in size
Courtesy of Allan Katz Americana; private collection.

This pitcher has incised decoration of a woman's bust surrounded by abstract floral and geometric motifs, all filled in with the highly unusual combination of cobalt blue and manganese brown.

Probably made as a presentation piece in a western Pennsylvania potter's shop, this purposely unglazed pitcher is a remarkable piece both for its large size and uncommon decoration.