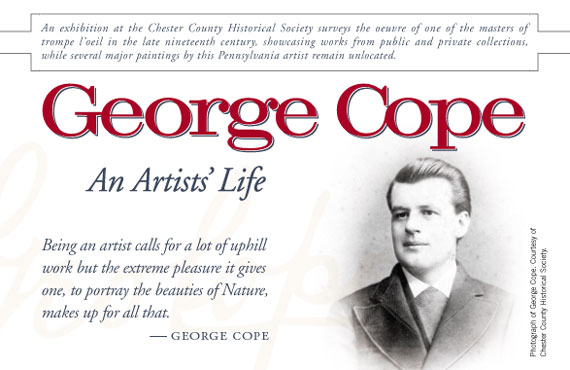 by Gertrude Grace Sill

George Cope (1855–1929) was an artist who stayed close to home. He began his career painting the lush Brandywine River Valley landscape in Chester County, Pennsylvania, and its wildlife and architecture. He later explored realism in highly detailed trompe l'oeil (literally translated, "fool-the-eye") and in still lifes of favorite objects from the homes of his neighbors and patrons.

| | |
| --- | --- |
| | |
| | |
| Fig. 1: Landscape East Brandywine from Sconnelltown, 1925. Oil on canvas, 171/2 x 253/4 inches. Private collection; courtesy of Chester County Historical Society. | |

One of six brothers, Cope was born on his Quaker family's farm in East Bradford, near West Chester and Chadds Ford, about forty miles from Philadelphia. His mother, Lydia Eldridge Cope, was an accomplished artist; his father, Caleb, was a poet whose work was often published in the Daily Local News of West Chester. A tall, handsome, and soft-spoken young man, Cope excelled as a hunter, fisherman, and outdoorsman. Often occupied by sketching instead of studying, he quit school in 1873.

At the Philadelphia Centennial of 1876, Cope met German-born landscape painter Hermann Herzog (1832–1932), who became his lifelong friend and only teacher. The pair often took sketching and hiking trips in the Pennsylvania countryside. Cope's Landscape with Two Horses (1883; Chester County Historical Society) is very similar to Herzog's work in both composition and style (Fig. 1). The brushwork is loose and feathery, the drawing firm, the composition well balanced, and the colors pure and realistic.


| | |
| --- | --- |
| | |
| | |
| Fig. 2: Landscape with Two Horses, 1883. Oil on canvas, 22 1/2 x 181/2 inches. Courtesy of Chester County Historical Society. | |
Acting on an urge for adventure, Cope traveled to the Western frontier in 1876 and 1878. Small, precise pencil sketches are vivid souvenirs of the trips. Many of these sketches were given by local residents to the Chester County Historical Society. Philadelphia's lively art and social scene eventually attracted Cope to the city. Around 1880 he moved into a studio there to offer painting lessons and sell his own work. He focused on landscapes, sporting and hunting scenes, animal portraits, and local architectural subjects. In 1883 Cope married Theodosia Blair. After a wedding reception that he described as "splendid throughout" was held at the Mansion House in West Chester, the couple lived in a rented house on the outskirts of town. The following five years saw a steady production of paintings from Cope's West Chester studio. He began to sign his work Geo. Cope in a bold black hand at the lower right or left of the canvas.

Landscape East Brandywine from Sconnelltown (1925; private collection) and its accompanying pencil drawing illustrate Cope's working method (Fig. 2). He first made a large, detailed pencil sketch on site, then transferred the image to oil on canvas in his studio. He sold his paintings by placing them in West Chester shop windows, or by advertising them in the local paper.
| | |
| --- | --- |
| | |
| | |
| | Fig. 3: Hunter's Paraphernalia, 1887. Oil on canvas, 451/2 x 321/2 inches. Courtesy of Schwarz Gallery of Philadelphia. |
Cope's big break came when Major Levi Gheen McCauley, a prominent West Chester businessman, politician, and Civil War hero, commissioned him to paint "an exhibition hanging picture" in 1887. The subject was the major's Civil War regalia—swords, cap, belt, pistol, holster, sash, canteen, and two important military medals—all rendered in exact scale and in vivid realistic color. This was one of Cope's first ventures into the illusionism of trompe l'oeil. Earlier in the year he had painted Hunter's Paraphernalia (Schwarz Gallery of Philadelphia), a grouping of hunting gear set against an old oak door, in the same style (Fig. 3). "Mr. Cope has only recently given his attention to this class of subjects and his progress is certainly marked and very praiseworthy," noted the Daily Local News of West Chester.1

Cope may have been inspired by William Harnett's (1848–1892) After the Hunt (1885; Fine Arts Museum of San Francisco), which at the time was a popular trompe l'oeil trophy-subject painting. Harnett, an Irish-born Philadelphian primarily known for his innovative, very American-themed trompe l'oeils of money, stimulated a group of followers that included Jefferson David Chalfant (1856–1931) and John Frederick Peto (1854–1907). Like these contemporaries, Cope probably viewed Harnett's work at exhibitions in the city. He may have also been aware of paintings in this tradition by earlier Philadelphia artists such as Raphaelle Peale (1774–1825), as well as European precedents in Renaissance and baroque art.


| | |
| --- | --- |
| | |
| | |
| Fig. 4: The Civil War Regalia of Major Levi Gheen McCauley, 1887. Oil on canvas, 50 x 36 1/2 inches. Photography by Greg Williams. Courtesy of the Art Institute of Chicago. | |
Bailey, Banks and Biddle, Philadelphia's leading jeweler and purveyor of "fancy goods," exhibited The Civil War Regalia of Major Levi Gheen McCauley (Art Institute of Chicago) to enthusiastic crowds in 1887 (Fig. 4). This public recognition was a great accomplishment for Cope and propelled him to national recognition. Pleased with the reaction, Bailey, Banks and Biddle then commissioned a large game painting titled A Little Luck (1888; location unknown). The Daily Local News reported:
It was placed on display in the large show window of Bailey, Banks and Biddle. It is regarded as one of the very best pictures they have had the honor of displaying to the public gaze in some time. It is a grouping in a real artistic style of a ruffled grouse and two partridges against an old green door.
The apogee of Cope's career came in 1894 when Senator A. J. Burke of Philadelphia commissioned him to paint a grouping of Buffalo Bill Cody's hunting gear (Cope and Buffalo Bill had become friends during the latter's residence in Cochranville, Pennsylvania). The composition—at 4H feet by 7 feet—was Cope's largest and most ambitious painting. A Daily Local News critic wrote, "…the subject is the hunting jacket, rifles, hat, lariat, etc.…of Buffalo Bill. The jacket is exceedingly fine in handling and close to the thing itself."
Local residents were invited to see the work-in-progress in Cope's studio. In April 1885, Buffalo Bill's Traps was exhibited at Earl's, Philadelphia's premier art gallery. In testament to the painting's realism, a railing had to be erected in front of it to
prevent crowds from touching the canvas. The painting was then shipped to Buffalo Bill in New York City and installed in the Hoffman House, a hotel known for its collection of American trompe l'oeil paintings. The work is now known only through photographs. A similar painting, A Hunting Outfit, exhibited in 1903 at Wanamaker's department store in Philadelphia, is also unlocated.

| | |
| --- | --- |
| | |
| | |
| | Fig. 5: Still Life, 1909. Oil on canvas, 19 x 23 inches. Courtesy of Chester County Historical Society. |
Smaller still life paintings, many commissioned by West Chester patrons, became Cope's most popular works after 1905. They often incorporated flowers, fruits, cakes, books, and china from the patron's home. Cope adopted a new hard-edge style, with the objects set against dark backgrounds and rendered in bright colors (Fig. 5).

During World War I, Cope helped the war effort by working on area farms, while continuing to paint. His commissions, and subsequently his income, dropped off. In good weather he would peddle wildflowers and vegetables door-to-door, shyly offering for sale a small painting hidden beneath them. Dr. Henry Pleasants, a local physician
and friend, amassed a sizable collection of Cope's work.


On January 15, 1929, Cope stopped by his doctor's office. Dr. Pleasants later reported, "I raced back to the office, and there sitting on the long leather couch was the dear old fellow. A peaceful smile, inspired by his paintings which were all about him, still
lingered on his worn features, but his last breath had fled."2

The artist was buried two days later in the Oakland Friends Cemetery in West Chester. His spirit, skill, and versatility lives on in the collection of the Chester County Historical Society, in local homes, and in major American museums
and private collections.

Approximately 50 works are on view in the exhibition George Cope: An Artist's Life, organized by curator Ellen Endslow, from May 1, 2004, through January 2005 at the Chester County Historical Society, 225 N. High Street, West Chester, Penn.
An illustrated booklet with an essay by Gertrude Grace Sill, from which this text is adapted, is available. For more information,
call 610.692.4800.

Gertrude Grace Sill, an art historian with a special interest in nineteenth-century American trompe l'oeil, has written and lectured widely on George Cope. She was curator of the exhibition titled George Cope: West Chester's Home Artist at the Brandywine River Museum in Chadds Ford, Penn., and the author of a catalogue and master's thesis of the same name. A graduate of Smith College and Wesleyan University, she recently retired as an adjunct professor at Fairfield University. She is presently writing a book on trompe l'oeil painter John Haberle.

---
1. All quotes used are from contemporary reviews in the Daily Local News of West
Chester, Penn., unless otherwise noted.

2. Four Great Artists of Chester County (Chester County Art Association, exhibition catalogue, 1936).