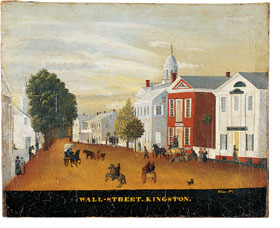 Signed Stone, PT
Circa 1830
Oil on canvas, 16 3/4 x 20 3/4 inches
Courtesy of David Wheatcroft Antiques

When I purchased this painting I knew nothing about its historical significance but was attracted by its appeal. The signature "Stone, PT" was unknown to me as were the names on several of the trade signs in the painting. These trade signs, however, were the first clues to some of the painting's history. Through research I discovered that The Ulster Palladium printing office sign illustrates the offices of Kingston, New York's early newspaper, and the I.S. Smith Hardware store was the property of Joseph Smith, an important and early businessman in Kingston. Both Smith and Levi M. Osterhoudt, whose tailor shop sign also appears in the painting, advertised in the Ulster Palladium in the 1830s. This early publication also provides the answer to the artist "Stone, PT" (the PT possibly referring to the Latin, pinxit). Nirem Stone, in conjunction with his partner, Benjamin Cooley, advertised his services as "an ornamental house, coach and sign painter, one door west of J.S. Smith's Ulster County Store" in the June 1st and 15th issues of the paper.

Given the shop locations identified in the Palladium's advertisement, we can safely assume that this street scene approximates the view of Wall Street outside Nirem Stone and Benjamin Cooley's shop. The image was likely painted either as an advertisement of their services or was commissioned by one of the business owners whose establishments are portrayed.

Nirem Stone is listed in the 1830 New York Census, living with his wife and three children in Kingston, New York.

In addition to the information regarding the history of this work, it was also discovered that in 1903 the painting was published as a postcard copyrighted by Herman Gould Smith. It is quite possible that there is a good deal more to learn about this painting and its lively inhabitants, but for now we are pleased to have discovered so much.