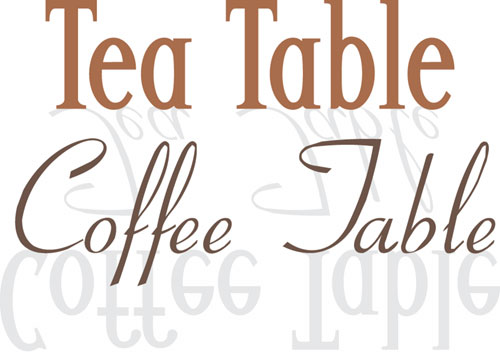 | | |
| --- | --- |
| | |
| | |
| | Fig. 1: Tea table, Philadelphia, Pa., ca. 1765–75. Mahogany. H. 28 1/2, Diam. 36 1/2 in. Courtesy of Chipstone Foundation, Milwaukee, Wis.; photography by Gavin Ashworth. |
I
n today's age of ubiquitous Starbucks cafés and trendy tea houses, it is impossible to overlook the central role that hot caffeinated drinks play in our daily lives. Over the four and a half centuries since Europeans first became entranced by the hot liquids of the Orient, tea and coffee have not only transformed our public streetscapes but also our homes, with each drink inspiring a new type of table—the tea table in the 1720s and the coffee table in the 1920s. Both forms became vital features in the American domestic interior and, despite being invented 200 years apart, the tea table and the coffee table share remarkable similarities in the ways they were designed and used.

| | |
| --- | --- |
| | |
| | |
| | Fig. 2: Coffee table, Paul T. Frankl (American, b. Austria, 1887–1958), 1945. Lacquered cork and mahogany. H. 14 1/2, W. 47 1/2, D. 35 1/2 in. Courtesy of Milwaukee Art Museum; purchase, by exchange; photography by John R. Glembin. |
Americans used tea tables and coffee tables for countless activities other than imbibing their namesake beverages. The monikers were never intended to prescribe the function of the tables but rather to evoke up-to-date stylish entertaining. In their respective eras, tea and coffee were hot, invigorating drinks with significant cultural cachet. Tea was becoming affordable to middle-rank Americans in the 1720s and 1730s, and those who were able embraced the exotic drink so wholeheartedly that they splurged on ceramic and silver tea pots, cups, trays, spoons, and tables to serve tea in style. The earliest tea tables, which featured rectangular molded tops, were joined in the eighteenth century by "pillar-and-claw" tea tables with circular tops, central pillars, and tripod feet. Likewise, the coffee table became the centerpiece of modern socializing in the 1920s and 1930s. Previously associated with cosmopolitan restaurants, coffee was becoming a mainstay of the daily American diet. In small city apartments as well as suburban homes, upholstered sofas and chairs circled around the low-lying coffee table where wives informally served cups of coffee to family and neighbors. Its knee-height surface came in a wide variety of styles from streamlined to colonial revival, but regardless of appearance, the coffee table encouraged a casual hospitality that helped define modern living. While tea and coffee drinking may seem like an exclusively modern trend, these hot caffeinated drinks have been changing American homes for many years.

| | |
| --- | --- |
| | |
| | |
| | Fig. 3: Tea table, Philadelphia, Pa., 1720–1730. Walnut and cherry. H. 27, Diam. 31in. Courtesy of private collection; photography by Gavin Ashworth. |
The Tea Table
While tea, coffee, and, to a lesser extent, chocolate all became fashionable hot drinks in seventeenth-century England among those who could afford the scarce imported beverages, tea enjoyed more widespread popularity in the eighteenth century. Tea gained its prominence in large part because the British East India Company negotiated trading rights with Canton merchants in 1713 and the prices for various types of the leaf fell continually over the following decades. Tea soon became the drink most commonly served at social gatherings in the homes of middle- and upper-rank English, and later, Colonial families. Parties in the parlor and drawing room took on increased significance in the early eighteenth century as the luxury of leisure time became more widely enjoyed and non-elites assumed their own brand of civility and polite discourse. Women generally played hostess and increasingly chose tea as their preferred hot caffeinated drink because coffee was already associated with the male business culture that had sprung up in urban coffeehouses since the mid-seventeenth century.1


The tea table arose as one element of the elaborate array of fashionable equipment developed to brew, serve, and drink tea. Blue and white porcelain tea bowls, creamware teapots, and the tea leaves themselves were all imported by eager colonists in America. The earliest known surviving tilt-top tea table made in America has legs that look slightly truncated compared to later examples (Fig. 3). Its square-sawn legs and the six-sided block that connects the legs and the pillar exhibit close similarities to baroque forms of Northern Europe. This early tea table demonstrates that the form was not imported from England fully developed, but rather evolved with the contributions of craftsmen in North America.2


| | |
| --- | --- |
| | |
| | |
| | Fig. 4: Tea table, Boston, Mass., ca. 1750. Mahogany and maple. H. 27 1/2 in., Diam. 31 1/2 in. Courtesy of Milwaukee Art Museum; gift of Collectors' Corner in honor of its 50th anniversary. |
The tea table was not only the center of many social gatherings, its presence was also the center of heated cultural debate. Some books and newspapers praised tea tables. In 1750, one London commentator celebrated their "grief-removing" abilities, noting that when seated at a tea table, "all selfish views are lost, all restraint is laid aside, all ceremony discarded, all the company is entitled to the same freedom, and all glad to bless and be bless'd, in the mutual reception and diffusion of happiness and pleasure."3 Indeed, sitting at a tea table like the example in Figure 4 must have felt quite freeing in comparison to formal occasions at a long dining table. No one sat at the head of the tea table. Instead, the mealtime hierarchy was replaced with a fluidity of movement that allowed chairs to be pulled up as needed and guests to come and go. This freedom from manners and convention, the writer suggested, encouraged open conversation and a pleasant exchange of happy ideas.


On the other hand, newspapers in London and North American cities also featured heated complaints about the slanderous nature of dialogue around the tea table. One man wrote in London's Mist's Weekly Journal in 1727 that "Tea-Table Talk [is], among the fashionable, a proverbial Phrase for Scandal."4 A Boston broadside entitled "Tea-Table Chat" included a long verse in which the following excerpt dramatized meddlesome tea-drinking ladies:
They ridicule neighbors, who mind their own labours and make it their business to cultivate peace; On this good example they cheerfully trample, and spurn at such people, their mirth to increase. This uncharitable stereotype of tea-drinking ladies who enjoyed themselves by ridiculing the demure and unfashionable became quite widespread. Many writers—mostly men—who propagated this stereotype blamed what they saw as a mounting level of negative chatter among women around the tea table. But was the tea table the culprit? Did this new kind of circular stand actually encourage social competition and backhanded slander? It is true that without conventional vertical legs, the tea table offered open space in which ladies could show off their expensive skirts of brocaded silk or other luxurious cloth. Similarly, if a man's knee buckle was unpolished or his sock threadbare, few could miss noticing. Overt showmanship of this sort, of course, was nothing new. The informal social atmosphere that gave women a public role in their communities, however, was indeed new. At the tea table, women could join discussions of politics, literature, and music—topics previously reserved for the very wealthy or for men in clubs and coffeehouses. While convivial conversations between women and in mixed company did not occur exclusively at the tea table, the piece of furniture was closely associated in peoples' minds with new social conventions.


| | |
| --- | --- |
| | |
| | |
| | Fig. 5: Coffee table, ca. 1933. Glass and chrome-plated steel. H. 18 in., Diam. 24 1/4 in. Courtesy of private collection. The coffee table encouraged informal body postures. A guest sitting in an upholstered chair before a coffee table would inevitably have to disturb his or her reclined pose, move to the edge of the seat, and lean over his or her knees to reach a coffee cup or cocktail glass. |
The Coffee Table
Two hundred years after the popularity of tea led to the introduction of the tea table, neighbors and friends gathered around a different drink. Coffee had overtaken tea as America's preferred hot beverage over the course of the nineteenth century. Ambitious grocers developed relationships with exporters in Latin America and marketed the drink as the perfect pick-me-up for industrializing settlers moving westward. During the first decades of the twentieth century, coffee companies further aligned their product with the workplace, encouraging manufacturers to institute regular "coffee breaks" for their workers to boost productivity. Not long afterwards, some coffee companies successfully expanded their market by encouraging coffee drinking in the private home in addition to in the workplace and restaurants. Soon, advertisements and housekeeping manuals instructed women to keep their husbands contented with perfectly brewed pots of coffee in the morning and the evening.6

With modern hostesses serving coffee, it seemed advantageous for furniture makers and interior decorators to attach the name of the new popular drink to a new kind of table. Unlike the tilt-top tea table, which retained the same general form for many decades, the coffee table varied substantially in appearance. Its primary physical characteristic was a low table surface, and it was generally found in living rooms or leisure spaces. Much like eighteenth-century guests at a tea table, twentieth-century Americans seated around a coffee table enjoyed a relaxed social atmosphere that differed from the straight-back, elbows-off-the-table conventions of dining.

In 1934 a Chicago department store produced a glass and chrome-plated steel coffee table based on a professionally designed prototype that had been featured in the House of Tomorrow exhibit at the Century of Progress Exposition that year (Fig. 5). Its circular shape and low stature fit easily into the then popular architectural ideal known as the "open plan." In response to the tough economic times of the Great Depression, architects and designers argued for small middle-class houses with multifunctional rooms connected by expansive open vistas. This coffee table sat so low to the floor that it almost slipped out of view. Furthermore, its transparent glass surface reduced its visual mass and made any room appear less cluttered.

While well-known designers created coffee tables for high-end production companies, the burgeoning furniture industry in the Midwest also moved quickly to capitalize on the idea. In fact, the president of The Imperial Furniture Company of Grand Rapids, Michigan, claimed to have invented the form. F. Stuart Foote helped his wife prepare for a party by cutting down the legs of a dining table—thus, he argued, giving birth to the coffee table. Despite reeking of a marketing ploy, this story emphasizes the universal role of the coffee table as a centerpiece for entertaining.


| | |
| --- | --- |
| | |
| | |
| | Fig. 6: Coffee table. Imperial Furniture Company, Grand Rapids, Mich., 1929–53. Cherry and plywood. H. 34, W. 24, D. 17 in. Courtesy of private collection. |
The Imperial Furniture Company example in figure 6 combined the ideals of modernist design with pleasant reminders of historic antiques. While the tabletop creates the same low, informal surface found in the Century of Progress table, the Imperial Furniture table is made of cherry, a wood then associated with "country" furniture and the mythologized idea of simple colonial-era living. In addition, the top of the table has narrow leaves that fold upward, pierced with handles to resemble a carried tray. Often called a "butler table," this form evokes a bygone era: The number of domestic servants in the United States was in steep decline, and this table replaced the service and hospitality previously delivered by servants while maintaining the horizontal lines so important to modernist design.

Coffee tables such as those from the Century of Progress and The Imperial Furniture Company, like tea tables in the eighteenth century, provided platforms for displaying decorative tea and coffee services, books, and vases of flowers. Designer Paul T. Frankl pushed this notion of display one step further. His 1945 coffee table is not merely a platform for stylish sculptural housewares, but is itself a stylish sculpture (Fig. 2). The top shuns straight edges in favor of biomorphic curves. To further soften the form, a thin layer of cork is stretched over the top and around its 5-inch-thick vertical edges. In direct contrast to this curvaceous top are the four legs, straight compressed pillars of mahogany that are highly polished and sharply cut. This dynamic tension between the top and the legs characterized the late 1940s aesthetic. Just as Frankl had captured the look of the 1920s in his "skyscraper" furniture, he predicted the appearance of the postwar era by combining the abrupt geometry of art deco with the soft "organic" curves that later designers would further explore.


Magazines in the early twentieth century often described the "modern lifestyle" in appealing terms that celebrated flexible, multipurpose housewares. Convenient and stylistically adaptable, the coffee table became an integral element of twentieth-century living rooms. The idea, however, of a versatile piece of furniture that could accommodate informal entertaining and add flair to a room's decorative scheme was not new: the eighteenth-century tea table performed the same role. The provocative similarities between these two tables reminds us that some of the cultural trends often thought to have been invented quite recently actually have roots in much earlier times.

The exhibition Tea Table Coffee Table is on view at the Milwaukee Art Museum through June 12, 2005; thereafter, please visit www.chipstone.org for a digital version of the show. For information call 414.220.3200.

Sarah Fayen is assistant curator of the Chipstone Foundation and adjunct assistant curator at the Milwaukee Art Museum. She co-curated the exhibition Tea Table Coffee Table with Glenn Adamson, curator of the Chipstone Foundation, to whom she owes a great deal of gratitude for his assistance with the exhibition and this article.

---
1 David S. Shields, Civil Tongues and Polite Letters in British America (Williamsburg, Va.: The Omohundro Institute of Early American History and Culture; Chapel Hill, N.C.: University of North Carolina Press, 1997), 113–114.

2 For more on the development of the form within the context of the British Atlantic world see Sarah Neale Fayen, "Tilt-Top Tea Tables and Eighteenth-Century Consumerism." In American Furniture 2003, ed. Luke Beckerdite (Milwaukee, Wis.: Chipstone Foundation; Hanover, N.H.: University Press of New England, 2003), 95–137.

3 "A new tea-table miscellany: or, bagatelles for the amusement of the fair sex...," London, 1750, pp. iii-iv, Eighteenth Century Collections Online, Gale Group,
document number CW3315661746, available: http://galenet.galegroup.com. ezproxy.library.wisc.edu/servlet/ECCO/ (Summer 2004).

4 A collection of miscellany letters, selected out of Mist's Weekly Journal, vol. 1, London, 1722–27, 283, Eighteenth Century Collections Online, Gale Group, University of Wisconsin–Madison, accessed Summer 2004.

5 "Tea-Table Chat. Sold wholesale and retail, corner of Merchant Row and Market Square, Boston," [n.d.], America Singing: Nineteenth-Century Song Sheets, Rare Book and Special Collections Division, Library of Congress, American Memory, Digital ID as113360, available: http://memory.loc.gov/ammem/ (Summer 2004).

6 For more on coffee's rise to popularity see Michael F. Jimenez, "'From Plantation to Cup': Coffee and Capitalism in the United States, 1830–1930." In Coffee, Society, and Power in Latin America, ed. William Roseberry, Lowell Gudmundson, and Mario Samper Kutschbach (Baltimore, Md.: The Johns Hopkins University Press, 1995), 48–52. Also see Mark Pendergrast, Uncommon Grounds: The History of Coffee and How it Transformed our
World (New York: Basic Books, 1999).