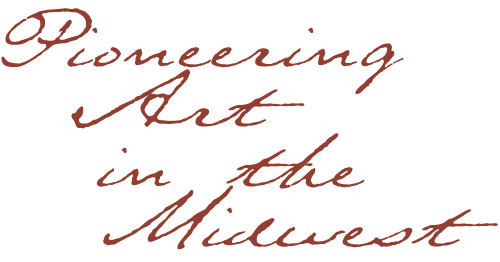 by Randall R. Griffey

| | |
| --- | --- |
| | |
| | |
| | Fig. 1: George Caleb Bingham (1811–1879), Fishing on the Mississippi, 1851. Oil on canvas, 28 3/4, x 36 inches. Courtesy of The Nelson-Atkins Museum of Art. 33-4/4. |
One of the most important cultural changes in nineteenth-century America was the transformation of the western frontier into the Midwest. A byproduct of westward expansion, this gradual but profound transition can be traced by comparing the lives and art of Missouri painters George Caleb Bingham (1811–1879) and Thomas Hart Benton (1889–1975).1 At the time of Bingham's birth in Virginia in 1811, the edge of the western frontier hardly extended beyond the Mississippi River. Bingham's scenes of river life, such as The Jolly Flatboatmen (1846; The Manoogian Collection) and Fishing on the Mississippi (Fig. 1), depicted leisure- and work-related activities along what were, to the artist's Eastern audiences, fascinating outposts of Euro-American civilization. By contrast, only one year after Benton's birth in 1889 in Neosho, Missouri, the U.S. Census Bureau declared officially that the western frontier, by
then stretching to the Pacific Ocean, was fully charted and settled. Benton's paintings provide insight into the complex emotions
associated with this cultural evolution. While he painted many works that revisited nineteenth-century expansionism, a theme that pervades a section of his grand American Historical Epic (Fig. 2), he also pictured the Missouri of Bingham's era, most notably in his famed murals for the Missouri State Capitol.

| | |
| --- | --- |
| | |
| | |
| | Fig. 2: Thomas Hart Benton (1889–1975), Over the Mountains, American Historical Epic, ca. 1924–1926. Oil on linen on aluminum honeycomb panel, 66 1/4 x 72 inches. Courtesy of The Nelson-Atkins Museum of Art; bequest of the artist. F75-21/7. |
When he portrayed his present-day West, as in Open Country (Fig. 3), he often presented an ambiguous, neglected space inspiring personal nostalgia and lament, not an identifiable site for collective adventure and discovery as Bingham had portrayed the frontier one hundred years earlier. Benton's notorious Persephone (Fig. 4) also suggests that the Midwestern landscape, however lush and fertile, could be a space rife with unfulfilled fantasy and desire. Though Bingham's paintings of frontier life may initially appear purely reportorial, both overt and subtle signs of the artist's own opinions
reflecting the most pressing political concerns and cultural changes of his day can be identified throughout his imagery.2 Fishing on the Mississippi, for example, alludes discreetly to
changes in river transportation in the mid-nineteenth century, as coal began to replace wood as the primary fuel for riverboats. The fishermen in the foreground likely earn their living by supplying passing steamboats with cut wood; their trade is indicated by their moored boat, which is placed outside the composition's lower left corner and suggested by the rope tied to a branch. By pushing this supply boat literally out of the picture as the sun sets serenely in the distance, Bingham subtly relates the woodmen's decreasing market value and insinuates his own discomfort with the advance of technology, a sentiment shared by many at the time.

| | |
| --- | --- |
| | |
| | |
| | Fig. 3: Thomas Hart Benton (1889–1975), Open Country, 1952. Tempera with oil on canvas mounted on panel, 27 1/4 x 35 1/4 inches. Courtesy of The Nelson-Atkins Museum of Art; bequest of David L. and Elise B. Sheffrey. F89-33. |
Benton shared with Bingham a commitment to creating art that was politically and socially engaged with the world around him. Benton's social c
onsciousness took root as a result of his
being born into a politically connected family. His
great uncle, after whom he was named, was one of Missouri's most legendary politicians, while his father, M. E. Benton, served in the U.S. House of Representatives.3 While Benton's art was colored
by a wide range of issues of his day, Benton expressed particular concern regarding social
prejudice based on race, which was, to his way of thinking, an unfortunate link to less laudable aspects of America's history. Thus, Benton
became one of the few early twentieth-century Caucasian artists to portray African-American subjects with some regularity and from an empathetic point of view. While an image like Minstrel Show (Fig. 5) might appear upon initial inspection to be saturated with racist sentiment, Benton recalled the performance he depicted as "a rotten affair."4 America's racial segregation is embodied in this composition by the distinct separation of the African-American performers onstage from their white viewers in the audience. By positioning the young boy at the edge of the stage so that he comes closest bridging the gap between the two groups, Benton suggests that racism is learned, not in-born or "natural." I
n addition to their shared devotion to producing socially engaged art, Bingham and Benton exercised similarly rigorous working methods. In preparation for major compositions, both artists created extensive preliminary studies.

| | |
| --- | --- |
| | |
| | |
| | Fig. 4: Thomas Hart Benton (1889–1975), Persephone, 1938. Egg tempera and resin oil over casein on linen over plywood panel, 72 x 56 inches. Courtesy of The Nelson-Atkins Museum of Art; Yellow Freight Foundation Art Acquisition Fund and the generosity of Mrs. Herbert O. Peet, Richard J. Stern, the Doris Jones Stein Foundation, the Jacob L. and Ella C. Loose Foundation, Mr. and Mrs. Richard M. Levin, and Mr. and Mrs. Marvin Rich. F86-57. |
Bingham executed dozens of finely realized figure drawings (Fig. 6), which he often reused in different combinations and in multiple compositions. And while drawing frequently served Bingham as the basis of the many portraits he produced over the course of his career, he also relied occasionally on photography for information about a sitter's likeness, as in his posthumous portrayal of Dr. Benoist Troost (Fig. 7), Kansas City's first professional doctor.5 For his part, Benton produced not only preliminary drawings for major works, but also miniature clay models of compositions to establish clear spatial relationships between forms. Furthermore, both artists seized on printmaking as a means of circulating their imagery to larger audiences, thereby expanding their potential markets and fulfilling their populist ideals.6 Bingham and Benton's ties were codified with the passage of the bill funding Benton's famed mural cycle in the Missouri State Capitol: The bill was introduced by Senator James Rollins, whose father had been one of Bingham's closest personal and political allies. More broadly, Benton considered Bingham a kindred artistic spirit from the past, one whose art had likewise occasionally rubbed Eastern critics the wrong way. Benton's identification with his predecessor in this regard is clear in the tribute he wrote as the preface for a catalogue published in 1940 on the occasion of a major Bingham retrospective: When George Caleb Bingham's work was exhibited in New York a few years ago, the majority of those who make their living talking about the Arts…said Bingham was a backwoods painter, pretty good in Missouri but not worthy of much serious discussion.
| | |
| --- | --- |
| | |
| | |
| | Fig. 5: Thomas Hart Benton (1889–1975), Minstrel Show, 1934. Tempera with oil on masonite, 28 3/8 x 35 7/8, inches. Courtesy of The Nelson-Atkins Museum of Art; bequest of the artist. F75-21/13. |
I
expect they are telling a different story now. Bingham i
s becoming a sort of national figure and even quite "arty" critics are conceding his technical capacity.7 With such phrasing it is easy to discern Benton's projection of his own frustration with the East Coast art
establishment, which had contributed to his recent relocation back to Kansas City, as well as his own pleasure in knowing that even critics who disliked his art were almost obliged to contend with it. Even more remarkable in Benton's tribute is his recognition that the renewed interest in Bingham—along with other aspects of nineteenth-century American art—was symptomatic of the same set of cultural circumstances that allowed for the emergence and influence of regional imagery of the variety Benton himself popularized. Typical of his polarized—and polarizing—world view, Benton saw these circumstances in terms of the triumph of indigenous and "natural" realism over European abstraction and theory.
As he put it: "Bingham lived in a day when it was the picture rather than the way it was made which occupied the amateur's attention. …American painting is again coming back to this simplicity. . . . [It] is rising again as a popular art, as an art that has meaning for Americans.…In this new psychological atmosphere, this study of George Caleb Bingham fits readily."8 Benton's description of Bingham as an artist whose work embodied authentic
expression suggests the degree to which the concept of the Midwest as a bulwark against perceived coastal intellectualism and sophistication had become firmly entrenched in the national imagination by the early twentieth century. The irony is that the Midwest possessed the financial, cultural, and institutional resources by this time to become a viable center of artistic production, its educational infrastructure in particular attracting artists from afar and nurturing home-grown talent. In 2005, in the wake of a particularly contentious political campaign season during which the character of "the heartland" became the topic of considerable discussion and debate, it seems an especially appropriate time to consider once again the art of Bingham and Benton, as well as the ways in which art represents—accurately or not—the nature of a place and its people.
| | |
| --- | --- |
| | |
| | |
| | Fig. 7: George Caleb Bingham (1811–1879), Dr. Benoist Troost, ca. 1859. Oil on canvas, 40 3/4 x 30 1/4 inches. Courtesy of The Nelson-Atkins Museum of Art; gift of the Board of Education of Kansas City, Mo. 35-42/1. |
| | |
| --- | --- |
| | |
| | |
| Fig. 6: George Caleb Bingham (1811–1879), Country Politician, n.d. Graphite on paper, 20 3/4 x 16 inches. Courtesy of The Nelson-Atkins Museum of Art; lent by the people of Missouri. 8-1977/29. | |
---
Bingham to Benton: The Midwest as Muse is on view at The Nelson-Atkins Museum of Art in Kansas City, Missouri, through July 31, 2005.

Randall R. Griffey is associate curator of American Art at The Nelson-Atkins Museum of Art. He is co-curator of Bingham to Benton: The Midwest as Muse with Margaret C. Conrads, Samuel Sosland Curator of American Art, who contributed to this essay.
---
1 Foundational texts on Bingham and Benton are E. Maurice Bloch, George Caleb Bingham: The Evolution of an Artist (Berkeley and Los Angeles: University of California Press, 1967) and The Paintings of George Caleb Bingham: A Catalogue Raisonné (Columbia: University of Missouri Press, 1986); and Henry Adams, Thomas Hart Benton: An American Original, exh. cat. (New York: Alfred A. Knopf, Inc., 1989).

2 Nancy Rash, The Painting & Politics of George Caleb Bingham (New Haven, Conn.: Yale University Press, 1991).

3 For a compelling analysis of Benton's relationship with his father and its impact on his art, see Matthew Baigell, "Thomas Hart Benton and the Left." In Artist and Identity in Twentieth-Century America (Cambridge University Press, 2001).

4 Benton recalls this performance in his autobiography, An Artist in America. 4th revised ed. (Columbia, Mo.: University of Missouri Press, 1983). See pages 92–95 in particular.

5 For a general study of Bingham's career that pays considerable attention to his portraiture, see John Francis McDermott, George Caleb Bingham: River Portraitist (Norman, Okla.: University of Oklahoma Press, 1959).

6 For a study of Benton's prints, see Thomas Hart Benton, The Lithographs of Thomas Hart Benton, ed. Creekmore Fath (Austin, Tex.: University of Texas, 1979). Most of Benton's prints were published by Associated American Artists. On this organization and Benton's relationship with it, see "Catering to Consumerism: Associated American Artists and the Marketing of Modern Art, 1934–1958." Winterthur Portfolio 26, nos. 2/3 (Summer/Autumn 1991): 143–167.

7 Albert Christ-Janer, George Caleb Bingham of Missouri: The Story of an Artist
(New York: Dodd, Mead & Company, Inc., 1940), vii.

8 Ibid., ix.
---