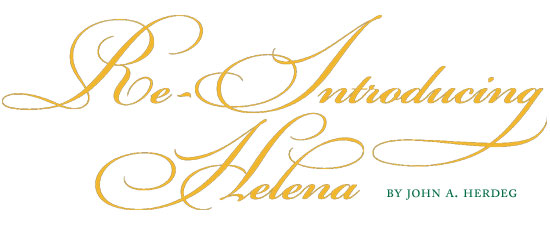 | | |
| --- | --- |
| | |
| | |
| | Fig. 1: Unknown Girl in White, Henrietta Dering Johnston (ca. 1674–1729), ca. 1704–1705. Pastel on paper, 10 7/8 x 5 3/16 inches. Courtesy of Colonial Williamsburg Foundation, 1989–393. Since it was found in an antique market in Ireland, this work is assumed to have been done while Henrietta Johnston was living in Ireland.4 |
Several years ago my wife Judy and I asked Stuart Feld, director of Hirschl and Adler Galleries in New York City, to keep an eye open for pastels by Henrietta Johnston (ca. 1674–1729). Johnston was a talented artist who worked in Dublin, Ireland, shortly after 1700 and moved to Charleston, South Carolina, in 1708. She worked there and in New York City until her death. As America's first documented female artist and first pastelist, her works are highly sought. Mr. Feld responded that we were number two on his list because he was looking for one of her pastels for his own collection. He added that her pastels are hard to find because, being pastel on paper, few have survived, and most are in museum collections.
Our interest in this artist had initially been stimulated by the 1991 catalogue Henrietta Johnston, which was published in connection with the exhibition of her works at the Museum of Early Southern Decorative Arts in Winston-Salem, North Carolina, and the Gibbes Museum of Art in Charleston, South Carolina.1 The catalogue covered portraits she created both in Ireland and later in Charleston. We had been drawn to her work by the quality of her likenesses, as well as the sensitivity with which she presented them (Figs.1–2). Because of their rarity, we did not have much hope of finding one of her pastels for ourselves.
Every spring we attend the opening of the Chester County Historical Society Antiques Show in West Chester, Pennsylvania. At the March 2000 show, as is our custom, we started browsing through the booths. All of a sudden, Judy grabbed my arm and pointed to what appeared to be a pastel portrait on the wall of a distant booth. As we approached, we realized it looked like a Henrietta Johnston portrait of a young girl (Fig. 3). Indeed, the dealer's label attributed it to the artist on the basis of similar works illustrated in the 1991 exhibition catalogue. I lifted the portrait from its hook and asked the dealer whether it was signed on the backboard like several presented in the catalogue. He said it was not. But as I turned it over and the light reflected off the surface, Judy spotted the penciled inscription "Henrietta Johnston" and other faint words. I quickly handed the portrait to Judy (rather than setting it down and exposing it to others) and wrote a check without negotiating the price.

| | |
| --- | --- |
| | |
| | |
| | Fig. 2: Henriette Charlotte Chastaigner (1700–1754), Henrietta Dering Johnston (ca. 1674–1729), 1711. Pastel on paper, 11 5/8 x 8 7/8 inches. Courtesy of Gibbes Museum of Art/Carolina Art Association, 1938.20.04. The sitter's name, the date, and the artist's signature are on the frame backing. This is considered to be one of the most refined and beautiful of Henrietta Johnston's Charleston portraits.5 |
When we arrived home, we immediately compared our find to the portraits in the catalogue and, based on presentation and style, we felt quite comfortable that it was indeed by Henrietta Johnston. We also noted that the frame was identical to frames on a group of her portraits that had been discovered in 1980 in Belvedere House in County Westmeath, Ireland.2 We took the frame to furniture conservator Alan Andersen so that we could gain more information and hopefully confirm our findings. He noted that, while the frame had been taken apart and reglued, the pieces were all original. He confirmed that in his opinion it was the same as the Dublin frames shown in the exhibition catalogue. We then asked John Krill, paper conservator at Winterthur Museum, to examine the pastel. He found it to be in exceptional condition, with only minor tears along the edges. Behind the pastel, he found a paper liner appropriate for a 1700 date. He deemed it an "extraordinary find." We were elated that the pastel was probably in its original frame and even more by the fact that the pastel appeared to be in good condition. Most importantly, it was a wonderful portrait of an attractive young girl presented in a sensitive and pensive manner. Incredibly, though, this was just the beginning of the story!
Our next step was to study the subject matter of the pastel. We noted that it depicted the interior of a church with a portion of an altar visible in the background. There were flowers next to the girl's arms, and they appeared to be wilting. The young girl's face had a sad, even mournful, demeanor, and there was a funeral hatchment over her head. Could the image be a mourning portrait of a young girl who had just died? Lending further support to this theory was what appeared to be a shroud that draped off her head and shoulders, and which she seemed to be pulling up over herself. Was she symbolically covering her body as one who was deceased, taking a final look out to her loved ones and the mortal world?
We also noticed that the pedestal upon which the girl rested her arms bore the initials "R. D." and "H. D." Significantly, Henrietta nee Beaulieu had married Robert Dering, her first husband, in London in 1694, and they had moved to Dublin shortly thereafter. The 1991 catalogue noted the couple had two daughters. One, named Mary, enjoyed a long life. Researchers preparing the catalogue had been unable to ascertain the name or fate of the other daughter.3 Was our pastel a mourning portrait of the artist's own daughter? The frame did suggest that the pastel had been done in Dublin.

| | |
| --- | --- |
| | |
| | |
| | Fig. 3: Helena Dering (–1704), Henrietta nee Beaulieu Dering Johnston (ca. 1674–1729), ca. 1704. Pastel on paper, 18Z/, x 11ZZ/zn inches. Courtesy of Collection of John and Judith Herdeg. Original frame. |
We then focused on unlocking the secrets of the hatchment. On the advice of D. Brenton Simons of the New England Historic Genealogical Society in Boston, we contacted Henry L. P. Beckwith, secretary of the Society's committee on heraldry. Through correspondence he noted that the object over the girl's head was, indeed, a funeral hatchment, and the arms on it "are two coats impaled (representing a marriage). It appears that the background behind the left half of the coat is black, and that behind the right half is white. If so, it would tell us that the husband has died leaving a widow." Importantly, he also confirmed that the arms on the left side of the hatchment were those of the Dering family, but he was unable to identify those on the right. Realizing that the Dering family was English, I thought it would be desirable to see whether an English heraldry expert could add anything to these findings. We contacted Thomas Woodcock of the College of Arms in London. He agreed with all of Mr. Beckwith's conclusions. These revelations gave us two crucial questions to resolve if we were to be sure of the subject matter and determine the pastel's date: When did Robert Dering die (presumably prior to Henrietta's second marriage in 1705 to Gideon Johnston)? And when did their second daughter die, having survived her father? Though prior research had found no answers we felt it was worth another try. We contacted Paul Gorry of Gorry Research in Baltinglass, Ireland, just outside of Dublin. He told us that he was not optimistic given the dearth of surviving materials, but would search through records of the Church of Ireland (Anglican) parishes. Months passed without success; he wrote us that his research was almost finished with "disappointingly negative" results and that he would write us again with his final report.
More weeks followed. Then one day our fax machine churned out a report from Mr. Gorry. The second-to-last parish records to be reviewed—the burial documents of Saint Andrew's Parish in Dublin—had revealed that Robert Dering died on January 24, 1703, and that his daughter, Helena, died the following year on April 14. The secrets of the portrait had been unlocked. Indeed, Robert and Henrietta Dering did have a daughter who died as a young girl, having survived her father, all before Henrietta's second marriage to Gideon Johnston.6
Paintings sometimes do tell their own stories. Ours is an emotionally wrenching one, as it immortalizes a moment when a young widow, who happened to be a very talented artist, expressed her grief for the loss of her daughter through this beautiful image. Welcome back, Helena!

This article is based on an earlier one published in The Walpole Society Note Book (1999–2000) and is being published with permission of that Society.
---
John A. Herdeg is a collector and scholar.
---
1 Henrietta Johnston "Who greatly helped…by drawing pictures," ed. Forsyth Alexander (Winston-Salem, N.C.: Museum of Early Southern Decorative Arts, 1991).
2 Mercer House, Savannah, The Collection of the Late Jim Williams, Sotheby's, New York, Sale no. 7527, October 20, 2000, Lot 342.
3 Records in Dublin are scarce due to a fire in 1922. During research for the 1991 catalogue, no records were found relating to the fate of Henrietta's husband either.
4 Henrietta Johnston, 34, 42.
5 ibid, 39, 53.
6 As both the mother's and daughter's names began with an "H", we do not know which individual the initials "H.D." referred to, and indeed, we probably never will.