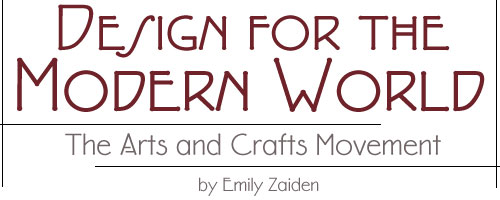 | | |
| --- | --- |
| | |
| | |
| | Fig. 1: Writing cabinet, designed by C. R. Ashbee (England, 1863–1942), ca. 1898–1899. Made by the Guild of Handicraft, London (cabinetwork by Tom Jeliffe, W. Stevens, and Jim Pyment; metalwork by William White and Jack Baily). Exhibited at the Arts and Crafts Exhibition Society, London, 1899, and the Eighth Secession Exhibition, Vienna, 1900. Mahogany, holly, metal alloy, silvered metal, and buff leather. H. 53 1/2, W. 41 5/8, D. 28 1/8, in. Cheltenham Art Gallery and Museum. Courtesy of The Bridgeman Art Library (CHE 18863). Photography © Cheltenham Art Gallery and Museum. |
At the end of the nineteenth century, many people felt that the world was changing at a tremendous, machine-powered pace, making it an artificial and anonymous place. The Arts and Crafts movement was a response to this industrialization; its proponents believing that well-designed, everyday objects had the power to help society symbolically and psychologically assimilate what might otherwise be overpowering mechanization, reinforce national traditions, and fulfill the human spirit through their creation and use.
The movement owed much to the convictions of English art critic John Ruskin (1819–1900) and designer William Morris (1834–1896), who, in the 1850s and 1860s, sought to elevate the decorative arts to the level of fine craftsmanship and encourage the restoration of "joy in labor" through handwork. These philosophical roots were firmly planted in Britain by the late 1800s with the next generation of designers and artist coalitions who adopted and furthered their ideas. One of these groups was the Arts and Crafts Exhibition Society, which was established in London in 1887, and whose name came to be associated with the entire movement. Soon thereafter the movement branched into other parts of Europe and the United States, flowering with the next generation as it adapted to the needs of the various cultures. Ideas and products were fluid and migratory, passing from one region to another through books, journals, exhibitions, and a tight network of artists who shared their work and helped form an international culture.

| | |
| --- | --- |
| | |
| | |
| | Fig. 2: Tapestry, Pentecostal Choir, left section of a diptych, designed by Frida Hansen (Norway, 1855–1931), 1897. Made at Norske Aaklæde og Biled Væveri, Christiania (now Oslo, Norway). Wool on cotton warp. 122 1/16 x 59 13/16 inches. Courtesy of Museum of Applied Arts, Budapest. Photography ©Iparmüvészeti Múzen, Budapest/Kolozs. |
While no single characteristic defines the Arts and Crafts style, every country that adopted the ideals of this design reform movement became linked as part of a global community. Its proponents were striving for a way to redeem life, labor, and art in the modern age. The Arts and Crafts movement represented a new way of life in which the everyday could be enhanced by art. Each stitch, piece of carving, and brushstroke was infused with the belief that objects had the power to symbolically transform society into a place where workers felt pride in their creations and consumers were uplifted by the beauty that filled their surroundings, or at least to suggest the kind of world in which their makers and consumers would have preferred to live.
Despite a widespread ambivalence towards industry, the world was becoming a more accessible, less isolated place due to the technological advances in transportation and communication. Cheaper printing techniques enabled books and periodicals to be disseminated far more widely than in the past. Books by Ruskin and Morris were translated into German, French, Dutch, and Hungarian. Journals such as The Studio, first published in London in 1893, profiled individuals and companies involved in the Arts and Crafts movement, and covered international expositions in Europe and the United States. The library of the leading Viennese craft workshop, the Wiener Werkstätte, contained a full set of The Craftsman, Gustav Stickley's magazine, which provided the definitive prescription for the American Arts and Crafts way of life. While the printed word spread Arts and Crafts principles throughout Europe and across the Atlantic, exhibitions provided the critical showcase for people to actually see the kinds of objects that were being made in their own communities and in other parts of the world. The artists and architects, such as Gustav Klimt, Otto Wagner, Josef Hoffmann, and Koloman Moser, who formed the Vienna Secession in 1897, recognized the importance of exhibitions. The Secessionists banded together to break away from the art of the establishment and declared, "To the age its art; to art its freedom." They sponsored numerous installations that promoted their interpretation of the Arts and Crafts message.

| | |
| --- | --- |
| | |
| | |
| | Fig. 3: Table Lamp, from the Susan Lawrence Dana House, Springfield, Illinois, designed by Frank Lloyd Wright (United States, 1867–1959), ca. 1903. Made by Linden Glass Company, Chicago, Illinois. Glass, bronze, and zinc. Base: H. 20 1/2, W. 12, D. 8 7/8 in.; Shade diameter: 29 in. Courtesy of Los Angeles County Museum of Art; gift of Max Palevsky, © Frank Lloyd Wright/Artists Rights Society (ARS) NY. Photography © 2004 Museum Associates/LACMA |
Architect Josef Hoffmann, who would co-found the Wiener Werkstätte (Vienna Workshop) in 1903 as a Secession offshoot where artists and craftsmen could train to make attractive goods for the modern home, organized, in 1900, the Eighth Secession exhibition in Vienna, to show contemporary strides in art and design. Hoffmann admired Scottish and English designers such as Charles Rennie Mackintosh, Margaret Macdonald, and Charles Robert Ashbee, and prominently displayed their work at the Eighth Secession Exhibition.
A writing cabinet (Fig. 1) that Ashbee designed for the exhibition was executed by members of the Guild of Handicraft, a cooperative that Ashbee founded in 1888 in the East End of London. In 1902 the Guild moved to Chipping Camden in the Cotswolds, and became one of the first and most influential art colonies established at the turn of the last century. There, artists were able to fulfill the Arts and Crafts ideal by leaving the city for the simple life in the country, where they revived aspects of the medieval guild system for creating handmade objects in a cooperative environment that fostered artistic exchange. The goal of the Guild was to restore the craftsman's sense of pride and creative authority that had been lost with the advent of mechanized production. The Guild and other British design workshops provided a strong idealistic model for the artists of Vienna, for whom such communities signified the consummate integration of life and art.
Intended as an exhibition piece to display the extensive range and exceptional quality of crafts performed by the Guild, the cabinet featured metal-smithing, cabinetmaking, and inlay-work.1 The monumentality of the muscular piece is tempered by the lightness of surface ornament, with inlaid floral motifs and vines forming the hardware. The Viennese designers distilled ornamentation to fundamental geometric design and graceful simplicity but they worked toward the same principles of functionalism and craftsmanship that they saw in British decorative arts.

| | |
| --- | --- |
| | |
| | |
| | Fig. 4: Living Room Armchair from the Robert R. Blacker House, Pasadena, California, 1907. Charles Sumner Greene (United States, 1868–1957) and Henry Mather Greene (United States, 1870–1954). Made by Peter Hall Manufacturing Company, Pasadena, California. Mahogany, ebony, oak, and (replaced) upholstery. H. 33 3/8, W. 24 1/4, D. 21 5/8 in. Courtesy of Los Angeles County Museum of Art; gift of Max Palevsky. Photography © 2004 Museum Associates/LACMA. |
Exhibitions also showcased local craft traditions that were being revived and adapted for modern taste. For example, weaver Frida Hansen helped stimulate the textile arts in her native Norway through her reinterpretation of folk crafts and practices. Using an ancient Nordic technique similar to that used for making kilim rugs (where flat, vivid fields of color are interwoven), Hansen applied her skillful hands to the creation of striking tapestries depicting figures, folk legends, and other motifs (Fig. 2). To further encourage textile making in Norway, Hansen established a weaving society in 1897. Her work served as a model for the resurgence of hand-crafted textiles and was also influential in Hungary and Germany.
The renewal of vernacular culture also made Hungarian artist-designer Pál Horti an internationally influential ambassador of modern Hungarian design. Horti came to America in 1904 to design the Hungarian installation at the Louisiana Purchase International Exposition in St. Louis. The St. Louis fair was one of the most important events for delivering turn-of-the-century progressive European design to America, while also showcasing developments in the American Arts and Crafts movement.2 In addition to deeply stimulating modern American design, the exposition had a direct and profound impact on some of the most influential American designers, such as Frank Lloyd Wright and Charles and Henry Greene, whose aesthetic visions were shaped by what they saw in the international pavilions at St. Louis and at other fairs (Figs. 3 and 4).
Horti created a pavilion for the exposition that was inspired by country houses and churches from the Transylvanian region, considered Hungary's ethnic heartland. His design declared the autonomy of his native culture and symbolically challenged Austrian dominance of Hungary through the Hapsburg Empire.3 Horti's methods of balancing folk traditions and modern sophistication also appealed to American taste. After winning awards at the St. Louis exposition, Horti was commissioned to design furniture for manufacturers Charles P. Limbert and Company of Grand Rapids, Michigan, and for Oscar Onken's Shop of the Crafters in Cincinnati, Ohio. Onken and Limbert tried to uphold American Arts and Crafts ideals by creating positive work environments for their craftsmen, and, like many successful American companies, they integrated mechanized manufacturing with hand craftsmanship to generate quality goods that were marketed with savvy.

| | |
| --- | --- |
| | |
| | |
| | Fig. 6: Vase, designed by Alfred William Finch (Belgium, active Finland, 1854–1930), 1901. Made by the Iris Works, Porvoo. Glazed earthenware. H. 8 1/16 in. Courtesy of Design Museum Finland. Photography © Designmuseo (B35) Rauo Träskelin. |
Often using traditional construction for strong, architectonic forms, Horti brought his Hungarian sensibility to his designs for the entrepreneurial Onken, whose Shop of the Crafters products were already characterized by a fundamental Germanic solidity and ornamental restraint. In his work for them, Horti demonstrated that inlay work and color could enliven rectilinear furniture forms. The marquetry peacock feather, a common motif in the art nouveau style, is applied here to the mahogany desk and chair (Fig. 5) in a modernist, flat, highly abstracted manner, to make a quiet allusion to the natural world. Horti's artistic vision, inspired by what he saw in his travels and at various international exhibitions, was a blend of the organic and the sleek, the historic and the progressive, and was perfectly suited to American taste.

| | |
| --- | --- |
| | |
| | |
| | Fig. 7: Tapestry, La Veillée des anges (Angels' Watch), designed by Henry Van de Velde (Belgium, active Germany, 1863–1957), 1893. Exhibited at the Tenth Salon of the Société des Vingt, 1893. Appliqué embroidery in wool and silk. 55 1/8 x 91 3/4 inches. Courtesy of Museum Bellerive. Photography © 1959-71 by Marlen Perez. |
Improved methods of travel at the turn of the twentieth century allowed for cross-pollination of ideas and aesthetics. As much as preserving and renewing local identities was a critical goal of the Arts and Crafts style, individual cultures were also redefining themselves in light
of an international mélange of influences. Artists like Horti were part of a multinational avant-garde who helped spread ideas and aesthetics through travel or relocation. Alfred William
Finch (1854–1930), leading member of the Belgian progressive artists' group Les Vignt (formed in 1883), moved to Finland in 1897 to head the ceramic department of the Iris Works and to teach (Fig. 6). While in Belgium, Finch had introduced British Arts and Crafts ideals to Henry Van de Velde (1863–1957), another Belgian-born artist who played a critical role in the dissemination and evolution of the Arts and Crafts movement. Like Finch, Van de Velde originally trained as a painter, but "converted" to the applied arts, inspired by Morris's principles for reforming society (Fig. 7). After receiving many commissions in Germany, Van de Velde moved there in 1902, where he was appointed by the Grand Duke of Saxony-Weimar to improve the design standards of the region.

Other artists who helped shape an international Arts and Crafts aesthetic include English designer M. H. Baillie Scott (1865–1945), who became very successful in Germany. Through books and articles, Baillie Scott, who felt that "simplicity, repose, and absence of all straining after effect" made for good design, helped popularize the idea that the purity and clarity of the Arts and Crafts style had the power to purge the hyper-ornate Victorian home of its excesses, offering a wholesome and organic alternative for the twentieth-century dwelling. 4 His designs for achieving this more harmonious and simple life were particularly resonant with the restrained German modern taste.

| | |
| --- | --- |
| | |
| | |
| | Fig. 8: Print, Plate X, Dining Room, 1901, from Meister der Innen-Kunst: Haus eines Kunstfreundes (Master of Interior Decoration: House for an Art Lover), 1902. Designed by M. H. Baillie Scott (England, 1865–1945). Published by Alexander Koch, Darmstadt; edited by Hermann Muthesius. Ink on paper. 21 x 16 inches. Courtesy of LACMA, gift of Max and Ellen Palevsky. Photography © 2004 Museum Associates/LACMA. |
I
n 1897, the Grand Duke Ernst Ludwig of Hesse commissioned Baillie Scott to redecorate the drawing and dining rooms of his new palace in Darmstadt. In 1900, Baillie Scott cemented his international reputation when he won first prize for his designs for a "House for an Art Lover," in a competition sponsored by a Darmstadt journal, Zeitschrift für Innen-Dekoration (Journal for Interior Decoration) (Fig. 8). While his initial work in Germany was very British in its use of modest materials and vernacular references, his submission for an exhibition of the Dresdner Werkstätten für Handwerkskunst (Dresden Workshops for Handicrafts Arts) in 1903 was more Germanic. For this commission, a "Ladies' Drawing Room," Baillie Scott designed an ebony veneer, lacquered cabinet inlaid with ivory, mother-of-pearl, pearwood, and pewter in highly abstracted foliate patterns that seem almost Asian-inspired (Fig. 9). Designing for a German company pushed Baillie Scott to think of the Arts and Crafts in new terms, and his own work was influential in the formation of modern German design, which was an outgrowth of the movement.5
Advocates of the Arts and Crafts movement asserted the importance of preserving aspects of the past, such as traditional craftmaking techniques and the honest use of natural materials in order to forge a vital bridge into the future. They strived to create the material evidence that a simple and pure life could be attained amidst the chaotic upheavals of the age, a message that still echoes today in the new millennium. Although many of the aesthetic characteristics of the Arts and Crafts style have faded over the past one hundred years, the ideas at the core are still embraced. They continue to fuel the development of modern design, in its numerous variations throughout Europe and America.

| | |
| --- | --- |
| | |
| | |
| | Fig. 9: Cabinet, designed by M. H. Baillie Scott (England, 1865–1945), 1902–3. Made by Dresdner Werkstätten für Handwerkskunst, Dresden. Exhibited at the Dresdner Werkstätten für Handwerkskunst Exhibition, Dresden, 1903–4. Ebony veneer, abalone, silvered metal, paint and lacquer, inlaid ivory, mother-of-pearl, pearwood, and pewter. H. 55, W. 43 5/8, D. 22 in. Courtesy of LACMA; gift of Max and Ellen Palevsky. Photography © 2004 Museum Associates/LACMA. |
The Arts and Crafts Movement in Europe and America, 1880–1920: Design for the Modern World, is the first major exhibition to examine the breadth of this design reform movement as an international response to industrialism and urbanization. It is on view at:

The Los Angeles County Museum of Art
through April 3, 2005, and at The Milwaukee Art Museum May 19–September 5, 2005.

For information call 323.857.6522, or visit www.lacma.org.

---
Emily Zaiden, Assistant Curator of Decorative Arts at the Los Angeles County Museum of Art, worked extensively on The Arts and Crafts Movement in Europe and America, 1880–1920: Design for the Modern World. Chief Curator Wendy Kaplan curated the exhibition and wrote the accompanying publication.

---
1 Cheltenham Art Gallery and Museums, Good Citizen's Furniture: the Work of Ernest and Sidney Barnsley (Cheltenham Art Gallery and Museum, 1976), 75.
2 The fair afforded Europe an opportunity to witness the American practice of incorporating technology into the production process and using marketing to promote the Arts and Crafts ideology.
3 For more on Horti see Juliet Kinchin, "Modernity and Tradition in Hungarian Furniture, 1900–1938: Three Generations." The Journal of Decorative and Propaganda Arts, Design/Culture/Identity: The Wolfsonian Collection 24 (2002), 64–93.
4 Baillie Scott, "A Small Country House" (1897), 169f, as quoted in James D. Kornwolf, M. H. Baillie Scott and the Arts and Crafts Movement: Pioneers of Modern Design, (Baltimore: Johns Hopkins Press, 1972).
5 Wendy Kaplan, Leading "the Simple Life": The Arts and Crafts Movement in Britain, 1880–1910 (Miami Beach, FL: The Wolfsonian-Florida International University, 1999), 36–42.
---


This Article is Featured in the Spring 2005 issue of Antiques & Fine Art. To order a copy, or to become a subscriber, please call 617.926.0004, or 888.922.0004.