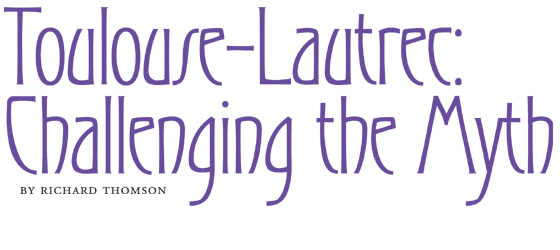 | | |
| --- | --- |
| | |
| | |
| | Fig. 1: Henri de Toulouse-Lautrec (1864–1901), A la Mie, 1891. Watercolor and gouache on paper, 20 7/8 x 26 3/4 inches. Courtesy of Museum of Fine Arts, Boston. |
Henri de Toulouse-Lautrec (1864–1901) is one of the most celebrated of the great French artists of the late nineteenth century, but often for the wrong reasons. While we may be aware that he was one of the first great poster artists, adapting remarkable artistic skills to the demands of consumer culture, there is still an insistent tendency to think of Toulouse-Lautrec as the archetypal artist of the Belle Epoque: The stunted and debauched aristocrat who frequented the seedy dancehalls and brothels of fin-de-siècle Paris (Fig. 1), fated to die young of syphilis and alcoholism. Toulouse-Lautrec has been sensationalized in many quarters, from art history to Hollywood. But if we clear away the fog of myth, other fascinating patterns appear.
Biography must play a part in our understanding of Toulouse-Lautrec and his art. His weak and abnormally short legs were the result of persistent intermarriage in his family between cousins, a social gambit designed to retain aristocratic fortunes. Being to a certain extent handicapped, Toulouse-Lautrec preferred subjects and motifs that were easily accessible and observable from positions of comfort; hence he was a painter of portraits, not landscapes, of the café and not the street. In other words, let us not put the clichés of his appearance and behavior first. Rather, we should try to understand them within the wider contexts of cause and effect. The best way to account for Toulouse-Lautrec and his art is by placing them within the warp and weft of late nineteenth-century French culture. He functioned as painter, printmaker, and poster designer with a view of the world typical of his time, and he chose to operate in a particular quarter of the French metropolis: Montmartre.

| | |
| --- | --- |
| | |
| | |
| | Fig. 2: Romón Casas (1866–1932), Erik Satie (El bohemio; Poet of Montmartre), 1891. Oil on canvas, 78 1/4 x 39 1/4 inches. Courtesy of Northwestern University Library. A contemporary of Toulouse-Lautrec's, Casas painted what appears to be a grand bourgeois portrait, which, on closer inspection, shows the scruffy bohemian musician in front of the Moulin de la Galette. |
Born in 1864, Toulouse-Lautrec grew up in the aftermath of the Franco-Prussian War of 1870–1871, which had seen France humiliatingly defeated by her German enemies. Blame for the national catastrophe was placed on France's social decadence. Whereas Germany was seen to be efficient, rational, and virile, France was too given over to its instincts and pleasures. French national decline, it was held, was apparent in many symptoms, ranging from rising alcoholism to widespread prostitution to stagnant birth rates. But Toulouse-Lautrec, who himself came from an aristocratic class whose power had dissolved, rather reveled in the idea of decadence.
Decadence was not just a national anxiety; it was also marketable. During the 1880s, as Toulouse-Lautrec left art school to make his career as an artist in Paris, the relaxation of the censorship laws under the new Third Republic allowed the burgeoning of a lively and critical youth culture. Focused in Montmartre, a quartier to the north of the city center with a boisterous population of artists and students, this subculture manifested itself in various ways. Cabarets such as the famous Chat Noir opened. Here, the proprietor Rodolphe Salis welcomed customers with sarcastic obsequiousness, poets declaimed their verses, the exciting medium of the shadow play—a precursor of the cinema—was developed, and Erik Satie (Fig. 2) played the piano for a time. Illustrated magazines proliferated, giving young writers and artists their first breaks. And alongside this youth culture grew a more rampantly commercial entertainment culture. This centered on usual forms such as the circus, the café-concert (the French form of the music hall), and also dancehalls such as the Moulin Rouge, opened in 1889 with the explicit intention of capitalizing on the thriving reputation of Montmartre as the most louche and exciting focus of metropolitan nightlife. The Moulin Rouge (Fig. 3) was a canny combination of bars, gardens, stage acts, and dancers, within which the quartier's patrons could mingle quasi-surreptitiously. Montmartre was seedy, sexy, and just slightly alarming—an ideal temporary antidote to the stuffiness and anxieties of the bourgeois Republic.

| | |
| --- | --- |
| | |
| | |
| | Fig. 3: Henri de Toulouse-Lautrec (1864–1901), At the Moulin Rouge, 1892/1895. Oil on canvas, 48 7/16 x 55 1/2 inches. Courtesy of The Art Institute of Chicago; Helen Birch Bartlett Memorial Collection. |
Toulouse-Lautrec's entrée into this world was through Aristide Bruant, who in 1885 had opened his own cabaret, the Mirliton. Dressed in his characteristic black hat and scarlet scarf, Bruant sang coarse songs about working-class life in slang and hurled abuse at his well-heeled clientele, who fell for his somewhat ersatz earthiness. In 1892, when Bruant was invited to perform at the prestigious central café-concert of the Ambassadeurs on the Champs-Elysées, he invited Toulouse-Lautrec to design the poster. It was the ideal combination: Bruant enhanced his reputation as a "dangerous" performer by having a radical artist publicize him in emphatically simple style, while Toulouse-Lautrec's emergent profile as a poster designer was boosted by his association with a rising star of the entertainment world.
Toulouse-Lautrec's first poster had appeared in 1891, when the Moulin Rouge had commissioned one from him. Always eager to market its new spectacles, the Moulin Rouge wanted to promote the dancer Louise Weber, known as "La Goulue" ("the greedy one") for her gastronomic and sexual appetites. La Goulue's form of the can-can was an exceptionally lubricious display of frothing petticoats, bare thighs, and high kicks, which Toulouse-Lautrec—who had already painted a number of dancehall subjects—was able to encapsulate with effectively suggestive economy in his poster. With posters such as those for La Goulue and Bruant, Toulouse-Lautrec launched himself as a major image-maker of fin-de-siècle Paris. His reputation spread from the relatively little-known exhibition societies where he had hitherto exhibited his paintings to the public walls of the city. He became, to a certain extent, promoter and embodiment of Parisian decadence.

| | |
| --- | --- |
| | |
| | |
| | Fig. 4: Pablo Picasso (1881–1973), The Moulin de la Galette, 1900. Oil on canvas, 34 3/4 x 45 1/2 inches. Courtesy of Solomon R. Guggenheim Museum, Thannhauser Collection; gift of Justin K. Thannhauser. |
But this was a role he shared with others; Toulouse-Lautrec had been preceded in his representation of Parisian decadence by a number of artists. Adolphe Willette, for instance, had decorated the Chat Noir in the early 1880s with his mural painting Parce Domine—a throng of dancers, street girls, and revelers proceeding vertiginously through the night sky from Montmartre towards downtown Paris. And when the young Pablo Picasso arrived in Paris from Spain in 1900 he immediately latched on to decadent Montmartre, which had become by then a cliché of sexual tourism. Picasso's paintings of the dancehalls (Fig. 4) and performers avidly represented the flashy behavior and lurid faces of nocturnal Paris that Toulouse-Lautrec and others had earlier explored. Toulouse-Lautrec himself should not be considered an encyclopedic chronicler of 1890s Montmartre. He had his preferences, and his blind spots. He favored certain performers, particularly among the singers at the café-concerts.
| | |
| --- | --- |
| | |
| | |
| | Fig. 5: Henri de Toulouse-Lautrec (1864–1901), Yvette Guilbert, illustration in "Figaro Illustré," 1893. Chromotypograph, 16 1/4 x 12 5/8 x 1 3/16 inches. Courtesy of The Jane Voorhees Zimmerli Art Museum, Rutgers, The State University of New Jersey; anon. donation. |
Yvette Guilbert, famed for her half-spoken, half-sung enactments of Parisian incidents, appeared in his prints and paintings regularly between 1892 and 1894 (Fig. 5). Jane Avril, a solitary dancer of meager body and delicate nerves, became a friend, and Toulouse-Lautrec was one of the very few artists who represented her act (Fig. 6). Because of his preference for interior settings, the artist's images show us models or male companions in the studio, acquaintances at café tables, performers on stage or on the dance floor, and—of course—prostitutes in the maison close.
Toulouse-Lautrec's familiarity with the brothels spurred rumors that he resided within them; but this was illegal and unlikely. More probably he was a regular visitor to certain establishments and used his familiarity with the surroundings and the women to paint straightforward depictions of the tedious day-to-day routine of the maison close: waiting for clients, dealing with laundry, catching up on sleep (Fig. 7). While there is a caricatural edge to some of these images, and while Toulouse-Lautrec did paint some sensitive scenes of lesbian encounters, the brothel paintings are mainly unsensational. They represent what in many quarters might have been considered an example of social decadence, but in ways that are evocative and matter-of-fact.
By 1899 Toulouse-Lautrec's fast living, verging on the self-destructive, had begun to catch up with him. Untreated syphilis and uncontrolled alcoholism led to his confinement in a clinic. While this attempt by his family and friends to reform him ultimately failed (he died in 1901), Toulouse-Lautrec's determination to prove his sanity in order to escape his incarceration led to the final concentrated flowering of his art in a series of drawings, made from memory, of the circus.
| | |
| --- | --- |
| | |
| | Fig. 6: Henri de Toulouse-Lautrec (1864–1901), Jane Avril, 1893. Brush and spatter lithograph on wove paper, 50 13/16 x 37 inches. Courtesy of The Art Institute of Chicago; Mr. and Mrs. Carter H. Harrison Collection. |
| | |
Since his boyhood, Toulouse-Lautrec had loved the circus; in the late 1880s he had used it as a subject for some large paintings.A decade later he returned to the theme. At first glance this series represents a range of motifs from the ring: clowns and performing animals (Fig. 8), bareback riders and their horses, the ringmaster and his charges. But the drawings are more than an informal inventory of the circus. They mask a more sinister subtext, for the monstrous stallions and fragile female riders or the imbecile clowns and clever dogs suggest a disturbed world of displacement, contradiction, and brutality. In Toulouse-Lautrec's imagination the circus had become an uncomfortably ironic metaphor for life.

Toulouse-Lautrec was a powerful artist. He was a shrewd observer of human physiognomy and behavior. He was a draftsman of economical force and originality, a painter of curt dynamism, and a printmaker of remarkable innovation. In admiring his art it is crucial to remember that his work was not created in a vacuum. It emerged from the social anxieties of late nineteenth-century France and specifically from within the self-consciously decadent culture of Montmartre. Toulouse-Lautrec was only one of many artists who contributed to the creation of this ribald, raucous, and dynamic creative environment, but he was without doubt the strongest.

| | |
| --- | --- |
| | |
| | |
| | Fig. 8: Henri de Toulouse-Lautrec (1864–1901), At the Circus Fernando: Medrano with a Piglet, 1887. Oil on paper laid down on board, 22 x 14 1/2 inches. Courtesy of a private collection, Chicago. |
| | |
| --- | --- |
| | |
| | |
| Fig. 7: Henri de Toulouse-Lautrec (1864–1901), Women Resting, 1894–1895. Oil on cardboard, 23 7/16 x 31 7/8 inches. Courtesy of Galerie Neue Meister, Staatliche Kunstsammlungen Dresden. | |
The exhibition Toulouse-Lautrec and Montmartre is on view through June 12 at the National Gallery of Art, Washington, D.C. It opens July 16 and runs through October 10, 2005 at the Art Institute of Chicago. For information call 202.842.6804, or visit www.nga.gov.
---
Richard Thomson is the Watson Gordon Professor of Fine Art at the University of Edinburgh. He is guest curator of Toulouse-Lautrec and Montmartre and principal author of the accompanying catalogue.