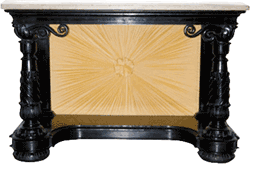 AN IMPORTANT SIGNED COLONIAL INDIAN CARVED
EBONIZED MARBLE-TOP PIER TABLE
Bearing the engraved label, B. W. Lazarus, Cabinetmaker
Calcutta, India, circa 1825–1830
Hardwood
H. 36 1/2" W. 54 1/2" D. 24"
Courtesy of Marc J. Matz

Labeled examples of Colonial Indian furniture from this time period are virtually unknown. Records indicate that B.W. Lazarus established his Calcutta cabinet shop in the early years of the nineteenth century. The firm was later recorded as C. Lazarus and Sons, eventually becoming the leading shop in the city.

The highly sophisticated and interpretive design of this table, with its superb craftsmanship, draws its inspiration from the published source books of the period such as George Smith's The Cabinet-Maker's & Upholsterers Guide, London, 1826. Noteworthy is Smith's design for a pier table with carved columns raised on a platform illustrated in Plate LXIV, which he describes being used for "occupying the piers between the windows of the drawing room…having its sides enclosed, the panels of which on the outside are intended to be filled up with quilted silk."