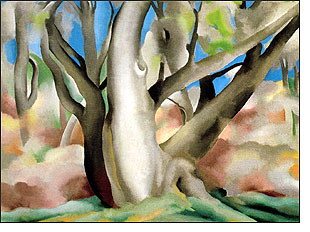 Georgia O'Keeffe (American, 1887–1986)
Trees at Glorieta, New Mexico, 1929
Oil on canvas, 30 x 40 inches
Private collection
Photo courtesy of Georgia O'Keeffe Museum

The 1998 discovery of an exhibition list and other documents in the College of William and Mary's archives has led to the re-creation of a previously unknown 1938 exhibition of works by Georgia O'Keeffe, one of America's foremost modernist painters.

O'Keeffe in Williamsburg, on view through October 21 at the Georgia O'Keeffe Museum in Santa Fe, brings together eight O'Keeffe paintings that originally comprised the "lost" exhibition held at the college in Williamsburg, Virginia. This intimate exhibition is significant in that the artist's husband, photographer Alfred Stieglitz, seldom allowed her works to be shown outside New York before the 1940s. Additionally, the works that Stieglitz loaned to the exhibition came from O'Keeffe's most important period, 1927–1937, and include some of what are today her most beloved and recognized paintings, such as Red Poppy.

The current exhibition also includes recently discovered O'Keeffe correspondence, photographs, and other historical documents. On view is a video made from a recovered film reel of the artist receiving an honorary degree at the college. Instead of giving a commencement address, O'Keeffe wrote to the college's president: "My achievement stands in color…. I am glad you will have the paintings to speak for me."