Daniel Garber (American, 1880–1958)
Glen Road
Circa 1932; repainted fall 1942
Oil on canvas
36 3/8 x 40 1/4 inches
Private collection
Courtesy of Dr. Lance Humphries and Hollis Taggart Galleries; private collection

Although Daniel Garber is often thought to have painted his Bucks County, Pennsylvania, surroundings with fidelity to the scene, works such as Glen Road, illustrated here with a photograph of the actual site, document that he took certain artistic license. For instance, his interest in design and pattern resulted in the embellishment and deletion of elements from the scene. In this work he brought the background into full view so that it could form a clear backdrop for his depiction of a lonely house amid trees. Garber recorded painting this work in 1942, but research has uncovered that it was first painted at least a decade before. Furthermore, the artist at some point returned to the canvas, eliminating a large tree and structure that had originally graced the right-hand portion of the canvas.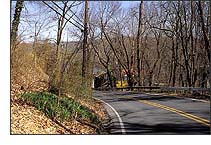 After a decade of research cataloguing the works of this member of the New Hope School of American landscape painting, many such reworkings and fine tunings have been revealed. The forthcoming (2002) catalogue raisonné written by Dr. Lance Humphries will provide details on nearly 1,500 works by the artist, including entries on nearly 900 paintings, over 1,000 illustrations, and the essay "Daniel Garber: Romantic Realist." Published by Hollis Taggart Galleries, New York, ordering information will be forthcoming on the gallery's Web site, www.hollistaggart.com.