Highlights: American Masterworks
From the Munson-Williams-Proctor Arts Institute:
Celebrating an Educational Alliance with Pratt Institute


Also at Hirschl & Adler Galleries
The Grand Scale: New Watercolors
by Alexander Creswell


Queensboro Bridge 1, 2006. Watercolor and
colored pencil, 59 x 40 inches. Signed lower left.


October 5 - November 4, 2006

British watercolorist Alexander Creswell
introduces watercolor painting as installation. Made possible by the recent availability of watercolor paper 60 inches wide by 120 feet long, and with monuments from Greco-Roman antiquity to the Baroque as his subject, Creswell says, "A huge watercolor in a small room is a theatrical experience."


Hirschl & Adler Galleries, Inc.,
21 East 70th Street, New York, NY
November 16 - December 29, 2006
Tel: 212.535.8810 or visit www.hirschlandadler.com


---

For six weeks beginning on november 16, Hirschl & Adler Galleries will host a significant number of American artworks from the Munson-Williams-Proctor Arts Institute (MWPAI), Utica, New York. The opportunity arose for this special exhibition because the MWPAI wanted to showcase its holdings in New York as a way of celebrating its close educational affiliation with Brooklyn's Pratt Institute. (Students can now take the first two years of a BFA on MWPAI's beautiful campus and finish the last two years at Pratt in Brooklyn.) Dr. Thomas F. Schutte, President of Pratt Institute said, "I'm delighted that we are able to celebrate this academic collaboration by featuring some of America's greatest artists at one of Manhattan's most esteemed galleries."
The breadth of the MWPAI collections will be represented at Hirschl & Adler Galleries by more than seventy works. Never before has such a large and important part of MWPAI's renowned collection of American paintings, sculpture, miniatures, works on paper, and furniture been exhibited for an extended period of time in a single Manhattan venue. Highlights include Thomas Cole's The Voyage of Life (1839-1840), a quartet of monumental allegorical paintings executed for New York banker and philanthropist Samuel Ward Sr. This will be the first time they've been seen in NYC since the early 1980s when they were on display at the New-York Historical Society. Also on display will be works by Maurice Prendergast, Charles Burchfield, Edward Hopper, Jackson Pollack, and Arshile Gorky.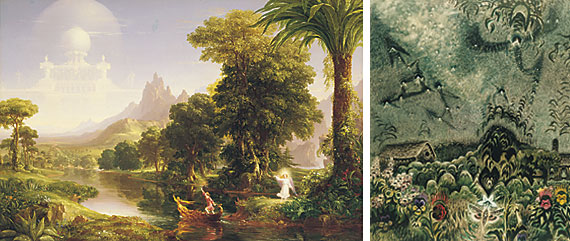 LEFT: Thomas Cole (1801-1848), The Voyage of Life: Youth, 1840. Oil on canvas. Museum purchase, 1955. RIGHT: Charles Burchfield (1893-1967), The Sphinx and the Milky Way, 1946. Watercolor, chalk, and crayon on paper. Museum purchase, 1948.