Highlights: Bejewelled by Tiffany, 1837-1987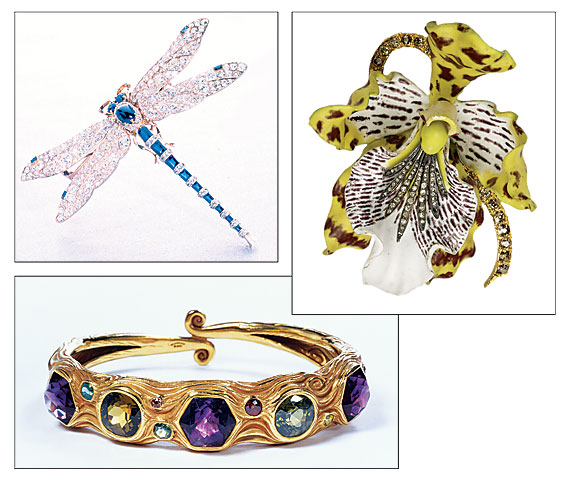 The Gilbert Collection Trust, Somerset House, Strand, London
Extended through January 7, 2007
For more info visit www.gilbert-collection.org.uk or phone 44 (0) 20.7420.9400


---
Famous for its glamour, creative design, and fine craftsmanship, Tiffany & Co. began in New York in 1837 as a modest "fancy goods" store on Broadway. By mid-century its jewelry was stunning the world at the great international exhibitions of the nineteenth century. Some 180 glittering pieces from the Tiffany archive, along with works on loan from private collections, will chronicle Tiffany's first 150 years, making Bejewelled one of the most comprehensive exhibitions of Tiffany jewelry ever mounted.




IMAGES, CLOCKWISE FROM UPPER LEFT: Dragonfly hair ornament, circa 1895. Gold, silver, diamonds, sapphires. 7.2 x 8.9 cm. Photography by Ron Rieves; Orchid Brooch by G. Paulding Farnham. Gold, diamonds, and enamel. 7 x 6 x 3.4 cm. Photography by Jan Van Pak; "Bone" cuff bracelet by Elsa Peretti, first produced in 1974. Silver. 6 x 6 x 4.5 cm. Photography by Josh Haskin; Naiad Brooch by G. Paulding Farnham, American, circa 1901. Gold, fresh-water pearls, emeralds, rubies, diamond. 5.1 x 3.5 cm. Exhibited at the 1901 Pan-American Exposition, Buffalo, NY; Art Nouveau style bangle, circa 1895. Gold, amethysts, sinhalites, garnets, aquamarines, pink tourmaline. 7.6 x 7.6 cm. Photography by Jan van Pak.


Tiffany's rise as an American institution was rooted in the entrepreneurial genius of company founder Charles Lewis Tiffany (1812-1902), who combined an appreciation of European fashions with a distinctive American aesthetic. His stock ranged from modestly priced souvenirs such as a mounted section of steel cable commemorating the laying of the first transatlantic cable, to historic diamonds acquired at the 1887 sale of the French Crown Jewels. Between the 1870s and WWI, Tiffany evolved into jewelers of true originality as growing American wealth made the wearing of diamond jewelry commonplace. Tiffany, nicknamed "the King of Diamonds," acquired the famed yellow 128-carat Tiffany Diamond, still in the collection and one of the showstoppers in the exhibition.
Not surprisingly, a large section of the exhibit is given over to Louis Comfort Tiffany (1848-1933), the younger of Charles's two sons, whose original color combinations and more lyrical aesthetic ushered in a new phase in the Tiffany success story. Over twenty pieces of his jewelry are displayed, including the ravishing "grapevine" fringe necklace of amethysts and jade set in gold that was exhibited at the Paris Salon of 1906. The Tiffany postwar years are covered too, in the work of leading-edge designers Jean Schlumberger and Donald Claflin, and later, the work of Elsa Peretti and Paloma Picasso. Peretti's trademark "bone" cuff bracelet and Picasso's gold cuff bracelet continue to give Tiffany the lead in contemporary jewelry design.