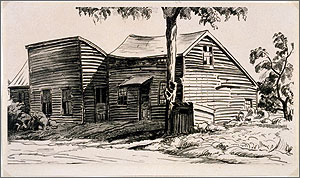 Charles Burchfield (American, 1893–1967)
Untitled (Old farm house by side of road), circa 1930
Lithograph, 10 1/4 x 17 1/4 inches
Courtesy of Whitney Museum of American Art

Charles Burchfield's distinct and often dreamlike renditions of the Old Western Reserve landscape—Ohio and western New York State—impart a sense of otherworldliness in ordinary scenery. In 1933, the Whitney purchased his watercolor Ice Glare and has since continued to advocate his work.

In Charles Burchfield: Works on Paper, a selection of watercolors and prints from the Whitney's collection is exhibited along with recent acquisitions such as a master set of his
wood engravings. Also included is a previously unknown print (shown here) that emerged from the estate of lithograph printer Jacob Friedland. Print dealer Sylvan Cole brought it to the attention of Whitney curator David Kiehl because of their mutual interest in "previously unrecorded images by American artists." The connection between Burchfield and Friedland remains a mystery. The exhibition is on view through February 10, 2002, at the Whitney Museum of American Art, New York; www.whitney.org.