| | |
| --- | --- |
| | |
| | |
| | Jean-Antoine Houdon (French, 1741-1828), George Washington, 1785. Low-fired clay. Transferred to the Mount Vernon Ladies' Association through the generosity of John A. Washington III, 1860. Photography by Mark Gulezian. |
After fifteen years of planning and a capital campaign that raised more than $110 million, Mount Vernon's Ford Orientation Center and Donald W. Reynolds Museum and Education Center opens to the public on October 27, 2006. This marks a new era at Mount Vernon, home of America's first president, George Washington. The museum and education center will dramatically enhance the visitor experience on the estate and provide a broader understanding of Washington's accomplishments and legacy. Even those who have been to Mount Vernon frequently in the past will experience far more of the collection than ever before. Our former museum provided space for only about 150 historic artifacts, while the new spaces display some 700. Newly acquired and recently conserved pieces make their debut in October, and hundreds of pieces have come out of storage to be shared with the public.

The new facilities (65,000 square feet) are low-lying or underground in order to leave the historic area of the estate undisturbed. The orientation and education centers offer state of the art visual programs and opportunities to present topics that cannot be addressed adequately on tours of the mansion: Washington's military career and presidency. The education center, which traces Washington's life from beginning to end, will debut three highly-anticipated, forensically correct lifelike figures, the result of years of work by scientists, artists, computer specialists, art historians, and other scholars. They show Washington at age nineteen, as a surveyor -- his first profession -- at age forty-five, as commander in chief of the Continental Army during the Revolutionary War, and at age fifty-seven, as president of the United States.


---

Mount Vernon is committed to reaching an audience far beyond the plantation's walls with traveling exhibitions, an enhanced website, distance learning classroom, and a teacher resource center that provides educators with curriculum and other educational material. As an example of this outreach, David McCullough will be connected to 35,000 classrooms across the nation in late October for a dialogue with students about the character and leadership of George Washington.


---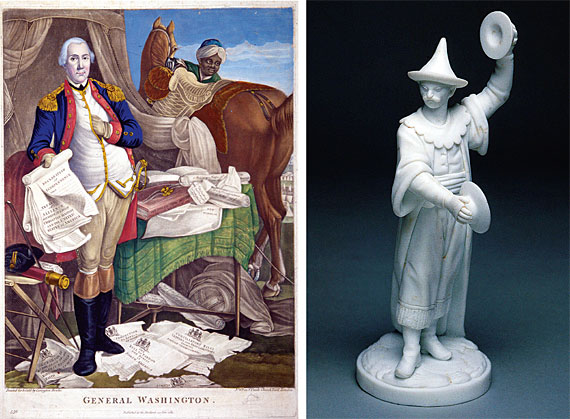 LEFT TO RIGHT: Carington Bowles (British, 1724-1793), General Washington, after Noel Le Mire (French, 1724-1793), after Jean Baptiste Le Paon (French, 1738-1785), after Charles Willson Peale (American, 1741-1827); published in London. Mezzotint (artist's proof), 1785. Gift of Mr. and Mrs. Stanley DeForest Scott, 1985. Photography by Robert C. Lautman.; Figure with cymbals, Niderviller, France, circa 1789. Biscuit porcelain. Purchase, 1985. Photography by Paul Kennedy.


The new museum galleries -- handsomely designed by Charles Mack and Elroy Quenroe of Quenroe Associates -- display items that the Washingtons used in their public and private lives, taking Washington beyond his status as a national icon and drawing a picture of him and his family with their particular personalities and tastes. The space is not a generic decorative arts museum or special collections library, but instead features pieces directly related to the Washingtons that can be closely studied outside of the mansion environment.


| | |
| --- | --- |
| | |
| | |
| | Easy Chair, Attributed to Robert Walker (d. 1777), Virginia, circa 1740-1760. Mahogany, beech. Purchased with funds donated by the Detroit Mount Vernon Society, 1910. Photography by Hans Lorenz. |
The Founders, Washington Committee for Historic Mount Vernon, Gallery, a classically-inspired circular domed space, is devoted to just one artifact, arguably Mount Vernon's most prized -- the clay bust of Washington made on the estate in 1785 by Jean-Antoine Houdon (1741-1828). The renowned French sculptor left a commission for Catherine the Great, Empress of Russia, to cross the Atlantic for what he considered the greatest opportunity of his career. During Houdon's two-week stay at Mount Vernon he took a plaster life mask that served as the basis of many subsequent sculpted portraits of Washington and modeled the bust that has remained at Mount Vernon since 1785, save for a brief journey in the late 1990s to the National Gallery of Art for x-rays.

The A. Alfred Taubman Gallery contains highlights of Mount Vernon's extensive fine and decorative arts collection. Made by some of the most talented artists and craftsmen of the time from England, France, China, and America, the collection reflects Washington's keen awareness of the way in which objects telegraphed his status as a Virginia gentleman, soldier, and statesman. The items on display range from early purchases of table decorations to a silver salver with the family crest, attributed to Richard Humphreys (1750-1832), chairs in the "neat and plain" style, and a variety of Chinese export porcelain. An elegant presidential dining scenario gives a glimpse into the gracious state entertaining over which George and Martha Washington regularly presided. When Washington was president they gave a dinner every Thursday at 4:00 p.m. for congressmen and other dignitaries. French table ornaments, porcelain, and mirrored plateau -- together with cobalt blue finger bowls, champagne and wine glasses and other tableware -- signal Washington's refined taste. This gallery also reunites for the first time in at least one hundred years all five pieces of a mantel garniture set Washington owned. Mount Vernon acquired the missing fifth piece in 2004; it joins four matching pieces generously on loan from the Smithsonian Institution.


| | |
| --- | --- |
| | |
| | |
| | Teapot with lid, covered cup, tureen and cover, and plate from the Society of the Cincinnati service, Jingdezhen, China, circa 1784. Porcelain. Purchase, 1944. Photography by Gavin Ashworth. |
Washington's journey from soldier to statesman is the focus in the barrel-vaulted John and Adrienne Mars Gallery. A 1780 Charles Willson Peale (1741-1827) portrait of General Washington after defeating the British at Princeton is flanked by artifacts relating to his military career, including silver camp cups and rare pieces of Society of the Cincinnati porcelain. Another Peale portrait of President Washington joins pieces associated with the presidential years. Metal buttons adorned with Washington's initials and phrases like "Long Live the President" and likely worn by supporters to commemorate the first president's 1789 inauguration, stand in marked contrast to the fancy paste stone buckles worn by a guest at the inaugural ball and a stylish French chair Washington purchased during the presidency from a departing French ambassador, the Comte de Moustier.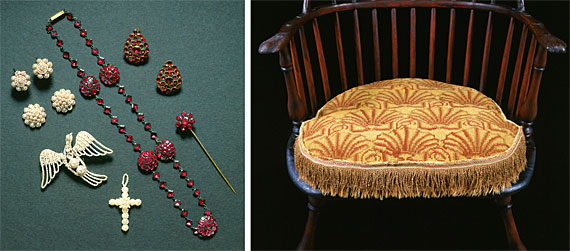 LEFT TO RIGHT: A selection of jewelry owned and worn by Martha Washington and her daughter Patsy. Garnet necklace, pair of earrings, and pin, probably England, circa 1759-1760. Necklace: Gift of Barnaby Conrad, 1989. Earrings: Gift of Elizabeth T. Wise and Henry A. Wise II, MD, 2002. Pin: Bequest of John Parke Custis Upshur, 1952. Pearl dove-shaped pin, earrings, and cross. Cross made in America, circa 1840-1860. Other pieces made in England or America, circa 1790-1795. Pin and earrings: Given in memory of Lucy Ware Lewis McCormick, 1945; Cross: Gift of Barnaby Conrad, 1982. Photography by Harry Connolly.; Chair Cushion, by Martha Washington, circa 1765-1802. Linen, wool, silk. Purchase, 1960. Photography by Gavin Ashworth.


The Elizabeth and Stanley DeForest Scott Gallery invites visitors to be at home with the Washingtons, both at Mount Vernon and on the road. Thomas Pritchard Rossiter (1818- 1871) and Louis Remy Mignot's (1831-1870) monumental Washington and Lafayette at Mount Vernon (one of four paintings generously lent by the Metropolitan Museum of Art), two views of Mount Vernon attributed to Edward Savage (1761-1817), and a scenario of taking tea on the piazza, give a sense of plantation life. Original components of the estate, including Mount Vernon's cornerstone, weathervane, and sundial complement cases reflecting outdoor pursuits. Washington's riding crop, fishing tackle box, and hunting horn all speak to his participation in various sports. Women's activities are depicted with items related to watercolor painting and needlework and include one of the beautiful gold and red chair cushions with shell pattern cross-stitched by Martha Washington. Another area of this large gallery places the visitor with Washington at camp during the American Revolution. Featured are his folding field bedstead and other necessities designed for easy moving and storage.


The intimate L. J. Skaggs and Mary C. Skaggs Foundation Gallery is the perfect setting for a look at the Washingtons' stylish appearance. It provides another insight into the private side of this prominent family through personal objects they used and wore, ranging from Martha Washington's jewelry, lacquer dressing glass, and snuff box to George Washington's pocket watch, shoe buckles, and conch shell buttons. Washington once described his wife's taste: "Her wishes coincide with my own as to simplicity of dress and everything which can tend to support propriety of character without partaking of the follies of luxury and ostentation."
The Washingtons commissioned and gave to one another jewel-like watercolor-on-ivory miniatures of a type often worn as bracelets or pendants to keep loved ones close by; we plan to display a different group of family miniatures every few months. Textiles, like miniatures and lacquer, are highly fragile and will be shown for limited periods of time, then replaced by other examples. The museum debuts with the plain brown wool coat and breeches believed to have been worn by Washington at his first inauguration and the black silk taffeta queue or hair bag with grosgrain ribbon rosette that can be seen in various Gilbert Stuart portraits of Washington.


While Washington was not as recognized for his intellectual pursuits as some of the other Founding Fathers, The Gilder Lehrman Gallery reflects Washington as a man of ideas with a lifelong quest to better understand the world around him. Focusing on works on paper and select three-dimensional pieces, this space has the feel of a tranquil library, with groined-vaulted ceiling and rich wooden casework. Visitors encounter a vignette containing the recently conserved terrestrial globe that Washington ordered from London during the presidency and books that signal his wide diversity of interests. At his death his library contained nearly nine hundred volumes.


| | |
| --- | --- |
| | |
| | |
| | Conceptual drawing of the Gilder Lehrman Gallery, 2005. Designed by Charles Mack of Charles Mack Design. |
This gallery also displays Washington's architectural designs for his estate and his famous Newburgh Address that confirmed civilian authority over the military (on loan from the Massachusetts Historical Society). One also will find engraved invitations to dine with the president (along with the original copper engraving plate), plans for the new Federal City, eulogies, mourning jewelry, and memorial pieces made following Washington's death, and a census of his slaves and the page of his will in which he made provisions to free them. Due to their light-sensitive nature, works on paper will be rotated on a regular basis. We hope that guests will return not only to see these artifacts but also the temporary shows in the F. M. Kirby Foundation Gallery for changing exhibitions (see article on Washington and Lafayette also in this issue).


With these new facilities, we hope that everyone will leave the museum with an enhanced understanding of how Washington took responsibility for a large, extended family, how he led by example and set the style for the new nation, set lasting precedents as our first president, led in his patronage of the arts, was a man of ideas, and was generous in his hospitality. (In one year alone, the Washingtons welcomed more than 677 overnight guests to Mount Vernon!) Antenna Audio has produced an informative and multi-layered random-access tour for the museum featuring both regular and kid-friendly versions, and Hudson Hills Press has published the recently completed volume, The George Washington Collection: Fine and Decorative Arts at Mount Vernon (by Carol Borchert Cadou, Mount Vernon's Robert H. Smith Senior Curator), available when the new museum opens. For information about Mount Vernon and the new exhibition spaces visit www.mountvernon.org, or call 703.780.2000.



Linda Ayres is associate director and director of collections at Mount Vernon, Mount Vernon, Virginia.


---

Download the Complete Article in PDF Format




Get Adobe Acrobat Reader