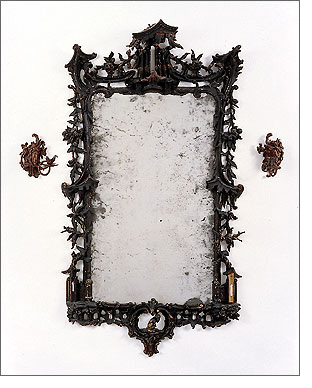 Rococo Looking Glass and Matching Sconces
London, England, circa 1760
Mirror: H. 55", W. 31"
Sconces: H. 7 1/2", W. 4 1/2"
Provenance: Nathaniel Barrell, York, ME; by descent through family
Courtesy of the Society for the Preservation of New England Antiquities (SPNEA),
Boston, MA

In 1763, Nathaniel Barrell (1732–1831) traveled to London, where he purchased several items to furnish his family's home in York, Maine. Barrell was married to Sally Sayward (1738–1805), a member of the family who originally owned SPNEA's 1718 Sayward-Wheeler House. The looking glass remained in York until recently purchased by SPNEA; the organization owns other items purchased on that same trip to London.

The looking glass and sconces are important additions to SPNEA's collection. Richard Nylander, SPNEA's chief curator, says, "That in addition to being excellent examples of English rococo taste, the glass and sconces have a secure povenance in New England, an important component of SPNEA' collecting criteria." For more information on SPNEA, visit online at www.spnea.org.