by Erik R. Brockett


| | |
| --- | --- |
| | |
| | |
| | Fig. 1: Hugh Henry Breckenridge (1870-1937), The Barn. Oil on board, 7-1/2 x 9-1/2 inches. Courtesy Avery Galleries, Haverford, PA. |
A pioneering modernist painter whose work won prizes at major international expositions and is included in major museum collections, Hugh Henry Breckenridge (1870-1937) remains largely undiscovered among the wider collecting public. Paul Gratz of Gratz Gallery and Conservation Studio, New Hope, Pennsylvania, considers Breckenridge "probably the biggest sleeper" -- at least for the time being -- among his peers, principally because it has been decades since a major exhibition has focused exclusively on his work.1

Born in Leesburg, Virginia, Breckenridge is closely associated with Philadelphia, where he became an influential member of that city's artistic community over the many years he lived and taught there. He studied at the Pennsylvania Academy of the Fine Arts from 1887 to 1892, and subsequently in Paris, after winning an Academy scholarship that funded travel and further instruction. The artist's European sojourn sparked a profound interest in color that endured throughout his lifetime, greatly affecting his work and influencing his peers and students over the course of his distinguished teaching career.


| | |
| --- | --- |
| | |
| | |
| | Fig. 2: Hugh Henry Breckenridge (1870-1937), City Hall. Oil on canvas, 32 x 32 inches. Courtesy Gratz Gallery and Conservation Studio, New Hope, PA. |
Breckenridge's early work included the commissioned portraits with which he supported himself, as well as landscapes and still lifes in the prevailing impressionist style (Fig. 1). He also painted major oils depicting the Philadelphia cityscape, including one of mummers marching in the annual New Year's Day parade, which sold earlier this year for just under $50,000 (Fig. 2).

After a second trip to Europe in 1909, Breckenridge began painting in an increasingly progressive style, departing from representational color and clearly recognizable form (Figs. 3, 4). He worked closely with Arthur B. Carles (1880-1952) in the years between 1910 and 1920, and as Carlisle, Massachusetts, dealer Mark Brock notes, "The two sometimes painted works side by side. They went in similar directions and created similar works." Among Breckenridge's output from these years is a study for a larger work that Brock recently placed in a private collection (Fig. 5). "I think it represents a pivotal point in Breckenridge's career when he is moving from broken brushstroke works in the impressionist vein, to a separation of form and color, eventually leading to his abstract works."



LEFT TO RIGHT: Fig. 3: Hugh Henry Breckenridge (1870-1937), Window Bouquet, circa 1925. Oil on canvas, 25-1/4 x 31 inches. Courtesy Gerald Peters Gallery, NY.; Fig. 4: Hugh Henry Breckenridge (1870-1937), Still Life # 1A, circa 1911. Oil on canvas, 20 x 19 inches. Courtesy Vincent Vallarino Fine Art, NY.


Breckenridge's bold palette and expressionistic use of color inspired scores of artists who worked with him at the summer art schools he established in Darby, Pennsylvania, and Fort Washington, New York; and (perhaps most notably) at the Breckenridge School of Art he opened in 1920 in East Gloucester on Massachusetts' Cape Ann peninsula, which at the time was emerging as one of America's major art colonies. There, Breckenridge took advantage of convenient harbor access to pursue the boat-related themes of which he was apparently quite fond; transforming hulls, sails, and water into freely formed planes of vivid color (Figs. 6, 7).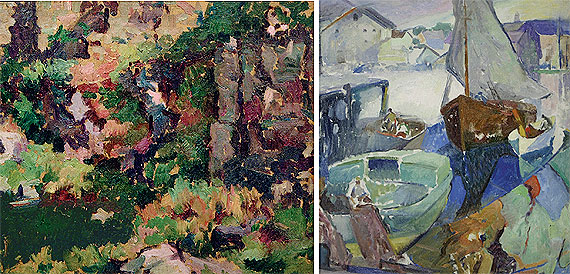 LEFT TO RIGHT: Fig. 5: Hugh Henry Breckenridge (1870-1937), Study for the Lake, 1916. Oil on canvas on laminated board, 14 x 16 inches. Courtesy Brock and Co., Carlisle, MA.; Fig. 6: Hugh Henry Breckenridge (1870-1937), Boats in Harbor, Gloucester, Massachusetts. Oil on canvas, 24 x 21-3/4 inches. Courtesy Roughton Galleries, Inc., Dallas, TX.


| | |
| --- | --- |
| | |
| | |
| | Fig. 7: Hugh Henry Breckenridge (1870-1937), The Schooner Seagull, 1927. Oil on canvas, 23-1/8 x 40-1/8 inches. Courtesy Hollis Taggart Galleries, NY. |
"Breckenridge delved into modernism long before many other artists," notes Paul Gratz. "He was way ahead of his time, yet his works are totally undervalued relative to his importance." Perhaps because American modernism has traditionally been more closely associated with New York, works by the group of artist associated with legendary dealer Alfred Stieglitz (Georgia O'Keeffe, Marsden Hartley, John Marin, and Arthur Dove, for instance) bring considerably higher prices than do those by Philadelphia modernists like Breckenridge. "Given his contribution, I think his works are probably underpriced by a factor of ten when compared to the Stieglitz group," observes Gratz.


Until a major scholarly book or exhibition on Breckenridge's work arrives on the scene, Brock suggests that potential collectors look to form and color when evaluating a Breckenridge purchase. "It's all about visual impact when you buy these works," he says.


---
Lisa Bush Hankin is director of research at Adelson Galleries in New York, where she specializes in nineteenth- and twentieth-century American fine art.


---

1. The last single-artist exhibition and accompanying catalogue on Breckenridge was in 1966 at Valley House Galleries, Dallas, Texas.


---

Download the Complete Article in PDF Format




Get Adobe Acrobat Reader