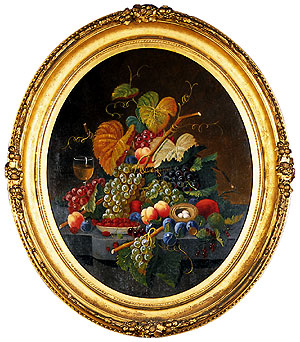 Still Life, Attributed to Severin Roesen
(German/American, 1815–1872)
Circa 1860–1870
In original gilded frame
Courtesy of Heller Washam Antiques

Discovered in Pennsylvania in "attic" condition, this painting was found detached from its original gilded frame and oval stretcher. Even through the layers of dirt, the luminous quality and composition were suggestive of the work of Severin Roesen. Active in Pennsylvania in the mid-nineteenth century, Roesen may have painted this image for one of his many wealthy Pennsylvania patrons interested in the bountiful "dining room" scenes that typify Roesen's oeuvre.

This style of still life painting, based on the seventeenth-century Dutch tradition, was still in vogue in nineteenth-century northern Europe when this image was rendered. Hailing from Germany and trained as a floral porcelain painter, Roesen may have been responsible for introducing this lush still life style into the American repertoire when he arrived in New York around 1848. This new manner of painting differed from the austere botanical compositions previously favored, but suited the Victorian-era taste for images of overwhelming bounty. Many features typical of Roesen's still life paintings are evident in this work, including the fruit-strewn marble surface, coloration and definition of the grape leaves, bird's nest, wine glass, and dish, and favored fruit such as glistening grapes, plums, peaches, and strawberries.