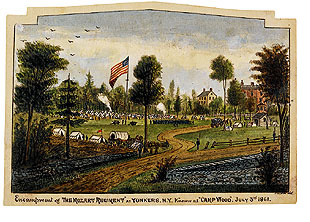 Robert Knox Sneden (American, 1832–1918)
Civil War diary, 1861–1865
Encampment of the Mozart Regiment at Yonkers, New York, Known as "Camp Wood," July 3, 1861
Courtesy of Virginia Historical Society

On a fall afternoon in 1994, two men visited the Virginia Historical Society with a remarkable discovery to show curators. In his family's bank vault, one of the men had unearthed four albums—4,000 pages altogether containing nearly 400 illustrations—constituting perhaps the largest surviving collection known of Civil War soldier art. The society's directors quickly recognized the importance of the find and were able to purchase the entire collection through privately donated funds. A few years later, research by Assistant Director James C. Kelly led to a descendent of the soldier who incredibly had another 1,000 pages and 500 illustrations in a storage bin in Tucson, Arizona. The harrowing experience of a Civil War private soon began to unfold.

The memoirs of Union soldier Robert K. Sneden, a mapmaker in the Army of the Potomac, is a dramatic story of the war told in extraordinary detail through firsthand narrative and enriched by watercolors, sketches, diagrams, and maps. Sneden's stirring account covers his yearlong imprisonment at the notorious Andersonville camp in Georgia and significant battles such as the Seven Days' campaign of 1862, when General George McClellan lost the opportunity to end the war at an early stage. The society published much of Sneden's account in the best-selling Eye of the Storm (2000) and has compiled his most compelling illustrations in a new book, Images from the Storm.1 The soldier's drawings traveled in the exhibition Eye of the Storm, which is now on view at The Huntington Library, San Marino, California, through January 24, 2002. Visit www.sneden.com for more information.

1. Robert Knox Sneden, ed. Charles F. Bryan, Jr., James C. Kelly, and Nelson D. Lankford, Images from the Storm (New York: The Free Press/Simon & Schuster, 2001).