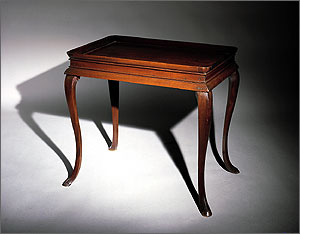 Queen Anne Tray Top Tea Table
Rhode Island, circa 1730–1740
Mahogany and red gum
H. 26", W. 29", D. 19"
Provenance: The Collection of Mrs. J. Amory Haskell; by descent in the family until 2000
Courtesy of Anthony S. Werneke Fine American Antiques

This masterful and important table represents one of the earliest known examples of an American Queen Anne tea table. Several early tables with complex-molded tops are known, but feature less refined legs and feet (for example, Clunie, Furniture from the Essex Institute [1980], no. 14). The attribution of this table to Rhode Island is based on
the form and elegance of the legs, which share the profile of Newport slipper-foot tea tables, and on the construction, which mimics the distinctive inset and blocked tops of the same tables.

The deep tray top has beautifully carved double-cusped corners and cove molding, which mirrors the applied molding above the legs. The bold profile of the top and apron harkens to the preceding early baroque William and Mary style. The sculptural qualities of the legs are rendered by the unusually faceted and tapering surfaces, which begin at the knee and continue down to the hoofed foot. Although found on English and Continental furniture, this is the first known instance of a hoofed foot on an American tea table. Exhibiting strength and boldness of line while remaining delicate and graceful, this table clearly ranks as the masterpiece of its form.