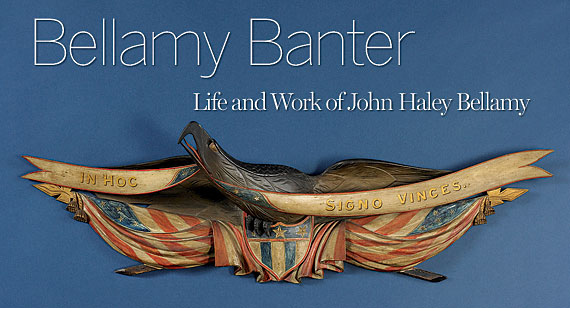 The Piscataqua Decorative Arts Society, Portsmouth, NH
April 10, 2006
For more information email info@pdasociety.org or call Betsy Garrett at 603.387.7018

The Piscataqua Decorative Arts Society's 2007 season of events begins with a panel discussion exploring the life and work of carver John Haley Bellamy (1836-1914), a native of Kittery Point, Maine, and best known today for his eagles -- spare and simple in design yet soaring in spirit. Panelists include master cooper and carver Ron Raiselis; Ronald Bourgeault, who set a record $666,000 price at auction for a Bellamy eagle plaque in 2005, and Bellamy enthusiast Joe Frost, whose father purchased the historic property of Colonel William Pepperell in Kittery Point, Maine, where Bellamy was born and later used the counting house as his carving shop. Frost discovered a cache of Bellamy's sketches, patterns, letters, diaries and other memorabilia in the attic, which were later purchased by Andrew Wyeth, and subsequently donated to the Farnsworth Art Museum in Rockland, Maine. The Society was founded in 2002 to encourage research into the arts of the Maine/New Hampshire Piscataqua region.