Seventh Regiment Armory
Park Avenue at 67th Street, NYC
May 11-16, 2007
Benefit Preview for the Frick Collection (10 May 2007)
For more information visit www.haughton.com


This annual fair's range and quality of paintings, drawings, watercolors, and sculpture, draws institutional and private buyers from around the world. The only "high end" fair in the world devoted solely to pictures and sculpture, every exhibit is carefully vetted for authenticity by specialists from both the museum and commercial art worlds. Fifty-five dealers from Europe, America, and the Far East will show works from the Renaissance through to the twentieth century.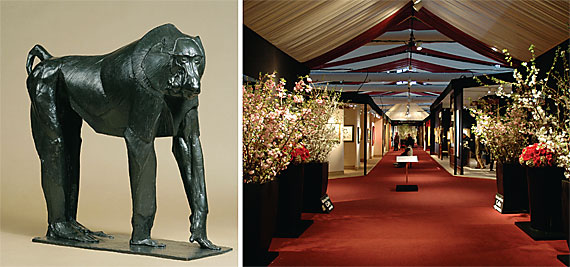 LEFT: Rembrandt Bugatti (1884-1916), Hamadryas Baboon. ca. 1910, edition number 6. Courtesy of French and Co. Photo: Haughton International Fairs.; RIGHT:
View of the 2006 Fair. Photo: Haughton International Fairs.


| | |
| --- | --- |
| | |
| | |
| | Maurice Prendergast (1858-1924), On the Beach, St. Malo, circa 1907. Oil on panel, 8-1/4 x 13 inches. Signed lower right: "Prendergast". Courtesy of Hollis Taggart Galleries. Photo: Haughton International Fairs. |
Paintings and sculpture spanning the centuries illustrate how European art, in particular, has evolved. Exquisitely executed gold-ground panel paintings and devotional images of the Renaissance period meet with the kaleidoscope of images in twentieth-century art. Recent years have seen an increase in American dealers offering American art, reflecting the strength of demand in America for its own art works. Organized by Haughton International Fairs of London, who are also responsible for the International Art + Design Fair (6-11 October), the International Fine Art and Antique Dealers Show (20-26 October), and the International Asian Art Fair (31 March-5 April) at the same venue, the International Fine Art Fair prides itself on providing something for every price range; from under $1,000 to in excess of $10 million. Grand history paintings produced for the Salon and major commissions for important patrons can be seen alongside informal sketches or untypical early works by famous artists. Likewise with sculpture, the museum-destined bronze or marble alongside a small "maquette" appealing to the private buyer are typical of the range of work on exhibit.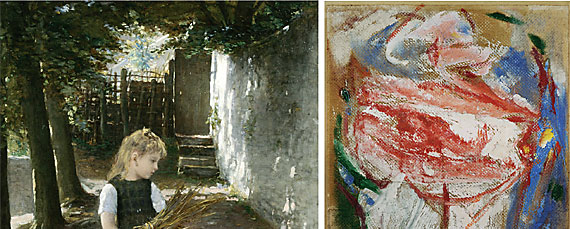 LEFT: Paul Seignac (French, 1826-1904), Tying her Shoes. Oil on Panel, 16 x 12-3/4 inches (40.6 x 32.4 cm). Signed bottom left: Seignac. Courtesy of Daphne Alazraki. Photo: Haughton International Fairs.: RIGHT: Willem De Kooning (1904-1997), Untitled (Woman). Executed in 1967. Signed at lower center. Oil on paper with paper collage on board, 19-3/4 x 11-1/2 inches. Courtesy of Linda Hyman Fine Arts. Photo: Haughton International Fairs.


New exhibitors in 2007 include: Galerie ALFA (Paris), with nineteenth- and twentieth-century drawings; Beck and Eggeling (Dusseldorf), with impressionist and classic modern art; Nathan A. Bernstein and Co. (New York), with impressionist and modern art; the Fine Art Society (London), with nineteenth- and twentieth-century British art.

There will be a benefit preview for the Frick Collection on Thursday, 10 May. Vice chair tickets, $1,500. Collectors' committee tickets, $500. Patron tickets, $250. To order: contact Preview Opening of The International Fine Art Fair, The Frick Collection, 1 East 70th Street, New York 10021.Tel: 212 547 0705, email: events@frick.org.


---





Download the Complete Article in PDF Format




Get Adobe Acrobat Reader