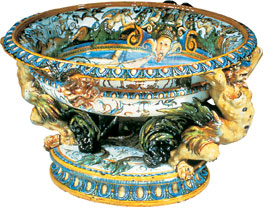 Maiolica Wine Cooler (rinfrescatoio)
Made for Cosimo I de' Medici, Grand Duke of Tuscany (1519–1574)
Flaminio Fontana, Urbino, 1574
Courtesy of the Wallace Collection, London

Sir Richard Wallace, husband of the Wallace Collection's founder, acquired this Italian maiolica wine cooler in 1875 from the London art dealer Henry Durlacher. He paid a significant £4,500 for it—at that time, more than three times the highest price ever paid at auction for maiolica. Wallace may have been motivated to pay the large sum by the fact that the piece is covered with references to its famous first owner. Made for Cosimo I de' Medici in the year of his death, it includes mottos and decorative devices, such as a turtle with a mast on his back, that refer to the great late-Renaissance art patron.

However, only some of the other decoration could be explained until new research took place in 2001. The wine cooler's shape, incorporating massive, monsterlike supporting figures in relief, is rare, but the figures' inspiration can be traced to antique Roman ornament. The naval battle scene in the well depicts an event in Caesar's Gallic Wars; this design had precedence in other maiolica services of the period. But the source for the colorful overall decoration of figures, garlands, birds, dolphins, and mermaids, called the "white-ground grotesque ornament," has only recently been discovered. Scholar Christopher Poke uncovered a set of etchings, more than 425 years after its making, by French architect, designer, and engraver Jacques Androuet I Ducerceau, published in 1550 and 1562, that is clearly the basis for the wine cooler's intriguing decoration. His discovery led to an exhibition at the Wallace, on view through March 31, 2002, showing the Medici wine cooler and the French etchings alongside comparative maiolica. Future scholarship may reveal more secrets of this fanciful ornament.