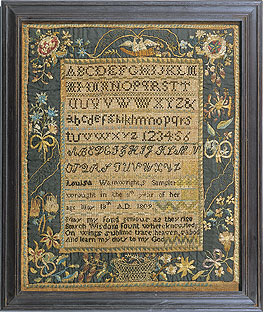 Louisa Wainwright Sampler
Great Barrington, Massachusetts
Dated 1809
Silk and metallic thread on silk and linen, 14 x 12 inches
Courtesy of M. Finkel & Daughter, Philadelphia

This exceptional sampler just recently surfaced and is the third known example from one of the most interesting groups of Massachusetts needlework. Worked under the instruction of a highly sophisticated schoolteacher, these samplers share strong regional characteristics and exhibit outstanding design and unusually fine embroidery.

The samplers from this group date between 1807 and 1809 and were worked by young daughters of prominent residents of Great Barrington, a small town in Berkshire County, Massachusetts. Each of the samplermakers worked her border embroidery onto deep-brown silk, which was appliquéd to the background linen. In addition to the embroidered flowers, birds, and baskets, each of these samplers includes the highly unusual feature of tiny aphorisms such as "Remember thy creator in the days of thy youth" and "Virtue a wreath of amaranthine flowers will twine thy name in praise" worked in metallic threads. Needlework scholar Betty Ring presumes that the teacher responsible for the education of these girls was Betsy Maria Bostwick, and it is hoped that further evidence will surface to confirm this.