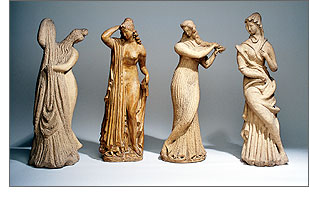 Elie Nadelman (1882–1946)
The Four Seasons
Early twentieth century
Painted terra cotta
Three 30-inches high, one 31-inches high
Courtesy of the New-York Historical Society
N-YHS Museum Purchase, 2001

The New-York Historical Society recently acquired The Four Seasons, a stunning example of Elie Nadelman's sculptural oeuvre, revealing the classic, modern, and folk art traditions that influenced the artist throughout his career. The Four Seasons also reveal a unique collaboration between Nadelman and his patron, cosmetics entrepreneur Helena Rubinstein, both Polish émigrés who influenced the culture of twentieth-century New York City. The two met in 1911 in London, where Nadelman's art was exhibited to critical acclaim. Rubinstein immediately began acquiring his work for her Manhattan and London homes. The Four Seasons held a prominent place in the grand salon Rubinstein opened at 715 Fifth Avenue in the mid-1930s, a striking symbol of her principles concerning beauty and the modern woman.

Since 1937, the New-York Historical Society has also housed Nadelman's pioneering folk art collection, which influenced his own sculpture jointly with the classical works he studied as a young man traveling through Europe.