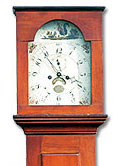 Rare Shaker Tall Case Clock
By Benjamin Youngs at Watervliet, New York
Early nineteenth century
Pine, in old surface
H. 79", W. 18 3/4" (at base), D. 11"
Courtesy of Suzanne Courcier - Robert W. Wilkins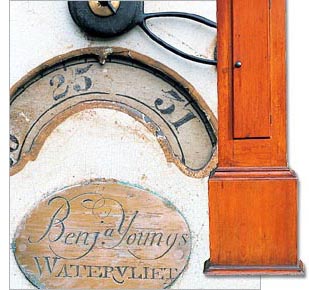 This rare Shaker tall case clock was made in the early nineteenth century by Benjamin Youngs at Watervliet, New York. Youngs joined the Shaker community at Watervliet in 1792 and was the first known clockmaker of the community. He and his nephew, Isaac Newton Youngs, are considered the most important of the few known Shaker clockmakers. Benjamin Youngs died in 1818.

This unrecorded and previously unknown example features an applied, engraved cartouche below the calendar wheel. This element does not appear on the face of any other extant Shaker clock and thus identifies the eight-day brass movement as Youngs's work.