by Joyce Hill Stoner


In the world of professional paintings conservation, we adhere to the ethic that everything we do must be "reversible." In other words, we should not add anything to a work of art that, if removed, would cause harm to the artist's original materials. Therefore, we keep a close eye on unusual materials employed by artists that may prohibit traditional treatment techniques. For example, if wax or other heat-reactive substances have been used in an artist's paint mixtures, we may not be able to use adhesives that require a heated spatula or vacuum heat table to set down flaking, or a hot air gun to coax recalcitrant lifted leaves of paint back into plane. Cleaning is the least reversible activity a conservator is regularly called upon to do. It is also the most visible, most discussed, and the most practiced activity, and, if performed by amateurs, can do the most damage to a painted surface. At our Winterthur/University of Delaware Program in Art Conservation we have a once-a-month, free-of-charge consultation "clinic." There, we often see gruesome examples of home cleaning — such as the reds and yellows of autumn landscapes removed as a result of the ill-advised use of Fantastik and other household cleaners. Owners seem driven to find the "bright colors underneath."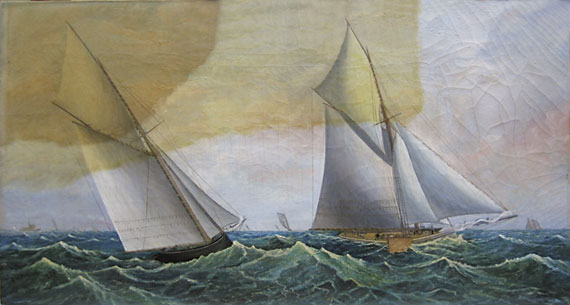 Painting (by C. H. Perkins, 1885) being cleaned or "unpacked" in stages. The upper left shows a remaining area of nicotine and grime on the surface; the central area shows a discolored soft resin varnish in the process of being removed. Harsh home remedies could have badly damaged this painting. Courtesy of a private collection.


Until the advent of French Impressionism in the 1880s, nearly all oil paintings were varnished, and until the 1930s, all known varnishes inevitably turned yellow and then brown. (The synthetic varnishes that became available in the middle of the twentieth century may not yellow, but they eventually turn gray and will need to be removed and replaced.) A varnish-covered surface tends to discolor somewhat evenly and predictably. The patina of age on the surface of a painting or piece of painted furniture is usually a combination of slightly discolored varnish, a crackle pattern, increased translucency of the oil paint medium, and a surface luster that is analogous to a skin — a skin that can be pierced by injudicious cleaning.


Since the 1980s, Richard Wolbers, paintings conservator and professor of conservation science for the Winterthur/UD conservation program, has introduced and taught new approaches to cleaning based on his previous work in the field of biochemistry. He has conducted workshops in more than eighty locations internationally, introducing conservators to resin soaps, gels, pH-adjusted aqueous systems, and enzymes, all of which are less toxic and less invasive than traditional solvents. These cleaning agents can often permit the conservator to selectively remove layers of grime, nicotine, animal glue, linseed oil, old overpaint, or discolored varnish resins from the surface of paintings or painted furniture, often without disturbing the original historical layer. Wolbers calls his method, "unpacking" a surface. The illustration shows two stages of unpacking distinct films from an 1886 ship painting. In the upper left corner we see a film of nicotine that was safely removed with 1 percent triammonium citrate, adjusted to a pH of 7; and in the center, we see the remains of a discolored soft resin varnish in the process of being removed using organic solvents or a resin soap. Traditional methods might have involved removing both layers at once, which would have required much stronger — and possibly hazardous — solvents. Methods for cleaning continue to improve.


Please do not attempt to clean a painted surface yourself. Hire a professional conservator instead — one who is up-to-date on the latest approaches to cleaning. While cleaning is rarely an emergency, if a painting is actively flaking, you may need to proceed promptly. To find a trained conservation professional in your area, consult the American Institute for Conservation at http://aic.stanford.edu/public/select.html.


---

Joyce Hill Stoner is a professor in the Winterthur/University of Delaware Art Conservation Department, Delaware.