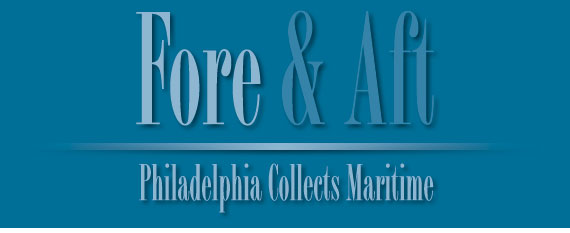 by Craig Bruns


The 2008
Philadelphia
Antiques Show
Loan Exhibition

Philadelphia has a rich maritime history. Located along the Delaware River, it was a principal colonial port city. In celebration of this past, nautical art and antiques from public and private collections throughout the region have been brought together in the exhibition Fore & Aft — Philadelphia Collects Maritime, the loan exhibit at this year's Philadelphia Antiques Show.

The objects exhibited provide insights into a range of topics, including the seafaring lives of sailors, the role of sea captains as cultural and civic heroes, and the kinds of commodities traded via ocean routes and the naval powers used to protect them. In bringing together individual pieces from across disparate collections, the exhibition creates a cohesive story of the Delaware River and the people who lived and worked along it.



| | |
| --- | --- |
| | |
| | |
| | Charles Willson Peale (American, 1741-1827), Captain James Josiah, 1787. Oil on canvas, 35-1/5 x 26 inches. Courtesy of Peter & Bonnie McCausland. |
One of the goals of the American Revolution was to release the colony's commercial shipping from the restrictions imposed under British rule. Immediately after the victory, the new republic dismantled its Continental Navy and allowed investors to purchase warships to serve in the new commercial shipping industry. Naval commanders such as James Josiah, who had represented the country in war, would now do the same in the name of commerce. Pride and excitement in this new calling must have led Josiah to sit for this portrait before his departure aboard the China-bound ship Asia as first mate to Captain John Barry. Sitting aboard the brig St. Croix Packet, with a navigational chart of Asian waters at his elbow, he appears to contemplate his future, while his Continental Navy uniform asserts his past successes.


| | |
| --- | --- |
| | |
| | |
| | Octant, attributed to John Hadley (British, 1682-1744), ca. 1740. Wood, brass, ivory, 17-1/8 inch radius. Independence Seaport Museum, Philadelphia, gift courtesy of Austin B. Hepburn (1991.62). |
This octant is believed to have belonged to John Barry (1745-1803), the first naval captain appointed by President Washington and remembered as the Father of the American Navy. Made before he was born, the octant would have come to Barry secondhand; either purchased by him on the cheap as a budding captain or gifted by a mentor. It is said to have been used by him while a Continental Navy captain aboard the ships Lexington and Alliance, among others, and also on a voyages he subsequently made to China.1

Octants were used for celestial navigation and measured the angles of the sun above the horizon to find the latitude position of the ship. Almost simultaneously invented by Philadelphian Thomas Godfrey (in 1730) and Englishman John Hadley (in 1731), both of whom were recognized by the Royal Society, the octant allowed for a greater degree of navigational accuracy than its predecessor, the quadrant, and increased the reliability of ship arrivals.2



| | |
| --- | --- |
| | |
| | |
| | Jacob Petersen (Danish, 1774-1855), The Ship Helvetius of Philadelphia Commandt. by Adam Bausch, ca. 1810. Watercolor, 19-3/16 x 21-1/16 inches. Independence Seaport Museum, Philadelphia, gift of J. Welles Henderson (1976.49.1). |
Shown leaving a Danish port, the pennant flying from the main top-gallant mast of the Helvetius indicates it is headed home. Captain Adam Bausch must have commissioned Jacob Petersen, a Danish artist and sea captain, to paint this portrait of his vessel while in port. Bausch is depicted at the rear of the ship holding a speaking tube and giving orders to his crew as they set sail for America.

The Helvetius was employed extensively in the China and India trades. It belonged to Philadelphia's most successful merchant, the French-born Stephen Girard, a disciple of the Enlightenment who named the ship for the French philosopher Claude Adrien Helvetius (1715-1771). Along with three other ships named for French philosophers (Voltaire, Montesquieu, and Rousseau), the Helvetius was personified with a figurehead portrait carved by Philadelphia's William Rush.



| | |
| --- | --- |
| | |
| | |
| | Figurehead called Peace, William Rush (American, 1756-1833), ca. 1820. Eastern white pine, 71-3/4 inches high. Independence Seaport Museum, Philadelphia, museum purchase (1983.1). |
As a member of Philadelphia's maritime community, William Rush witnessed the new republic's forty-year struggle that ended with the War of 1812 to freely pursue commercial shipping. Though known as a sculptor, Rush's primary trade was ship carving, which he pursued for fifty years in the port of Philadelphia. Many ships adorned with his figureheads were involved in battle. At the end of this challenging era, Rush carved this allegorical figurehead of Peace striding optimistically forward with a dove in her hand and a lamb huddled at her feet. An indication that the figurehead was most likely carved in the years soon after the War of 1812 is contained in the style of dress worn by Peace, suggesting the waning of neoclassicism and the rise of romanticism.3 The expressive quality of the face, the attention to the details of the chain and locket about the neck, and the manner in which the hair is upswept and held in place with a comb — contrast with the unemotional and simplified depictions of his classical styled figures — suggesting this figure could be a portrait.



| | |
| --- | --- |
| | |
| | |
| | Jack Tar shop figure, attributed to Jeremiah Dodge (American, 1781-1860), ca. 1845. Carved and painted wood, 86-1/2 inches high. Courtesy of J. Welles Henderson Collection. |
This Jack Tar figure served to advertise a ship chandlery, tavern, or other establishment that catered to the seafaring community. Sailors were known to readily spend their earnings when they arrived in port. This life-sized sailor would have greeted the many seamen that crowded the streets, clearly communicating their welcome at the particular establishment. Jack Tar was the nickname given to sailors because they were known to use tar to waterproof their hats against the harsh environment at sea. This shop figure, an interpretation of a typical merchant sailor of the 1840s, is thought to have been produced on the eastern seaboard and has been attributed to Jeremiah Dodge, a ship's figurehead carver working in New York City before the Civil War.4



| | |
| --- | --- |
| | |
| | |
| | Signed J.M. (American), John Reese Haslett, 1841. Watercolor and pencil, 4-5/8 x 4 inches. Independence Seaport Museum, Philadelphia; gift courtesy of Eleanor Greenway (1997.17.13). |
This portrait of John Reese Haslett was made several days after he boarded a receiving schooner stationed at Philadelphia. The family history accompanying the drawing provides the story behind Haslett's enlistment into the navy at the early age of thirteen. Discovered by his grandmother eating apple sauce between meals, he was told he had to eat it all. To avoid this punishment he enlisted as a cabin boy in the navy. Many years later Haslett himself commented on the picture, noting it "was drawn by a sailor on board U.S. Schooner Experiment and would be considered a likeness of me... It was done a few days after my enlistment into U.S. Navy 1st July, 1841."5



| | |
| --- | --- |
| | |
| | |
| | Model of a merchant ship, unidentified modeler, American, early 19th-century. H. 53, W. 69, D. 25 in. Courtesy of Dr. Robert & Katharine Booth. |
Some sailors, accustomed to working with their hands while at sea, also applied their skills to creative personal projects intended for ship mates, loved ones at home, or for sale in port. While on seasonal layovers or retired from life at sea, sailors often generated income by applying their skills to making ship models such as this early nineteenth-century model of a typical merchant ship of the time. Because the rigging is more accurate than the hull, it is thought to have been made by a sailor who was more familiar with the rigging he climbed than the hull, typically obscured by the sea.6 Models like these were made without plans and guided by a seaman's memories of his firsthand experience.



| | |
| --- | --- |
| | |
| | |
| | Scrimshaw, U.S.B. Philadelphia (Second Bank of the United States), unidentified artist (American), ca. 1835. Whale's tooth. 7-3/4 x 4 x 1-3/4 inches. Independence Seaport Museum, Philadelphia; purchased with funds courtesy of Dr. Walter B. McKinney (1964.80). |
Sailors aboard whale ships had access to whale bones, teeth, and baleen, which they used to fashion craft projects commonly known as scrimshaw. This scrimshawed whale's tooth depicts the Second Bank of the United States in Philadelphia, one of the port's popular landmarks. Whalers frequently copied images like this from prints and pictorial magazines and engraved them on to the bones and teeth of sperm whales. The bank was designed in the Greek Revival style by Philadelphia architect William Strickland (1788-1854) and erected on Chestnut Street between Fourth and Fifth Streets in 1824. Between 1832 and 1836, the bank was the subject of controversy when President Andrew Jackson accused it of having "been actively engaged in attempting to influence the elections of the public officers by means of its money."



| | |
| --- | --- |
| | |
| | |
| | Captain's sea chest, American, early 19th century. Painted pine with mahogany and other exotic wood inlay. 24-1/4 x 43-1/4 x 26-1/2 inches. Courtesy of Dr. David G. Nazarian. |
As post-Revolution American ships began making their first contacts in ports around the world, their captains took on a new role as de facto ambassadors of the new republic, thereby increasing the importance of their character and trappings.7 This sea chest bridges the gap between the two realms of a captain's life, his home on land and the one at sea. The exterior of the chest is plain and intended to receive the natural wear and tear associated with the transfer from ship to ship. However, once opened in the privacy of the captain's cabin, the interior's intricately inlaid exotic woods would be revealed. Such a display, which brought the genteel refinements of home to a life aboard ship, signified the owner's membership in the new middle class.8



| | |
| --- | --- |
| | |
| | |
| | Pedestal cup, E. John Colby, Salisbury (possibly Connecticut), 1836. Coconut shell, whalebone. H. 7, Diam.: 4 in. Courtesy of the Dietrich American Foundation. |
The carving on this unique pedestal cup made from a coconut shell and whale bone offers an uncommon view of a dockside stacked with a cargo of bales marked "Baltimore" and "Maine," barrels of oil and one of rose madder dye, a crate of soda soap, and an unshorn sheep. In the distance is a building looking much like a factory or warehouse, either of which would have had extensive dealings with the dock. Colby was able to depict such a dockside scene because he was familiar with the shapes, sizes, and weights of cargoes from his likely experience loading the hulls of many ships. Once there, the various packages were arranged by weight and fragility and secured to prevent shifting during rough seas, which could dramatically reduce a ship's stability.

This year's loan exhibit is dedicated to the memory of Independence Seaport Museum founder J. Welles Henderson (1920-2007), who appreciated that Philadelphia's maritime history was central to the founding of the city and the nation and believed Philadelphia should join the ranks of other port cities with museums celebrating that maritime heritage.

The 47th Philadelphia Antiques Show opens with a preview party April 11 and runs April 12-15 at The Navy Yard, 5100 South Broad Street, Philadelphia. Proceeds from the show will benefit the University of Pennsylvania Health System. For more information, call 215.387.3500 or visit www.philaantiques.com.



Craig Bruns, curator of Independence Seaport Museum, assembled Fore & Aft - Philadelphia Collects Maritime for the 2008 Philadelphia Antique Show.



1. Philip Chadwick Foster Smith, Philadelphia Displays "The Flowery Flag," in Philadelphians and the China Trade, 1784-1844, ed. Jean Gordon Lee (Philadelphia: Philadelphia Museum of Art, 1984), 29.

2. Robert Bruce Inverarity, Early Marine Navigation (Philadelphia Maritime Museum, 1976), 29.

3. Kristina Haugland, associate curator, Costume & Textiles Department, Philadelphia Museum of Art, in consultation, 2008.

4. J. Welles Henderson and Rodney P. Carlisle, Marine Art & Antiques, Jack Tar, A Sailor's Life, 1750-1910 (Antique Collectors' Club Ltd., Woodbridge, Suffolk, England, 1999), 44.

5. W. H. Bowers, a note accompanying the 1841 watercolor portrait of John Reese Haslett, "copied by W. H. Bowers 1935," Independence Seaport Museum, accession number 1997.17.13b.

6. Brian Lavery and Simon Stephens, Ship Models, Their Purpose and Development from 1650 to the Present (Greenwich: National Maritime Museum, 1995), 142.

7. Dane A. Morrison, "American Expatriates in Canton: National Identity and the Maritime Experience Abroad, 1784-1850," in Perspectives on Race, Ethnicity, and Power in Maritime America, ed. Glen S. Gordinier (Mystic, CT: Mystic Seaport Museum, 2005), 9.

8. Ibid, 116.