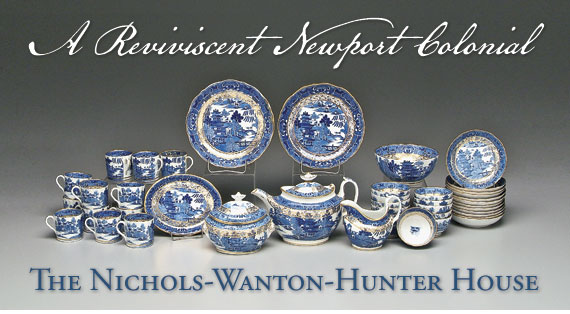 by Ralph E. Carpenter


Fig. 1: Washington Street, Newport. Garden façade of the Hunter House, 1748. ABOVE: Fig. 2: Blue and white transfer ware tea service (English, ca. 1820), descended in the Hunter family.


Fig. 3: A pair of K'ang Hsi period blue and white porcelain jars (ca. 1720), descended in the Hunter family.


The restoration of the Nichols-Wanton-Hunter House was completed by the Preservation Society of Newport County in 1953, providing a splendid example of mid-eighteenth century colonial architecture in the Newport vernacular (Fig. 1). The north half of the house was constructed between 1748 and 1754 by merchant and colonial deputy Jonathon Nichols Jr. When he died in 1756, the property was sold to Colonel Joseph Wanton Jr., a deputy governor of the colony and a merchant, who transformed the building into a formal Georgian mansion. A Loyalist, Wanton fled Newport during the Revolution and soon after, his house became the headquarters of Admiral de Ternay, commander of the French fleet. In 1805, the house was acquired by William Hunter, a U.S. senator and President Andrew Jackson's charge d'affaires to Brazil. Mr. Hunter's widow sold the house in the mid-1860s, and it passed through a series of owners: Benjamin Robinson Smith, whose relative by marriage, the architect Charles Follen McKim, renovated the house in 1874; the Storer family of Boston and Newport, who donated the house to St. Joseph's Church as a convent, and finally, in 1945, the nascent Preservation Society of Newport County, whose purchase of the property saved it from demolition and resulted in its restoration.

Although the restoration was complete by the summer of 1953, the interiors contained only objects on loan as part of an exhibition of Newport-made furniture, paintings, pewter, and silver.1 It was the first time that an important colonial house in the city had been furnished completely with appropriate items of local origin, and the affinity between architecture and furnishings became immediately apparent. For the next fifty-five years we searched for fine and decorative arts that would accurately reflect the contents of an eighteenth-century Newport "dwelling house" and convey a narrative about both the owners and the local artisans of the period.2


Fig. 4: A 1776 ink on paper manuscript receipt signed by Joseph Wanton Jr.


The search continues. At the January 5, 2008, sale at Brunk Auctions in Asheville, North Carolina, Paul F. Miller, curator of the Preservation Society, bid successfully for the return of ceramics and related documents from the Hunter period of occupancy (1805-1863).3 These included a circa-1820 English blue-and-white transfer ware tea service (Fig. 2) and a pair of Chinese K'ang Hsi period blue-and white-porcelain jars (Fig. 3), descended in the Hunter family to Caroline Hunter Kane, grandmother of the consigner. These join such related Hunter family ceramics in the collection as three English Delft blue-and-white drug jars, or gallipots, made in London circa 1770, a gift of Mr. and Mrs. Robert M. Phelps, and used by Senator Hunter's Scottish immigrant physician father, Dr. William Hunter. Among the documents is a 1776 receipt signed by Joseph Wanton Jr. (1730-1780) who embellished the house to its present form (Fig. 4). Wanton purchased the property from the estate of its initial builder, Jonathan Nichols Jr. (1712-1756), whose family is represented by a 1774 probate document for the estate of Jonathan Nichols III in the possession of the Society, a gift of Mr. and Mrs. Robert Nichols.


Fig. 5: A Newport tall-case clock with works, ca. 1760, by James Wady (active in Newport from 1740s to 1770s), son-in-law of Newport clockmaker William Clagett (1696-1749).


Fig. 6: A pewter quart tankard, ca. 1750, by Benjamin Day (active in Newport 1744-1757); one of two known "marked" Rhode Island quart tankards.


The acquisition of pieces primarily of Newport origin has made the Hunter House a compelling destination for visitors. A colonial house museum should excel in architectural significance, furnishings inventories that proclaim the lifestyle of prior occupants, and evidence, and substantial interpretation of multi-generational use and occupancy. The Hunter House meets all of these criteria, making it one of the most significant historic colonial "dwelling houses" in America.

In 1996, a rare circa-1760 Newport tall-case clock by James Wady (Fig. 5) was acquired at Cold Spring Auction Gallery in Beacon, New York. Now standing in the center hall of the house its simple geometry echoes the wainscot of the contemporaneous Wanton-era paneling. That same year the Society also purchased the Webster Goodwin collection of Newport pewter. Amassed by a noted Warwick, Rhode Island, pewter collector, the collection represents the single best collection of eighteenth- century Newport pewter created to date. Documenting the full range of forms made in this colonial seaport, the collection ranges from typical plates and basins to porringers and tankards and includes a rare quart tankard (Fig. 6) by Benjamin Day (active 1744-1757).

An equally rare circa-1785 Rhode Island camel-back sofa (Fig. 7) descended in the family of William Ellery (1727-1820), Newport's signer of the Declaration of Independence; it was given to the Hunter House in 1997 by Mr. Charles H. McCabe II. In 1998, the Wunsch Foundation gifted an important oil on panel likeness of Senator William Hunter by the Newport-born portraitist Charles Bird King (1785-1862), (Fig. 8). On loan for many years from the collection of Mr. Martin Wunsch, the portrait is of both historical and artistic significance to the house, representing both an owner and a painter with long-held Newport attachments. In 2000, a circa-1770 Newport high style mahogany corner chair (Fig. 9) was presented to the house by Mrs. Harriett Dyer Reed in memory of her father, Mr. W. Gurnee Dyer. The chair is related to a similar corner chair that belonged to John Brown in Providence, except that the Dyer chair features straight turned posts.4 The Dyers descend from Mary Barrett Dyer (ca. 1611-1660), a founder of the community of Portsmouth and the Colony of Rhode Island, who was hanged in Boston for repeatedly defying the law banning Quakers from the Massachusetts Bay Colony. In 2006, Mr. Josh Wanton Smith, a descendant of both the Wanton and Hunter families, donated a circa-1700 William and Mary high-chest base and a circa-1720 Queen Anne side chair attributed to Joseph Davenport of Newport (Fig. 10).


With the 1780 evacuation of the British troops from Newport and the arrival of the French naval and land forces allied to the Americans, Joseph Wanton Jr., a Tory, fled Newport and the house was requisitioned to provide quarters for Admiral de Ternay and his officers. Although little physical evidence is known to have survived this chapter, a printing press from one of the fleet's warships, operating from the basement, produced the first French language newspaper in the nation, La Gazette Francoise.5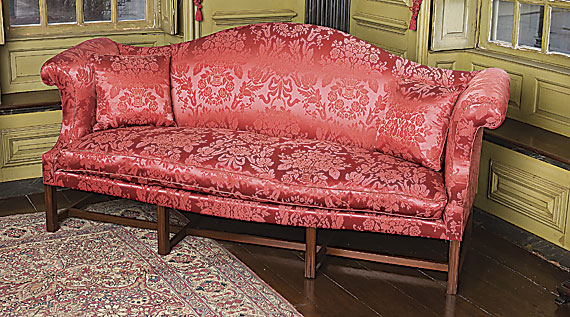 Fig. 7: A Rhode Island Chippendale sofa, ca. 1785, descended in the Ellery family of Newport.


LEFT: Fig. 10: A Queen Anne compass seat side chair, ca. 1720, attributed to Joseph Davenport of Newport and descended in the Wanton family of Newport. RIGHT: Fig. 9: A Newport Townsend-Goddard mahogany corner chair, ca. 1770, descended in the Dyer family of Rhode Island.


---

Fig. 8: An oil on panel portrait of Senator William Hunter, dated 1824, by Charles Bird King (1785-1862).


The occupants of the Hunter House — colonial merchants, elected deputy governors, a French admiral, a senator — have all left some imprint on this house that bear testament to their innovation and accomplishments. These recent acquisitions serve to illustrate them, and we can but hope that future additions to the collections will bear equally happy evidence.

Ralph E. Carpenter is an overseer of The Preservation Society of Newport County. He is at times referred to as "Mr. Newport" because of his some seventy years comprehensive commitment to delineating and preserving Newport's historic culture. Mr. Carpenter thanks Paul F. Miller for his able assistance.

Photography: Fig. 1 photography by Jim Patrick; Figs. 2-4 are courtesy of Brunk Auctions; Figs. 5-10 by John Corbett.

All images, except 2-4, are courtesy of the Preservation Society of Newport County.


---

1. The 1953 Loan Exhibit, organized by Carpenter, resulted in The Arts and Crafts of Newport, Rhode Island 1640-1820 (Newport, RI: Preservation Society of Newport County, 1954).

2. A highlight of acquisitions made prior to 1995 was included in Ralph E. Carpenter, "Newport, A Center of Colonial Cabinetmaking," in The Magazine, Antiques (April 1995): 550-557.

3. Lot nos. 0536, 0539, 0540. We are grateful to Mr. Walter W. Patten Jr. for bringing them to our attention.

4. See The John Brown House Exhibition of Rhode Island Furniture exhibition catalogue (Providence, RI: The Rhode Island Historical Society, 1965), 22, plate 20.

5. For recent translations of the Gazette, see La Gazette Francoise, 1780-1781, trans. Eugena Poulin and Claire Quintal (Hanover, NH: Salve Regina University in association with University Press of New England, 2007).