by Todd Herman and Brian Lang


This summer, visitors to the Columbia Museum of Art will be granted a peek into the private collections of South Carolinians across the state. Organized to commemorate the tenth anniversary of the museum at its downtown location, Carolina Collects celebrates the spirit of private collectors in South Carolina who have been instrumental in the formation and continued vitality of this museum and countless others across the globe.

The vision for creating the museum began with the formation of the Columbia Art Association in 1915. Without a collection or a designated meeting place, for the next thirty-five years the association met in homes and civic buildings to listen to music and lectures and present temporary exhibitions. The donation of the collection of Mr. and Mrs. Edwin G. Seibels to the association in 1944 made it necessary to find a permanent brick-and-mortar home for the museum. Other donations followed to the new Columbia Museum of Art, which opened its doors in March 1950 in the renovated Taylor mansion situated at the intersection of Bull and Senate Streets just outside Columbia's central business district. Subsequent gifts to the museum, including more than fifty Old Master paintings and sculpture from the Samuel H. Kress Foundation, required the museum to seek larger quarters and so in 1998 the museum moved to its present location. The Columbia Museum of Art and adjacent Boyd Plaza were molded out of two long-standing - but abandoned - downtown department stores. With more than 20,000 square feet of gallery and exhibition space the new museum opened to the public during a gala weekend in July of 1998, attracting more than 25,000 visitors. Two years later, the museum's fiftieth anniversary sparked a new wave of donations, including over thirty works on paper from the private collection of South Carolina native Jasper Johns.

For the present exhibition, an amazing amount of sleuthing was needed to uncover and gain access to collector's private treasures. Despite initial fears that we might not find enough quality material to occupy the four galleries of our first floor, in the end, we were faced with an 'embarrassment of riches,' necessitating not only an expansion of the exhibition to occupy all six first floor galleries, but some very heart-wrenching cuts from our list of more than 400 preferred works to the 275 in the exhibition. A few collections were already known - fine American furniture, American Impressionist paintings, Tiffany glass, Chinese export porcelain, and Southern art. It was the unanticipated discoveries - among them, a rare Cartier clock in the Chinese taste, a massive collection of contemporary photography and works on paper, a collection of French Impressionist and postimpressionist paintings and sculpture, and a stellar collection of midcentury modern furniture - that kept the team invigorated and willing to track down every lead. The exhibition comprises works by Corot, Matisse, Diebenkorn, Picasso, Renoir, Degas, Sully, Benton, Dine, Wyeth, Toulouse-Lautrec, Gehry, and Warhol. Other well known names include - Inness, Peale, Glackens, Saint-Gaudens, Lucero, Cadmus, Boilly, Twombly, Wright of Derby, Diane Arbus.

Just as fascinating as finding a superb collection or single object were the tales of family personalities associated with the finds and the motivations behind a collector's desire to accumulate the art of one particular region, culture, period, or medium. Bound by the make-up of available material, the exhibition is out of necessity a potpourri encompassing a variety of ideas, styles, techniques, media, and subject matter that offers the visitor the opportunity to digest the familiar with the unfamiliar and to ponder the diversity of art collected in South Carolina. Despite its disparate elements, a unifying theme emerges - the universal longing to possess objects of beauty.


| | |
| --- | --- |
| | |
| | |
| | Edgar Degas (French, 1834-1917), Jockeys at Epsom, ca. 1860-62. Oil on canvas, 10-7/8 x 8-1/2 inches. Private collection, Colleton County, S.C. |
Although Degas exhibited regularly with the Impressionists, he considered himself a 'realist' and concentrated on subjects that reflected his contemporary environment such as laundresses, ballet dancers, and opera performances. This painting is likely to have been Degas' first attempt at depicting equestrian sports. During a trip to Normandy in 1861, he was introduced to horse racing at the nearby horse-breeding center at Haras-le-Pin and at the small racetrack at Argentan. The bright green grass, gray skies, and cold weather reminded Degas of what he had seen in English paintings and prints and had imagined through his reading of English literature. The painting has acquired the title Jockeys at Epsom, a reference to the famous racetrack in Surrey, England. Beautifully painted in brightly contrasting colors, with a characteristically cropped composition, Degas is nonetheless tentative in his approach to this new genre. The horses are based on the paintings and prints of Géricault, and Degas would quickly discard the vertical format in favor of a horizontal format that more naturally follows the course of the race and racetrack.



| | |
| --- | --- |
| | |
| | |
| | Henri Le Sidaner (French, 1862-1939), Les Iles Borromées, Stresa, 1909. Oil on canvas, 27-3/4 x 38-3/4 inches. Private collection, Blythewood, S.C. |
In 1880, Henri Le Sidaner traveled to Paris to study art, where he came under the influence of the Impressionists, particularly the lighting and atmospheric effects of Claude Monet. In 1909 he traveled to Northern Italy and there painted at least seven pictures of the islands and towns surrounding Lago Maggiore. In Les Iles Borromées, Stresa, Le Sidaner presents us with a view from the shores of the city of Verbania, incorporating the three largest islands, Isola Bella, Isola Madre, and Isola dei Pescatori, along with a distant view of the city of Stresa. Typical of Le Sidaner, human presence is eliminated and a detached, distant viewpoint utilized to capture the symphony of sensory inputs Le Sidaner attempted to describe on canvas. As he wrote of his stay at Lake Maggiore: 'There is an analogy between sounds and colours similar to a parity of values. The closeness between them became even clearer to me one evening on the banks of Lake Maggiore, in a light softened by the disappearance of the last rays of the sun; the tolling of bells in churches on the far side of the lake seemed to merge and grow with the very reflection of the churches and the sky, these being slumbersome, blurred areas of light in the water.' (Yann Farinaux-Le Sidaner, Le Sidaner, 1989). The paintings met with critical acclaim when displayed at the Galeries Georges Petit in Paris later in 1909.



| | |
| --- | --- |
| | |
| | |
| Joseph Wright of Derby (English, 1734-1797), Portrait of Mrs. Dorothy Hodges, ca. 1775-1777. Oil on canvas, 30 x 25 inches. Private collection. | |
Since 1908 the location of this portrait was unknown until the present owners purchased it at auction in 1996. From Joseph Wright's account book, we know that it is a portrait of Mrs. Dorothy Hodges and cost 12.12 pounds - Wright's standard price for single portraits of this size. The hairstyle, intertwined with pearls and a ribbon, securely places this painting within a group of female society portraits that Wright painted around 1777, when his style displayed a distinct nod to George Romney, the more sought after of the two artists. Unlike Romney, however, Wright's insistence on honesty often resulted in an uncomfortable marriage between the sophistication desired by the sitter and Wright's portrayal of the truth. This challenge is nowhere better represented than in his portrait of Mrs. Hodges. While great care is taken to highlight her trappings of wealth and position, her crossed arms and the awkward forward position of her neck and head bring to mind an impatient and bored young country girl, unfamiliar with the refined self-awareness that occupies the portraits of more urbane women.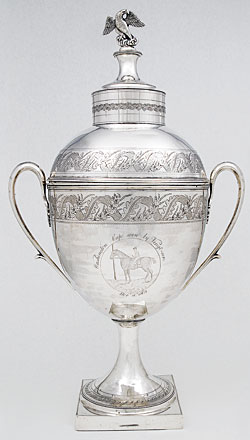 Punch Urn Trophy, Samuel Williamson (Philadelphia, active 1794-1813); retailed by Charles A. Burnett and John E. Rigden (Georgetown, D.C., working in partnership, 1796-1806), 1803. Silver with gilt interior. H (to finial): 21-1/2. W (at handles): 12-3/8. Private collection, Columbia, S.C.


Once thought to have been made by Burnett and Rigden due to the presence of their hallmarks stamped on each of the four sides of the pedestal base, this exquisite punch urn is now known to have been made in the shop of Samuel
Williamson, a highly successful Philadelphia silversmith and merchant. In addition to manufacturing goods for sale in his own shop and those of other Philadelphia merchants, Williamson is known to have supplied silver objects to retailers in Boston, New York, Baltimore, and Georgetown, D.C. This urn is closely related to two other documented examples of horse racing presentation pieces produced in Williamson's shop and sold to Burnett and Rigden for resale in their shop - one in a private collection and the other in the collection of Hampton National Historic Site, Towson, Maryland.

In his daybook entry for September 7, 1803, Williamson recorded the itemized production cost and sale of this punch urn to Burnett and Rigden. The 96.2 ounces of silver cost a total of $156.34, with an additional $20 for the interior gilding. The neoclassical-shaped urn, topped with an eagle finial, has graceful handles and rests on a square plinth base. An elaborately engraved undulating floral and diaper motif encircles its midsection, below which, and centered on the front, is inscribed 'Washington Cup won by Vingt-un./Novr 11th 1803.' According to Williamson's daybook, two engravers - William Carr (English, 1772-1851; Philadelphia, active 1800-1851) and Benjamin Jones (Philadelphia, active 1798-1815) - received $12 and $15, respectively, for their work in engraving the piece. The Washington Jockey Club, sponsors of the annual autumn horse race held on the outskirts of the Federal City, presented the urn to General Wade Hampton (1752-1835), a member of the United States Congress from South Carolina between 1795-1797 and 1803-1805, and owner of Vingt-un, winner of the four mile race.



| | |
| --- | --- |
| | |
| | |
| | |
| Cy Twombly (American, b. 1928), St. Maarten (Aerial View of the House of Jasper Johns), 1969. Pencil and crayon on paper, 22-5/8 x 30-5/8 inches. Private collection. | |
Cy Twombly is better known for his frenetic, calligraphic style, but his work took on a more topographical impression in the late 1960s when he was redesigning the landscape around his house in Rome (where he had lived since 1957). This drawing was executed in 1969, when Twombly was visiting the vacation home of his friend, Jasper Johns, on the island of St. Maarten. Twombly interweaves the physical aspects of the landscape - rushing water and architectural site plan - with his impressions and feelings scrawled across the sheet in the form of notations and personal references. Islands of color, linked by flowing lines, fall rhythmically across the surface. Beyond its superficial beauty, the drawing is a highly personal window into the spirit and life of the notoriously private Twombly. Inscribed across the surface are words, numbers, and notations that are part of an encoded poetry, a personal language developed by Twombly, the result of a highly influential period spent in the U.S. Army as a cryptologist. Although clearly conceived from the beginning as a landscape, the viewer is frustrated in any attempt to assemble the original scene and is teased by the promise of the notations for a full understanding of the artist's intent - its full meaning, however, remains known only to its creator.



| | |
| --- | --- |
| | |
| | |
| | Charles Ephraim Burchfield (American, 1893-1967), Tents at Twilight (Camp Jackson, S.C.), 1918. Watercolor and graphite on paper, 8-3/4 x 11-1/2 inches. Collection of Mack and Jennifer Whittle, Greenville, S.C. |
Ohio-born Charles Burchfield is admired for his bold watercolors representing his deeply subjective interpretation of the 'big epic power of nature.' Included in Carolina Collects are two watercolors executed in 1918 during the six months Burchfield spent in the U.S. Army while stationed at Camp Jackson (now Fort Jackson) in Columbia, South Carolina. Originally attached to the field artillery unit, in July 1918 Burchfield was transferred to the camouflage division under the command of Lieutenant William Yarrow, also an artist, and given the task of camouflaging artillery. Yarrow occasionally allowed Burchfield to go off to sketch the surrounding countryside for a week at a time. Burchfield's watercolors reveal a fascination with the poverty and culture of the black community in the rural South. Tents at Twilight, Camp Jackson, S.C., documents the tent community that housed the black laborers who built the camp. The unusually sober, documentary approach of the present work records the conditions of these workers, densely housed in condemned National Guard tents commandeered from the local armory in Columbia.



| | |
| --- | --- |
| | |
| | |
| | Thomas Sully (American, 1783-1872), after Raffaello Sanzio, called Raphael (Italian, 1483-1520), Holy Family (Madonna della Sedia), 1809. Oil on canvas, 33 x 33 inches. Private collection, Columbia, S.C. |
In 1809, Thomas Sully traveled to London, England, to study under the great American painter, Benjamin West (1738-1820). To finance the trip, Sully approached several wealthy Philadelphians. Benjamin Chew Wilcocks, Sully's close friend and patron, and several other friends each contributed $200 to help underwrite Sully's expenses. In repayment, it was agreed that Sully would paint for each financier a copy of a painting by a master while he was in London and ship it at his own expense back to Philadelphia. Benjamin West offered Sully free use of his personal gallery of original compositions and his own copies of Old Master paintings to help satisfy this obligation. Among the works Sully copied and sent to Philadelphia were West's original Pylades and Orestes and Telemachus on the Island of Calypso; two versions of Corregio's Holy Family; Raphael's Holy Family (Madonna della Sedia) (using West's own copy); Sir Joshua Reynolds' Holy Family. The Holy Family shown here, is thought to be Sully's copy (after West's copy) of Raphael's painting of the same name, which Sully completed in December 1809 and later sent to Benjamin Chew Wilcocks to satisfy his debt.

In subsequent years, Sully painted seven other versions - in varying sizes - of Holy Family; assisted by his daughter Jane on two versions. To date, only one of the seven subsequent versions of Holy Family has been located, and it does not have the same crispness and detail as this example. In The Life and Works of Thomas Sully (1921), Edward Biddle and Mantle Fielding document ownership of the 1809 painting to Mrs. Alexander D. Campbell (née Mary Waln Wilcocks), daughter of Benjamin Chew Wilcocks. It next passed to her daughter, Betty Campbell Madeira, whose own daughter later donated the painting in December 1975 to the Episcopal Academy in Philadelphia. The present owner acquired the painting directly from the Episcopal Academy, where it had been stored for some time in the theater. Thus, a lost masterpiece once again is found.



| | |
| --- | --- |
| | |
| | |
| Tea table, Charleston, South Carolina, 1755-1775. Mahogany. H. 28-5/8 Diam. of top. 32-1/8, W. (at base) 32-5/8 in. Private collection. | |
This Charleston tea table is one of the finest remaining in private hands. Initially identified as having been manufactured in New York, the table has now conclusively been identified as having been made in Charleston, South Carolina. Bradford L. Rauschenberg and John Bivins Jr. in The Furniture of Charleston, 1680-1920 (2003) have proposed that the carving on this table, particularly the claw feet, bears a relationship to the carving found on four capitals on the apse pilasters executed in the early 1760s by Anthony Forehand for Saint Michael's Church, Charleston. The pie-crust-edge table top is crafted from a single piece of mahogany and possesses a boldly scalloped edge further ornamented with quickly gouged gadrooning. The top rests on a pedestal composed of a fluted column over a carved vase ending with a torus carved with an egg-and-dart motif. The entire table is further supported on tripod legs, whose top surfaces feature two carved acanthus leaves radiating from an oval-shaped void at the knee, terminating in ball-and-claw feet. The table descended from James and Margaret (Cantey) Sinkler of Belvidere Plantation (built circa 1742-1750), Eutaw Springs, South Carolina, until acquired by the current owner.



| | |
| --- | --- |
| | |
| | |
| | Clock in the Chinese taste, 1928. Maurice Couet (French, 1885-1963), maker; Charles Jacqueau (French, 1885-1986), designer; for Louis Francois Cartier (1875-1942), retailer. Jade, black onyx, mother-of-pearl, coral, diamonds, sapphires, platinum, gold and black enamel. H. 4-3/4, W. 4-5/8, D. 1-3/4 in. Private collection. |
In 1909 Charles Jacqueau joined the House of Cartier and began to design works in the emerging Art Deco and Art Moderne styles. Utilizing his unique mastery of style and color, Jacqueau drew inspiration from such 'exotic' countries as Egypt, India, China, Japan, and the Middle East, and incorporated precious and semi-precious materials native to those countries in his creations. With the arrival of noted clockmaker Maurice Couet to the House of Cartier two years later, the famed retailer began to produce its highly popular 'mystery' clocks. Invented by the nineteenth-century French clockmaker and magician Jean-Eugéne Robert Houdin (1805-1871), the 'mystery' clocks were so named because the movement of the hands was concealed, creating the illusion that they floated in mid-air, with no apparent connection to the movement in the base of the clock. In reality, each of the hands was attached to a crystal disk with a serrated metal edge, driven by a lateral system. While not a true 'mystery' clock, this exquisite example is similar to a group of about a dozen chinoises - or 'mystery' clocks in the Chinese taste - produced by Cartier during the late 1920s and early 1930s. Meant to resemble a traditional Chinese table screen, the clock is supported by twin black-onyx stepped pilasters in the emerging Art Deco style. The mother-of-pearl face features diamonds and coral numbers written in pseudo-Chinese script to mark each hour. The hour and minute hands are made of platinum inset with diamonds. The clock face is surrounded by a narrow black onyx band and further enclosed within an antique Chinese jade bracelet terminating in carved dragons. Sapphires set in gold bezels stud the underside of the face while at its top-center twin dragons support a sapphire ball between their open mouths.



For more information on Carolina Collects or the accompanying catalogue, call 803.799.2810, or visit www.columbiamuseum.org. The exhibition runs through August 17, 2008.



Todd Herman is chief curator and curator of European art, and Brian Lang is associate curator of decorative arts, at the Columbia Museum of Art.