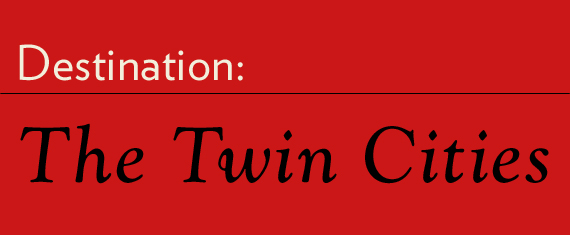 The Frederick R. Weisman Art Museum (WAM) designed by Frank Gehry (b. 1929) and constructed in 1993. An expansion, also designed by Gehry and scheduled for completion in 2010, will double the size of the museum's galleries.


In recent years, Minneapolis has come to be known as the 'Mini Apple,' – along with its sister city, St. Paul – an art scene and theatrical events rivalling those of the 'Big Apple.' The Twin Cities also have a long tradition of innovative architecture, of which the most recent addition is the Frank Gehry-designed Frederick R. Weisman Art Museum at the Universtiy of Minnesota, the only Gehry-designed art museum in the United States. At the turn of the twentieth century, Prairie School architects William Gary Purcell (1880–1965) and George Feick Jr. (1880–1945), who were later joined by George Grant Elmslie (1869–1952), opened a practice in Minneapolis and erected a number of architectural gems. Among them is the Purcell-Cutts House, designed and built in 1913 by Purcell and Elmslie and now owned by the Minneapolis Institute of Arts (MIA). Open the second weekend of every month for tours, its open floor plans, banks of horizontal windows, and custom designed furniture exemplify the Prairie School style. Objects and models by these designers and the School's pioneer, Frank Lloyd Wright, are on view in the MIA's Ulrich Architecture and Design Gallery.

The MIA's 25th Annual Antiques Show and Sale takes place October 24 through October 26 at the Zuhrah Shrine Center at the Harrington Mansion located at the corner of 26th Street and Park Avenue. Participating dealers include W. Graham Arader III of Philadelphia, Pennsylvania, with works on paper, paintings and rare books; Eastwood Gallery of Saint Paul, Minnesota, with American Arts and Crafts Movement furniture and accessories; Oriental Rugs Ltd. of Old Lyme, Connecticut, with antique carpets of the Orient; and Taylor B. Williams Antiques of Harbert, Michigan, with eighteenth- and nineteenth-century American and English furniture and decorative arts. Proceeds benefit the acquisitions fund of the museum's Department of Architecture, Design, Decorative Arts, Craft, and Sculpture.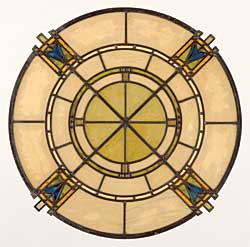 William Gray Purcell (1880-1965), ceiling light fixture. Glass, zinc caming. Bequest of Anson Cutts, Jr., 90.92.84. Minneapolis Institute of Arts.

On view in the MIA's Ulrich Gallery, this light fixture is original to the Purcell-Cutts house.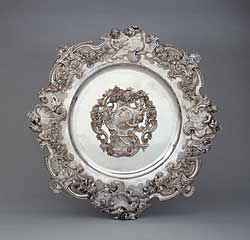 The Maynard dish, London, 1736-37. Marked Paul de Lamerie (1688-1751). Silver. Diam.: 26 in., 272 oz.

Beyond the Maker's Mark: Paul de Lamerie Silver in the Cahn Collection opens at the MIA on October 19, 2008.



John James Audubon (1775-1851). Engraved by Robert Havell, Meadow Lark. From Birds of America, From Drawings Made in the United States and Their Territories (London, 1827-38). Hand-colored aquatint, etching and line engraving. To be offered by W. Graham Arader III at the MIA Antiques Show and Sale.

Once common to the prairies and meadows of Minnesota, the meadowlark has become increasingly rare as a result of urbanization and the loss of nesting habitat.






William Gray Purcell (1880-1965), Edna S. Purcell House (Purcell-Cutts House), 1913. Bequest of Anson Cutts, 90.92.1-85. 2006 Minneapolis Institute of Arts.


Upcoming Events


Saint Paul Art Crawl Fall 2008
Dates: October 10–12, 2008
Location: Twenty-five galleries, studios, and other venues in downtown Saint Paul
Call 651.292.4373 or visit www.stpaulartcrawl.org

Minneapolis Institute of Arts 25th Annual Antiques Show & Sale
Dates: October 24–26, 2008;

Preview: October 23
Location: Zurah Shrine Center, 2540 Park Avenue South, Minneapolis
Call 612.870.3039 or visit www.miaantiquesshow.org


Museums & Historic Sites


The American Swedish Institute
2600 Park Avenue, Minneapolis
Call 612.871.4907 or visit www.americanswedishinst.org

Minnesota History Center
345 West Kellogg Boulevard, St. Paul
Call 651.296.6126 or visit www.minnesotahistorycenter.org

Minneapolis Institute of Arts
2400 Third Avenue South, Minneapolis
Call 612.870.3131 or visit www.artsmia.org

MIA Satellite Exhibition Space (Modern)
Wells Fargo Center
7th St. S. & Marquette Avenue, Minneapolis
Call 612.870.3039 or visit www.miaantiquesshow.org

Minnesota Museum of American Art
50 West Kellogg Boulevard, St. Paul
Call 651.266.1030 or visit www.mmaa.org

The Museum of Russian Art
5500 Stevens Avenue South, Minneapolis
Call 612.821.9045 or visit www.tmora.org
Walker Art Center
1750 Hennepin Avenue, Minneapolis
Call 612.375.7600 or visit www.walkerart.org

Frederick R. Weisman Art Museum
University of Minnesota
333 East River Road, Minneapolis
Call 612.625.9494 or visit www.weisman.umn.edu


Antique Dealers & Galleries


Antiques River Walk
210 Third Avenue North, Minneapolis
Call 612.339.9352 or visit www.antiquesriverwalk.net

Birdsall-Haasse Antiques
387 Portland Avenue, Saint Paul
Call 651.224.3669

Eastwood Gallery
404 South Snelling Avenue, Saint Paul
Call 651.695.1902 or visit www.eastwoodgallery.com

Minnesota Antiques Dealers Association
For a complete dealer list, visit www.mnantiquesdealers.com

Twin Cities Fine Arts Organization
For a complete gallery guide, visit www.twincitiesfinearts.org