By Deborah Davis


Some collectors find that acquiring a work of art is similar to falling in love. There is a flash of recognition (I like it!), the heart beats faster (I want it!), then desire overshadows all other emotions (I can't live without it!). If all goes well - in love and in art - yearning is followed by happily-ever-after.

For one married couple, happily-ever-after is an everyday occurrence, and collecting art is an extension of their thirty-year love affair. Though they have chosen to remain anonymous for this article, they are easily identified at art exhibitions and openings. Just look for the couple holding hands as they stroll through galleries and auction houses, leaning attentively toward each other and sharing knowing smiles. Their shared tastes have led to the purchase of remarkable works by major American artists such as John Singer Sargent, William Merritt Chase, and Mary Cassatt, and the resulting collection is best described by one word: romantic.

It all started in 1996, when the couple visited the Brooklyn Museum to see Beauty Reconfigured, an exhibition of works by the American tonalist Thomas Wilmer Dewing (1851-1938). Fittingly, the museum trip was preceded by a meal at the River Café under the Brooklyn Bridge, a favorite place for lovers. Long after the show, the wife found herself thinking about Dewing's haunting images of women. When she learned that his Lady in Lavender, circa 1919-23, was available for sale, she asked her husband if he would be interested in going to see it. He was. On their first art 'date' they bought the painting. That, and the purchase of A Rose by John White Alexander (1856-1915), changed the course of their lives.



Top Right: The entrance to the light-filled dining room is flanked by John Singer Sargent's (1856-1925), Corner of the Church of St. Stae, Venice, 1913. Oil on canvas, 28-1/2 x 22 inches, (left), and William Merritt Chase's (1849-1916), My Baby (Cosy), ca. 1888. Pastel on paper, 14 x 12 inches (right).

Bottom Right: Portrait of Miss L. (Angelica Hamilton Lawrence) by William Merritt Chase (1849-1916). Oil on canvas.



















Above: In the dining room, an Austrian table of mahogany and ebonized wood (ca. 1815) is surrounded by neoclassical mahogany chairs made in the late eighteenth century. The walnut and gilded bronze Biedermeir sideboard in the corner (circa 1820) is one of a pair in the room. Nicholas Ainsworth designed the interiors for the house.

Right: Portrait of Mrs. Frank Millet by John Singer Sargent (1856-1925).
Oil on canvas, 37 3/4 x 27 1/2 inches. Sargent spent some of his happiest moments with Lily Millet and her family at their summer house in the English countryside. This painting bears the inscription, 'To my friend, Mrs. Millet.'


| | |
| --- | --- |
| | |
| | |
| | The muted tones of Thomas Wilmer Dewing's (1851-1938) Lady in Lavender. Oil on canvas, 25-1/8 x 19-1/8 inches, are offset by dramatic pieces of antique furniture, including a black lacquer ebonized Art Deco bar (circa 1930) by De Coene Freres in Brussels, and Austrian neoclassical chairs (ca. 1825) made of ebonized and polished pearwood. |
Now, they were collectors, new to the game. They were not reckless, however, as their experiences in business and in philanthropy had taught them the importance of establishing rules. Because narrowing the field would help them to focus their interests, the couple decided to stay within the category generally known as American Impressionism. But they made an even more important decision when they started collecting: 'We each have to love it, or we don't buy it,' the wife explains. There have been a few instances when they haven't been in accord - he wanted a Tarbell, she longed for a Whistler - in the end, however, they honored their rule and walked away from both.


Even as novices, the couple acknowledged that collecting important works of art required a level of expertise that few enthusiasts are in a position to exercise. They were completely secure about their taste, and knew in the blink of an eye what they might buy and what they could ignore. But they were smart enough to understand that falling in love with a painting is just the beginning of the process, and that it is beneficial, if not critical, to have a professional art advisor to help navigate the potentially treacherous waters of the art world.


| | |
| --- | --- |
| | |
| | |
| | In the living room, John Singer Sargent's (1856-1925) Study for Carnation, Lily, Lily, Rose, 1885. Oil on canvas, 28-1/2 x 19-1/2 inches. |
Early on in their search for the right mentor, the couple met Robert Simon of Robert Simon Fine Art. They were impressed by his credentials (he's a former president of the Appraisers Association of America), but, more importantly, he seemed to understand and appreciate their aesthetic. 'We were not looking for someone to pick out our art,' the wife emphasizes. 'We wanted an adviser who would allow our taste to prevail, but who could deal knowledgeably and effectively with issues of quality, condition, rarity, and other considerations that are best left to professionals.' Tough questions can arise during the acquisition process: Is a painting a first-rate example of an artist's work, or a product of a less inspired moment in his career? How many times did he paint the same sitter or subject? What is the physical condition of the work? Is the canvas in good shape? 'A buyer has to look beyond the artist's name,' the collectors point out, and a good adviser can help clients avoid mistakes and miscalculations every step of the way.

The couple credits Simon with helping them become better collectors. 'In a very gentle way, he directed us away from decorative painting (which was more superficially appealing) to more challenging and significant works. We feel supported and protected, but not overpowered in any way,' they explain.
| | |
| --- | --- |
| | |
| | |
| | |
| Childe Hassam (1859-1935),The Flower Seller, 1884, hangs over a solid wood Art Deco commode (ca. 1940) with giltwood molding and gilded bronze hardware, one of a pair, from Maison Jansen in Paris. The Hassam is an oil on board and measures 16-3/4 x 12-3/4 inches. | |
The walls of the couple's spacious home are filled with emotionally charged works that held great meaning for the artists who painted them and are treasured by the owners today. Hanging over the fireplace in the living room is a Study for Carnation, Lily, Lily, Rose (1885-1886), John Singer Sargent's (1856-1925) light-infused depiction of children in an English garden. Across the hall, in the dining room, is Sargent's tender portrait of Lily Millet (Mrs. Frank Millet, 1885-1886), a dear friend whom he painted during the very same holiday, and who, at one time owned that very study of Carnation, Lily, Lily, Rose. When hanging this portrait in its place of honor, the collectors had to be mindful of the swinging backpacks and activities of their own young children. This is a home where art is an integral part of family life.

When they consider purchasing a work of art, the collectors have to take into account the numerous windows in their home. A luxurious aerie perched atop a hill, their house is alive with light and the dappled shadows of trees. A few paintings that came to the house for a trial viewing were sent packing because they could not stand up to the light and the omnipresence of nature. Some paintings, such as Corner of the Church of St. Stae, Venice (1913), Sargent's bold depiction of a Venetian church, holds its own no matter what light the day has to offer. Two works by Childe Hassam (1859-1935), The Flower Seller (1894) and The Big Parade (1917), offer vibrant spots of color on a neutral wall.


| | |
| --- | --- |
| | |
| | |
| | Beach Scene - Morning at Canoe Place, by William Merritt Chase (1849-1916). Oil on panel, 9-3/4 x 14 inches. Beach Scene was probably painted in the summer of 1896 or 1897, at Shinnecock Hills, a short distance from the Chase homestead, and retains its original Stanford White frame. |
The hallway features a dramatic sweeping staircase. Its second-floor landing displays At Play, circa 1895, William Merritt Chase's (1849-1916) full-length portrait of his two young daughters, one of whom appears again in My Baby, circa 1888, a small, yet perfect, pastel portrait that hangs by the front door. There is something wonderfully familial about the collection and the connections between the works and with the family. Warmth and familiarity radiate from each canvas. The family believes that the husband was drawn to Chase's affectionate Portrait of Miss L. (Portrait of Angelica Hamilton Lawrence), circa1891-92, because the woman's lovely face reminded him of his wife's.


| | |
| --- | --- |
| | |
| | |
| | |
| The Big Parade, 1917, by Childe Hassam (1859–1935). Oil on panel, 8 x 8-7/8 inches. | |
The couple loves portraits of women, and there are many throughout the house. They say it is because the sitters are enigmatic and 'endlessly interesting' to look at. Places can be enigmatic, too. Interior (1896), by William Merritt Chase, shows an open doorway leading to a curtained room. There are no people in the painting, yet it suggests mystery and drama. These collectors are also drawn to landscapes, or more particularly, seascapes, because they are reminiscent of happy summers spent on Nantucket and at other resorts. Chase's Beach Scene--Morning at Canoe Place, circa 1896-97, inspired by his visits to Shinnecock, Long Island, shows a child playing on the sand. At the Shore, circa 1882-86, a very different painting by the same artist, captures a gay Coney Island setting topped by a dazzling blue sky. A Maurice Prendergast (1858-1924) watercolor, Children on a Raft (1896), also evokes the lazy days of summer.

Above: Acorn Street, Boston, July 1919, by Childe Hassam (1859-1935). Mixed media, watercolor, gouache and pencil on paper, 8-1/2 x 11 inches.

Right: Children on a Raft by Maurice Prendergast (1858-1924). Watercolor and pencil on paper, 17-1/2 x 13-3/8 inches.



Above: William McGregor Paxton's (1869-1941) The Leghorn Hat. Beneath the painting is a black lacquer, Art Deco game table (ca. 1930s) from De Coene Freres in Brussels.

Right: At Play by William Merritt Chase (1849-1916). Oil on Canvas, 72-1/8 x 36-1/8 inches.

Chase often used his own children as his subjects. Here, he captures an affectionate moment between siblings, as an older sister helps a younger one to get dressed.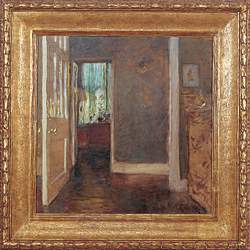 Interior, 1896, by William Merritt Chase (1849-1916). Oil on canvas, 24 x 24 inches.

At the Shore by William Merritt Chase (1849-1916). Oil on canvas, 22-1/4 x 34-3/4 inches.



A splash of color in the living room is, on closer inspection, a vibrant Georgia O'Keeffe (1887-1986) pastel entitled Pink Camellia (1935), an uncharacteristic choice for these collectors as it is not the work of an American Impressionist. But they admit to having been 'smitten' by it, and acknowledge that there are those days when rules go out the window.


| | |
| --- | --- |
| | |
| | Rosina-Capri by John Singer Sargent (1856-1925). Oil on canvas, 19-3/4 by 25-1/2 inches. Sargent, and other artists of the period, were fascinated by seventeen-year-old Rosina's dark Mediterranean beauty. He described her as 'a magnificent type,' and she became his favorite model during his visit to the isle of Capri in 1878. |
| | |
One of the most magnificent paintings in the house is tucked away in the master bedroom. Rosina-Capri, Sargent's exuberant painting of a young woman dancing on a rooftop in Italy, is arguably the jewel in the collection's crown. When it is home (rather than out on loan), it is rarely seen by anyone who isn't a member of the family. In this sense, the collection is truly personal.

The couple, who are incredibly generous with their art, feel that lending is a way of broadening their exposure to institutions and people they may not have previously known. 'The people we've met-curators, directors, dealers, art historians, and other collectors-are wonderfully interesting experts in an area we love,' they say. Over the years, the couple has worked very closely with Warren Adelson, president of the Adelson Galleries in New York City and a co-creator of the John Singer Sargent catalogue raisonne. When their Sargent, Corner of the Church at St. Stae, Venice was in Sargent's Venice, a show Adelson organized in 2007, they were invited to join a group of lenders for an unforgettable, insider's tour of Venice before the exhibition opening. 'This is how we want to spend our time,' they remember thinking, 'looking and learning in this beautiful place, with people who share our love for it.'


| | |
| --- | --- |
| | |
| | White Lillies by Frederick Frieseke (1874-1939). Oil on canvas, 28 x 36 inches. |
| | |
As they have become more knowledgeable, the couple finds themselves paying more and more attention to such details as background colors, lighting, and frames. Recently, with the help of Larry Shar, president of the Julius Lowy Frame and Restoring Company in New York City, the collectors reframed three Sargents and one Chase, and they were astonished by a frame's power to transform a painting, in particular, Sargent's Rosina-Capri, which had its nondescript gold frame replaced with a magnificent Spanish one.

Shakespeare's lines about Cleopatra come to mind in describing the couple's relationship with their art - age cannot wither it, nor custom stale its infinite variety. Referring to their collection, the wife says, 'I try to take time to look at one painting every day,' while her husband enjoys spontaneously moving a painting to another room to better appreciate variations in light. They are, in the truest sense of the words, art lovers.


| | |
| --- | --- |
| | |
| | Angels in a Transept, Study after Goya, 1879, by John Singer Sargent (1856-1925). Oil on panel, 13-5/8 x 10-1/4 inches. |
| | |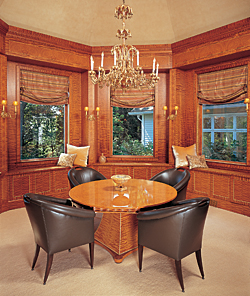 The table and paneling in the library were custom designed by furniture-maker Frank Pollaro. The neo-gothic chandelier (ca. 1830) is Austrian and entirely hand carved, with giltwood. On the walls, there are six sets of nineteenth-century Biedermier sconces.



| | |
| --- | --- |
| | |
| | Another view of the library, featuring John White Alexander's (1856-1915) A Rose. Oil on canvas, 40 x 22-1/2 inches. Through the doorway, Pink Camellia, 1945, by Georgia O'Keeffe (1887-1986). Pastel on paperboard, 19 1/2 x 24-1/2 inches. Though the artist rarely worked in pastel, she excelled in the medium. |
| | |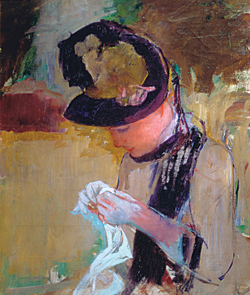 Woman in Black and Green Bonnet, Sewing, by Mary Cassatt (1844-1926). Oil on canvas, 24 x 19-3/4 inches.