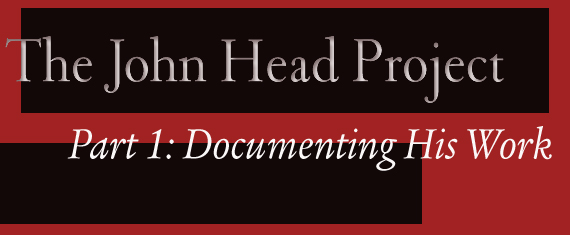 by Jay Robert Stiefel, Alan Andersen, and Christopher Storb


For want of documentation, Philadelphia's earliest furniture makers survive in little more than name. Such might have been the fate of John Head (1688-1754), a Suffolk-born joiner who arrived in Philadelphia in 1717. But through the fortuitous survival of his account book chronicling his entire professional career in Philadelphia (1718-1753), Head has emerged as the city's most prominent identifiable cabinetmaker working prior to 1750.



ABOVE (L-R): Account book entitled "John Head his Books [sic] of accounts," containing 231 pages of manuscript entries, Philadelphia, 1718-1753. Courtesy of the American Philosophical Society, Philadelphia. Photography by Frank Margeson.

Account of Casapar Wistar (1696-1752) in the John Head account book. Courtesy of the American Philosophical Society, Philadelphia. Photography by Frank Margeson.



| | |
| --- | --- |
| | |
| | |
| | High chest and dressing table, Philadelphia, 1726. Walnut, yellow pine, white cedar, maple, brass. High chest: H. 64-1/2, W. 42, D. 23-1/4 in. Dressing table: H. 28-3/4, W. 33-1/2, D. 23-3/8 in. Philadelphia Museum of Art; gift of Lydia Thompson Morris, 1928. 1928-7-12, 13. Courtesy of the Philadelphia Museum of Art. Photography by Graydon Wood. |
Seven generations of Head's descendants are to be commended. The account book preserved by them is the earliest to have survived from any cabinetmaker in colonial British North America. It is now on public view in the library of the American Philosophical Society.1 The significance of the Head account book to furniture scholarship is inestimable. Its 231 pages contain more information about the business of cabinetmaking in colonial Philadelphia in the first half of the eighteenth century than in all other extant contemporaneous documents combined.2 Thousands of entries, ordered chronologically under some six hundred customer accounts, provide a detailed daily record of Head's transactions with his suppliers and customers and help explain how Philadelphia's barter economy forced him to evolve from craftsman to merchant. As no signed work, advertising, or probate inventory survives for Head, were it not for his account book we would not otherwise know what he made or, indeed, his relative importance within Philadelphia's artisanal community. His account book indicates that he supplied over six hundred pieces of case furniture to a community that numbered only about 2,300 houses in 1753, the year of his last entry.



| | |
| --- | --- |
| | |
| | |
| | Tall case clock, Philadelphia 1730. Walnut, white cedar, yellow pine, brass, iron, steel, and glass, Philadelphia, 1730. H. 109, W. 19, D. 10-1/2 in. Original brass tide dial clock by William Stretch (1701-1748). Private collection. Photography by David Gentry. |

The John Head Project was conceived by the coauthors of this article to identify the work of John Head's shop in advance of the tercentenary of his arrival in Philadelphia. To date we have tentatively identified over forty works that can be either documented or attributed to his output. In this article we introduce three pieces that can be documented to the Head shop through account book entries that corroborate other documentation and family tradition.3 A subsequent article will attribute other works based on design and construction idiosyncrasies shared with these documented examples.

The three pieces - a high chest, a dressing table, and a tall-case clock - are described in the Head account book in debit entries under the name of Caspar Wistar (1696-1752), a German emigre from the Palatinate who arrived in Philadelphia in 1717, the same year Head came to the city. Wistar prospered as a brass button manufacturer, glassmaker, and land investor. By the time of his death, he was one of Philadelphia's wealthiest citizens.

On '14 - 4 mo 1726' (the Julian calendar notation for June 14, 1726 under the Gregorgian calendar used today), Head charged Wistar £10 for the high chest and dressing table together with an as yet unaccounted for gateleg table. The entry reads: 'To a Chest of drawers and a Chamber Table and an oval Table'.4 That the high chest and dressing table were listed in the same entry suggests that they were companion pieces.

It is uncertain how Wistar and Head first came to know each other. Perhaps they were introduced by Wistar's future father-in-law, Derrick Jansen (d. 1760) of Germantown, who had acquired five hundred acres of land in the province from Head by indentures dated July 21 and 22, 1719.5

Derrick Jansen's name appears as 'Dareck Johnson' in the Head account book on the credit side of Wistar's account in an entry dated '15 - 4 mo. 1726,' showing that he paid £5 in cash to Head, half the cost of the furniture ordered the day before.6 As Wistar had married Derrick's daughter Catherine (1703-1786) three weeks prior, on May 25, 1726, it is a reasonable conclusion that the high chest, dressing table, and gateleg were intended as wedding furniture, partially paid for by Jansen.

These entries corroborate a family history that the en suite highly figured walnut chest and dressing table, with decoratively stamped escutcheons and D-handled brasses, were originally owned by Catherine Jansen Wistar. They had descended in her female line and were donated to the Philadelphia Museum of Art in 1928. These are presumably the 'Chest of Drawers & Table...In the front Chamber' of Wistar's High (Market) Street house inventoried at £4 at the time of his death, as no other similar entry appears.7 The family history, coupled with the entries in Head's account book, are sufficiently persuasive to establish them as the first two pieces said to be documented to Head's shop.


| | |
| --- | --- |
| | |
| | |
| | Detail of Tall case clock. Tide dial movement by William Stretch, and hood door. Photography by David Gentry. |
A distinctive design feature of the Wistar high chest and dressing table is the complex arch at the center of their front rails: a cove, fillet, and ogee ascend on either side to form a peak at the top. Even more unusual in terms of both design and construction is the intentional outward splay of the corner legs, achieved by turning tapers as opposed to shoulders at the top and bottom of the legs, and making the stretchers wider and deeper than the case.

Head's account book enables us to document a third piece of furniture to the shop. On '30 – 2 mo 1730' (April 30, 1730), Wistar was debited £4 'To a Clock Case'. This was the price that Head charged for arched dial cases in walnut more fully described elsewhere in his account book as: 'Arched,' 'archet,' or Archit.'8 He charged only £3 for a 'Squar Case' in walnut, which required less labor. Wistar's arched dial case would not have been in a wood other than walnut, as Head charged £5 for cases in mahogany, cherry, and cedar.9

The April 30, 1730, clock case entry supports the provenance of a stately-proportioned arched dial walnut clock case with brass tide dial movement by William Stretch (1701-1748), the only clock mentioned in Caspar Wistar's will and probate inventory. It was inventoried at £14 as 'a Clock and Case' in 'the Parlour' and was left to his widow, Catherine. By family history it descended to their daughter Catherine Greenleafe, to her brother Caspar Wistar Jr., to his daughter Sarah Wistar Pennock, and down through that line until acquired by the present owner.10



| | |
| --- | --- |
| | |
| | |
| | Detail of Tall case clock. Double-beaded waist door and oculus with clipped escutcheon. Photography by David Gentry. |
Distinctive features of the Wistar clock case include the construction of its hood door and dial enclosure. Their stiles are tenoned into the top and bottom rails, rather than the reverse, which was more usual in Philadelphia. Also, the hood's multipiece cornice moldings are unusual in having a rectangular secondary wood spacer behind their upper elements. The original stamped brass escutcheon appears to be of the same design as that used on the Wistar high chest and dressing table, but its 'wings' were purposely clipped to align with the verticality of the waist door. (Other clock cases from this shop have either the right or both wings clipped from their original waist door escutcheons. Brasses were expensive and this would have saved Head the cost of having to stock small escutcheons not suitable for larger cases pieces.) The double-bead on the rear edges of the hood complements the double-bead around the waist door and oculus, a design refinement common to other cases from this shop.11

The fact that the Wistar case also houses its original movement by William Stretch further supports the connection between the account book entry and the clock. There was a close relationship between the Head and Stretch shops and their common customers. Forty-one of Head's clock cases were debited directly to the account of Peter Stretch and another four to that of his son William.12 As in this instance, Head sometimes supplied cases to customers who themselves acquired movements from the clockmaker.13

By releasing their initial findings here and in a subsequent article, the coauthors hope to stimulate further suggestions as to areas of research and specific objects that might be included within the scope of the John Head Project. They express their gratitude in advance for such cooperation.

1. Jay Robert Stiefel, "Philadelphia Cabinetmaking and Commerce, 1718-1753: The Account Book of John Head, Joiner" American Philosophical Society's Library Bulletin (Winter 2001), vol. 1, no. 1. http://www.amphilsoc.org/library/bulletin/20011.htm.

2. These include the ledger of Philadelphia chairmaker Solomon Fussell, which at the time of its discovery was described as "the only known record left by a Philadelphia furniture maker working in [the] 1730-1760 period." Stiefel, n. 35.

3. The authors wish to acknowledge the following with respect to this article: Andrew Brunk, Charles Greifenstein, Laura Keim, Martin L. Levitt, Frank Margeson, Richard Alan Mones, David W. Young, and Philip Zimmerman.

4. Head account book, p. 87 left. (At some point in his account book, Head started giving the same page number to adjacent pages. Those cited here as "left" contain the debit entries of an account; those cited as "right" the credit entries.) Andrew Brunk was the first to identify this debit entry after the account book was brought to his attention.

5. Minute Book "I" dated "28th 6 mo. 1719," in William Henry Egle, ed., Minutes of the Board of Property of the Province of Pennsylvania (Harrisburg, PA: M.K. Meyers, State Printer, 1898), vol. 1, 691. Head had bought the land by deeds dated October 9 and 10, 1718, from Samuel Bury, described as a "Clerk" from St. Edmundsbury (now Bury St. Edmunds), Suffolk, Head's native city.

6. Head account book, p. 87 right. The balance was more than paid off that same date, as shown by two other credits in Wistar's account totaling in excess of the remaining £5: one for 12-1/2 yards of linen and the other for half a barrel of linseed oil. As Jansen's name is not specified in those entries, it may be assumed that Wistar provided those goods himself by way of barter. The linseed oil would have been of particular use to Head's cabinetmaking, whereas the linen could be sold as one of the wide range of fabrics handled as part of Head's mercantile activities.

7. "Inventory of the Goods & Chattels of Casper [sic] Wistar taken 13 of 4 mo: April 1752 by Hugh Roberts and Edward Cathrall," which came to over £26,667. Wistar Family Miscellaneous Papers, 1721-1899, Historical Society of Pennsylvania. The fact that the chest of drawers and table were appraised together supports the contention that they were made en suite.


8. The £4 clock cases described as "arched" were debited between 1721-1727, providing the earliest documented evidence of arched dial clocks in Pennsylvania. By the time of the Wistar transaction, we know that the Stretches were already making arched dial clocks, as Head had supplied an arched case to Peter Stretch in 1726.

9. The higher cost may have covered Head's extra expense in either having to import such wood or pay extra for highly figured parcels of it, even if domestic. On October 24, 1725, Joseph Taylor Jr. was credited £23 by Head for a "parsel of Chary Tree Bords and Logs." Head account book, p. 78, right.

10. Attestation of line of descent, dated October 19, 2003, and signed by the inheritor, a direct descendant of Caspar Wistar, is in the possession of the present owner. Further supporting its bona fides, the clock descended with engraved relics of Caspar Wistar and Catherine Jansen Wistar, including pewter plates bearing their cypher and a silver porringer with their initials and the mark of Joseph Richardson, Sr., similarly attested.

11. The dent and shrinkage crack in the door are glorified by a nineteenth-century manuscript pasted to the inside of the waist door that states "This [clock belonge]d to Catherine Greenleafe, siste[r to] Caspar Wistar [ Jr.]. At the time of the Revolution she took part with the Royalists, and refusing to illuminate her house, after an American victory, the populace became infuriated at her Tory sympathies, and threw stones through her windows, one of which struck the clock, and made the dent in the door which still remains." In accord, Robert C. Moon, The Morris Family of Philadelphia, Descendants of Anthony Morris, 1654-1721 (Philadelphia: Robert C. Moon, 1898), v. 1, 363.

12. Peter and William Stretch had a close working relationship, as Peter not only settled William's account with Head, but at his death left his tools to William, although he had another surviving son, Thomas Stretch, in the same trade. Stiefel, X.E. 10c[4].

13. Occasionally, but not with respect to the Wister transaction, Head's account book noted separate delivery of clocks by Peter Stretch to Head's customers, sometimes on the same date the cases were debited. Ibid.



Jay Robert Stiefel is a Philadelphia lawyer and decorative arts historian who first discovered the significance of the John Head account book. Alan Andersen is an independent furniture conservator located in Cochranville, Pa. Christopher Storb is Conservator for Furniture and Woodwork at the Philadelphia Museum of Art.