by Brittany Good


| | |
| --- | --- |
| | |
| | |
| | William Sanderson (Latvian-American, 1905–1990), Mountain Retreat, ca. 1958. Oil on fiberboard, 22 x 12 inches. |
In May of 1981, Vance Kirkland, a Colorado-based painter known for his alchemic techniques and avant-garde sensibilities, passed away, leaving his studio, which housed the Kirkland School of Art, his paintings, and furnishings to Hugh A. Grant, a family friend. From this gift the Kirkland Museum of Fine & Decorative Art was born, with Grant at the helm. Located in Denver, the museum opened its doors to the public in April 2003, revealing a staggering assortment of international decorative arts, a retrospective of Kirkland's own art, and a compilation of more than 600 works by regional artists. The historic studio/art school building, which Kirkland used from 1932 until his death in 1981, is the oldest commercial art building in Denver and an Associate Site of the National Trust for Historic Preservation. A new building, attached to the historic one, was constructed in 2002 to house the growing collections.

Kirkland once said, 'If I am going to eat off of something, drink out of something, or sit in something it is going to be great design.' The museum's largest holdings are the decorative arts, starting with Arts & Crafts from the 1880s and extending to Pop Art from the 1980s, covering Art Nouveau, Glasgow Style, Wiener Werkstätte, De Stijl, Bauhaus, Art Deco, and modern design. The studio exhibition rooms are displayed in a salon atmosphere. Paintings, furniture, rugs, sculpture, and ceramics come together in styled vignettes to create dynamic aesthetic combinations.

As an art teacher and director of two art schools (University of Denver School of Art and the Kirkland School of Art), Kirkland urged his students to master their mediums in an original way. The museum's Colorado Collection represents the work of 170 artists who sought inspiration from the region and range in date from 1875 to 1980. With its Cubist undertones, warped dimensionality, and suggestion of rugged terrain, William Sanderson's (1905–1990) Mountain Retreat typifies these works.


ABOVE LEFT: Kirkland Museum vignette with Wave Sofa (center) and Ribbon Chair (right) by Pierre Paulin; Ion Chair by Gideon Kramer; Biomorphic Table by Isamu Noguchi; lamp by Verner Panton; sculpture (left) by Edgar Britton; The Expanding Universe (1959) by Vance Kirkland. The glass case displays Van Briggle Pottery.

ABOVE RIGHT: Exterior of the Kirkland Museum.


The arc of Kirkland's own career was defined by experimentation and change. Born in Convoy, Ohio, in 1904, Kirkland's art had five major incarnations. His early career (1927–1944) was spent painting watercolors of landscapes, ghost towns, and ruins. Kirkland moved further into abstraction with the Dali-esque watercolors of his Surrealist period (1939–1954). He produced his hard-edge abstractions until 1957, and subsequently began mixing oil and water to create bubbling, cratered surfaces in his abstract expressionist/floating abstractions period (1957–1964). He experimented with this method further between 1963 and 1981, resulting in his dot painting/energy-in-space abstractions. The museum displays work from each of these five periods.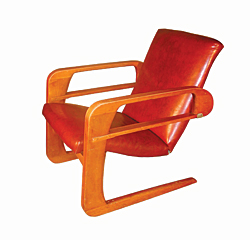 ABOVE LEFT: Airline chair, Kem Weber (German, 1889–1963), ca. 1934–35. Wood and leather, 30-1/2 x 24-1/2 x 34 in. This streamlined chair was proposed and rejected by Pan American Airways. It found a home in the Weber-designed Walt Disney Studio in Burbank, California, and was later acquired for the museum by Grant.

ABOVE RIGHT: Vance Kirkland (American, 1904–1981), Landscape Abstraction, 1951. Oil on panel, 24 x 36 inches.


Kirkland Museum of Fine & Decorative Art is located at 1311 Pearl Street Denver, CO 80203. For more information call 303.832.8576 or visit www.KirklandMuseum.org.

All images courtesy of Kirkland Museum of Fine & Decorative Art, Denver;
photography by Ron Ruscio.