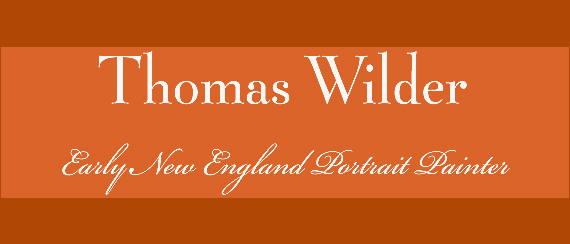 by Arthur Kern


| | |
| --- | --- |
| | |
| | Thomas Wilder (1791–1862), Persis Rice, probably Newfane, Vermont, ca. 1839. Inscribed 'Taken by T. H. Wilder, April 24, 1839.' Oil on canvas, 26-7/8 x 23-1/4 inches. Courtesy of Historical Society of Windham County, Newfane, Vermont. The portrait of Persis' husband, Moses, has significant surface loss. |
| | |
OIn 2005 I received a request from Joan Marr, curator at the Historical Society of Windham County, Newfane, Vermont, for information concerning Thomas Wilder, the painter of three pairs of very similar oil-on-canvas portraits in the society's collection. One pair was of Moses Rice and his wife Persis of Newfane. They are identified by inscriptions that give the date of execution as April 24, 1839, their names, and the artist as T. H. Wilder.1 The second pair of portraits bear no inscriptions, but the subjects were identified as Walter and Zylpha Eager, also of Newfane, on the basis of entries in Walter's diary: '7th June 1839...Portrait Painter comes begin to paint portraits; 15th June...Wilder the Portrait painter finish and leave – pay him $10 in full for the two portraits one is not satisfactory.'2 The third pair were of Newfane residents Silas and Eunice Kenney. Attribution of the Kenney portraits was made on the basis of their stylistic similarity to those of the Rices and Eagers, as well as family history.3




| | |
| --- | --- |
| | |
| | |
| Thomas Wilder (1791–1862), Unknown Man, probably area of Walpole, New Hampshire, ca. 1840, Oil on canvas , 29-1/2 x 24-1/4 inches. Courtesy of Suzanne and Michael Payne. | |
| | |
These six paintings were stylistically very similar to four unidentified portraits of a Walpole, New Hampshire, family published most recently in an auction catalogue.4 On the reverse of each is the inscription, 'Painted by T. Wilder of Walpole, N.H.' and the date 'March 1839,' just one month before the painting of the Newfane portraits, only about fifteen miles away. Their present location is unknown.

Given this nucleus of ten portraits, it was evident that Wilder had resided in Vermont and New Hampshire. An initial search for references to a 'T. Wilder' or a 'T. H. Wilder' in published references yielded few positive findings.5 Genealogical investigation revealed that the artist was born May 31, 1791, the son of Peter Wilder and Tamar Rice. (The discovery of the artist's mother's name poses a possible familial relationship between Thomas Wilder and his subject Moses Rice, whose portrait was discussed above.) Thomas Wilder's birthplace has been variously identified as Walpole, Keene, New Ipswich, or Winchester, New Hampshire, and the state of Vermont. However, his birth record at the State of New Hampshire Division of Vital Records Administration establishes that he was born in Brattleborough, Vermont, about ten miles from Newfane. His marriage record confirms his union with Polly H. Chaffin on April 6, 1815, in Walpole.



| | |
| --- | --- |
| | |
| | Thomas Wilder (1791–1862), Unknown Woman, probably area of Walpole, New Hampshire, ca. 1840. Oil on canvas, 29-1/2 x 24-1/4 inches. Courtesy of Suzanne and Michael Payne. |
| | |
There is no evidence to suggest that Wilder had any formal training. Instead, he followed the course of most early American limners, starting as a tradesman painting furniture, houses, and coaches, and later adding the craft of painting portraits. During the period he was active in Vermont and New Hampshire, itinerant portrait painter Joseph Chase Rutherford was working in the same areas.6 His work is strikingly similar. It is unknown if one influenced the other, or if both were influenced by yet another artist.

A total of thirty-eight portraits by Wilder in Vermont, New Hampshire, Massachusetts, and Rhode Island, are now known. A review of those paintings that are available shows a uniformity in presentation. Each is an oil on canvas approximately 28 by 24 inches in size. Head and body are generally turned slightly, usually to the right on men and to the left on women. With only one exception figures are presented waist length. Hands are included only occasionally and when shown, usually hold an object such as a book, flower, or stylus. Some modeling of the face is generally present, ears usually are large and stand away from the head, and the opening of the ear canal is a prominent round or oval dark grayish color. Drapes are often present, furniture rarely, and backgrounds are usually plain.



| | |
| --- | --- |
| | |
| Reverse of a portrait of Richard S. Bryant, Athol, Massachusetts, ca. 1844. Courtesy of Old Sturbridge Village, Sturbridge, MA. | |
| | |
At least sixteen of Wilder's portraits are signed and dated on the reverse of the canvas with black paint. The signatures have been described as 'Thomas Wilder,' 'Thos. Wilder,' 'T. Wilder,' 'T. H. Wilder,' 'F. or T. Wilder', and 'T. H. or F. H. Wilder.'7 However, close study of the inscriptions has shown that incorrect reading of the signature was due primarily to the poor handwriting of the artist.


| | |
| --- | --- |
| | |
| | |
| | Thomas Wilder (1791–1862), Man with Crossed Arms, probably area of Walpole, New Hampshire, ca. 1840. Oil on canvas, 26 x 22 inches. Courtesy Christie's Images Limited [2001]. |
| | |
Wilder got his start as an artisan when his family moved to New Ipswich in 1805 and his father established a chair factory in the section that became known as 'Wilder Village.' Thomas worked with his father for a while and is noted for a set of six side chairs branded 'T. Wilder.'8
By 1825, judging from the following advertisement in the Cheshire Gazette, he was branching out on his own: 'Coach, Chaise, House, Sign, Military Cap, Standard, and all kinds of Ornamental Painting, done by / Th. Wilder / Copal and Japan Varnish, constantly for sale / Walpole, April 1825.' Two years later he bought a store with a small building in the rear on Walpole's Main Street. With Walpole about forty miles northwest of New Ipswich, it is likely that Wilder had given up working with his father and was a full-time itinerant folk painter. In 1836 Wilder sold the Main Street property and bought three acres in Walpole. At what point he advanced to the painting of portraits is uncertain, but his earliest known works, those of 1839, were painted in Newfane, Vermont, fifteen miles across the border from Walpole, when he was a resident of the latter, indicating that by then he was moving about as an itinerant portrait painter.



| | |
| --- | --- |
| | |
| | Thomas Wilder (1791–1862), Charles Whittemore, Fitzwilliam, New Hampshire, March 1842. Inscribed on reverse, 'By Thomas Wilder March 1842.' Oil on canvas, 27-1/4 x 24-1/2 inches. Collection of James and Susan Widder. |
| | |
During the two years following 1839 Wilder probably continued to paint portraits in New Hampshire. It may have been during this period that he did five unsigned, undated, and unidentified subjects. Two, in a private collection, are depictions presumably of a husband and wife, each seated in a chair and framed by a pair of colorful drapes. Another pair is known only from an advertisement.9 The last, Man with Crossed Arms, is known only from an auction catalogue.10 The rendering of the opening of the ear canal in these portraits is characteristic of Wilder's style.


In 1842, Wilder painted the portraits of members of the Whittemore family of Fitzwilliam, New Hampshire, about midway between Walpole and New Ipswich.11 The subjects are children of Dexter Whittemore. The portrait of Charles Whittemore has a worn, illegible inscription on the reverse of the canvas. A piece of yellowed paper is glued to the stretcher with what seems to be a copy of the inscription; the original wording appears to be, 'Charles, son of Dexter Whittemore Age 14/ Painted by Thomas Wilder/ Fitzwilliam New Hampshire/ March 1842.' The 1850 and 1860 census for Fitzwilliam both record Charles' place of birth as New Hampshire and his occupation as a clerk and merchant, respectively.



| | |
| --- | --- |
| | |
| | Thomas Wilder (1791–1862), Jerome Wilson Gleason, Westmoreland, New Hampshire, March 9, 1842. Inscribed on reverse, 'Jerome W. Gleason, Born April 28, 1816 (Age 25) Taken by Thos. Wilder at Westmoreland, NH.' Oil on canvas, 28 x 24 inches. Collection of the Historical Society of Cheshire County, Keene, N.H. |
| | |
| | |
| --- | --- |
| | |
| | Thomas Wilder (1791–1862), Livilla Gleason, Westmoreland, New Hampshire, March 9, 1842. Inscribed on reverse, 'Livilla E. Gleason. Born Mar. 21, 1818 (Age 23) Taken by Thos. Wilder at Westmoreland, NH March 9, 1842.' Oil on canvas, 28 x 24 inches. Collection of the Historical Society of Cheshire County, Keene, N.H. |
| | |

| | |
| --- | --- |
| | |
| | Thomas Wilder (1791–1862), Richard S. Bryant, Athol, Massachusetts, ca. 1844. Oil on canvas, 28 x 24 inches. Inscribed 'Richard S. Bryant/Age 22/by TH. Wilder.' Courtesy of Old Sturbridge Village, Sturbridge, Ma. |
| | |
The location of the portraits of Thomas Wright Whittemore, the oldest child, born on September 9, 1825, and his sister, Cynthia, born on May 30, 1837, are not known, but black and white photocopies of both exist along with some documentation that describes Thomas' portrait as having 'chocolate brown hair, gray eyes; black coat and tie; brown book and brown background,' and that of Cynthia as having 'dark brown hair and eyes; chocolate brown dress and background.'12 Both portraits show poorly delineated hands.

In March 1842, Wilder also painted the portraits of seven members of the Gleason family of Westmoreland, about twenty miles from Fitzwilliam, including the portraits of siblings Livilla and Jerome Wilson Gleason. The portraits are both signed and dated March 9, 1842, and are typical examples of Wilder's work. Jerome and Levilla were the children of Wilson and Lucy Atherton Gleason. Wilson was a wealthy farmer and cattle drover, and a captain of cavalry in the New Hampshire Militia. He married Lucy Atherton, his first wife, on July 12, 1812, and they had eight children between 1814 and 1828, five of them subjects of Thomas Wilder. The present location of the portraits of Wilson, Lucy, and of their children, Clementia, Fortunatus, and Loring, is unknown.13
| | |
| --- | --- |
| | |
| | Thomas Wilder (1791–1862), Louisa B. Fisher, Athol, Massachusetts, ca. 1844. Oil on canvas, 28-1/2 x 24-1/8 inches. Courtesy of Old Sturbridge Village, Sturbridge, Ma. |
| | |
Another portrait of 1842, that of Lucy Thomas, is inscribed 'By TH. Wilder / at Winchester N.H. May / 25. 1842.' Nothing is known of the subject except for the fact that in 1842 she was probably a resident of Winchester, about fifteen miles from Westmoreland. The present location of the portrait is unknown but photographs of the front and back of the canvas, in the collection of Old Sturbridge Village, show Lucy with head and body turned very slightly, wearing a white cap and collar, and with poorly depicted hand.

By 1843 Wilder's area of activity had changed to Massachusetts, where he painted eight portraits of subjects who lived in the towns of Oakham, Ware, and Athol, within an area of only twenty miles in diameter and between fifteen to twenty-five miles from Worcester, where three years later he possibly painted another portrait, now missing.14 Four of the paintings are in the collection of the Worcester Historical Museum. The portrait of Charles Adams is inscribed 'Dr. Charles Adams/Done at Oakham, Mass. August 1843, by Thomas Wilder.' Adams, born in 1782, was a Massachusetts-born physician, with real estate valued at $1,200 in 1850. The portrait of Dr. Adams has a red drape hanging in the left upper corner. The portrait of his wife, Sarah McAllister Adams (which also bears an inscription), has a similar drape in the opposite corner. Dr. Adams is shown in the usual three-quarter view, but Mrs. Adams is turned only very slightly. Both are seated in a fancy painted chair. One other pair in the same collection, that of Joseph (b. 1784) and Sally (Sarah) Breckenridge Cummings (b. 1787) of Ware, is neither signed nor dated. They are nearly identical in presentation, however, to the Adams' portraits, all having drapes and being seated in the same chair. All four are older sitters and are stylistically similar to the portrait of Persis Rice; it seems Wilder had a slightly different approach to painting younger sitters than he did in representing older ones.


| | |
| --- | --- |
| | |
| | |
| Thomas Wilder (1791–1862), Anna Baylies Bushee, Rhode Island, 1848. Oil on canvas, 29-1/2 x 24-1/4 inches. Inscribed on the reverse, 'By Thos. Wilder.' Courtesy of the Museum of Art, Rhode Island School of Design; gift of Alice Bushee. Photography by Erik Gould. | |
| | |
The other four Massachusetts portraits are in the collection of Old Sturbridge Village. The likeness of Richard S. Bryant is inscribed 'Richard S. Bryant/ Age 22/ by/ TH. Wilder.' The subject was born in Athol, Massachusetts, February 9, 1822, and died in 1853, due to yellow fever contracted in Panama while returning from the gold rush in California. His older brother, George Quincy Adams Bryant and wife, Louisa Ann Roby Bryant, also sat for Wilder, probably around the same time he painted Richard in 1844. A fourth portrait is inscribed 'Louisa B. Fisher, age 16 By TH Wilder.' The identity of Louisa is unknown, but she was likely related to the Bryants, as her portrait came to the museum from the same source.

A number of Wilder's later portraits are among the missing, including a portrait signed and dated March 10, 1846, which has been described as that of Christopher Harrin15 and Christopher Harris.16 There is no evidence of a Christopher Harrin living in 1846 in areas in which Wilder was then active, but there is some evidence to support the likelihood of a Christopher Harris, a then nineteen-year-old harness maker in Worcester, Massachusetts. Another later painting by Wilder, referred to as Mother and Child, is known only from correspondence in 1973 between the curator of the Museum of Art, Rhode Island School of Design, and its then owner. According to the former, the painting was signed on the back 'By Thos Wilder 1847.' Its owner described it as having coloring and a dark green drape on the left similar to the portrait of Anna Baylies Bushee.

The last known portrait by Wilder is that of Anna Bayliss Bushee; it is signed 'By Thos. Wilder 1848' on the reverse in the lower right corner. A silver coffin plate that accompanies the painting is inscribed: 'Anna Baylies Bushee died February 18, 1848. Aged 4 years 8 months.' This highly developed painting shows a full-length figure of a lovely girl seated on a red chair. To the right of her head is what appears to be a large framed picture with a light gray background and two ethereal angel-like heads, symbolic of the fact that this is a posthumous painting. Anna, who is buried in the Union Cemetery of North Smithfield, Rhode Island, was the great-granddaughter of George Aldrich, an innkeeper in Woonsocket, Rhode Island. This is the only known Wilder paining of a Rhode Island subject. It is not surprising that he was active in the area of North Smithfield, which is only about thirty miles from Worcester, where he was then painting portraits.

Though Wilder's last known portrait was dated 1848, he advertised his availability as a portrait painter through 1862.17 It must be assumed that either there are many paintings that have not come to our attention, or that he suffered the same fate as many of the itinerant artists of the time; the loss of his clientele to more popular, less expensive daguerreotypists. There may have been other reasons, clues to which are found in letters he sent from Worcester to his brother. 'Sept. 16, 1855: My own health is much better now than it has been for four years past and I am able to accomplish as much in my business as ever.' In June 1856 he wrote, 'Dear Brother, All our calculations are reversed. My employers have brought on a lot of work which they say must be done in order to pay off for the quarter ending June.'18 Unfortunately, nowhere does he indicate the nature of his illness or the type of business that may have interfered with his work as a portrait painter. Thomas Wilder's death notice appeared in two Worcester newspapers, The Aegis & Transcript and the Massachusetts Weekly Spy in 1862, giving his age as seventy-two and the date of his death as July 11. His final resting place is in the Rural Cemetery of Worcester, Massachusetts.



1. Moses Rice was born in Worcester, Ma, in 1786; he later moved to Wardsboro, Vt., where he had a large farm, blacksmith shop, and a creamery. Moses married Persis Cook, a Vt. native; they moved to Newfane by 1819 (The 1850 census lists the couple's son, Nelson, as 31 and a native of Vt., which puts his birth in the state in 1819). The 1850 census values Moses' real estate at the high rate of $3,600. See Robert L. Crowell, Historic Newfane Village: The Houses and the People (Moore Free Library, 1989), 205, 207.

2. Walter Ward Eager was born April 21, 1790 in Newfane, and married Zilpha Perry there on March 28,1819. He was a farmer and represented Newfane for two years in the state general assembly as well as holding town offices. His real estate was valued at $2,800. See Crowell, 201.

3. Silas (b. 1783) and Eunice (b. 1788) were married in 1813. He was a prosperous farmer; the 1850 census lists his real estate value at $4,000. See Crowell, 56.

4. Skinner, Inc. Collection of Roger Bacon, Brentwood, N.H. (Sept. 24, 1982), lot 845.

5. Clara Endicott Sears, in the index to her Some American Primitives: A Study of New England Faces and Folk Portraits (Boston: Houghton Mifflin, 1941), mentions 'an itinerant artist named F. H. Wilder who painted around Fitchburg and Leominster, Massachusetts in 1846.' A 1978 catalogue for a private collection includes a portrait of Charles Whittimore, signed and dated on the reverse 'By Thomas Wilder March 1842.' See also Nineteenth-Century Folk Painting: Our Spirited National Heritage, Works of Art from the Collection of Mr. and Mrs. Peter Tillou (Storrs, Conn.: William Benton Museum of Art, 1973), 178.

6. See Kern, 'Joseph Chase Rutherford, Vermont Folk Portrait Painter,' in Antiques & Fine Art Magazine (Autumn/Winter 2008): 228.

7. The confusion led some to believe that there may have been two portraitists with the name of Wilder.

8. See Charles S. Parsons, 'Wilder Chairs' in Journal of the Historical Society of Early American Decoration (Fall 1983), 19, 20.

9. Antiques & the Arts Weekly (November 28, 1987): S–23.

10. Christie's, Important Americana (January 20, 2001), lot 870.

11. The surname has frequently been misspelled 'Whittmore.' and 'Whittimore.'

12. Frick Art Reference Library, New York.

13. The portraits of Jerome and Livilla were donated to the Historical Society of Cheshire County in 1988 and 1990, respectively. At that time, the donor also had the portrait of Clementia, and reported that of Loring Wheeler in the possession of another descendant. The portraits of Wilson, Lucy, and Fortunatus Gleason have reportedly been in a Santa Barbara museum, but attempts to locate them have been unsuccessful.

14. The census for 1840 records Wilder's residence in Walpole, N.H.; by 1850 his residence was in Worcester, MA. He had relocated by 1843, the date on the paintings of Dr. and Mrs. Charles Adams of Oakham, MA.

15. In auction notices appearing in the Magazine Antiques (May 1973): 868, and Maine Antique Digest (October, 1989): 10–C.

16. Antiques and the Arts Weekly (December 4, 1992): 41.

17. Wilder's earliest known advertisement appeared in 1825 in New Hampshire's Cheshire Gazette. In 1847 he began advertising annually in the Worcester Almanac, Directory, and Business Advertiser. In 1848 he appears as 'Wilder, Thomas portrait painter, 19 Park.' In 1849 he has two advertisements and his address has changed to 21 Park. In the listings through 1854 his address has changed to 67 Southbridge. The listing of 1855 has changed to 'Wilder, Thomas H., portrait and ornamental painter /67 Southbridge'; along with an additional advertisement for 'Thomas W. (sic) Wilder,/ Portrait & Ornamental Painter,/ 67 Southbridge Street,/ Worcester, Mass.' The listings through 1862 do not include the second advertisement. The publication of 1863 has the entry 'Mrs. Thomas Wilder at same address,' but none for her husband, who had died the previous year.

18. Archives, Old Sturbridge Village.



Arthur Kern, along with his late wife, Sybil, has spent the past twenty-five years writing and lecturing extensively on little-known early American folk artists. He wishes to thank the staffs of museums, historical societies, and libraries, as well as collectors, for their help in this project.