by Joann Moser


Drawings often reveal greater spontaneity and experimentation than paintings and sculpture. Even when works on paper are larger and more finished, they retain a sense of the artist's hand, with the immediacy of a thought made visible. The exhibition Graphic Masters I at the Smithsonian American Art Museum, celebrates the extraordinary variety and accomplishment of American artists' works on paper drawn exclusively from the museum's collection. Exceptional watercolors, pastels, and drawings reveal the central importance of works on paper as studies for creations in other media and as finished works of art. Watercolor is a favorite medium for capturing the light and color of nature. Pastels allow artists to draw directly in color, blurring traditional distinctions between drawing and painting. Bold drawings include book illustrations, studies for paintings, and spontaneous creations that reveal the artist's thought processes and working methods. The installation includes works from the early nineteenth century through the early twentieth century, from naturalistic renderings through modern abstractions.



This work captures the dramatic effects of noise and light accompanying a violent storm. Shrill claps and intense flashes of lightning pierce the night sky with fearsome resonance. The storm seems to have a sinister spirit of its own. Burchfield's creative process incorporated his dream life, with compositions such as this one recalling childhood fears and nightmares.


Charles Burchfield (1893–1967), Lightning and Thunder at Night, 1920. Watercolor and charcoal. Smithsonian American Art Museum; gift of Charles Rand Penney. 2000.84.



| | |
| --- | --- |
| | |
| | Georgia O'Keeffe (1887–1986), Special No. 32, 1915. Pastel. Smithsonian American Art Museum, gift of the Georgia O'Keeffe Foundation. 1995.3.2. |
| | |
O'Keeffe's early abstract works, such as Special No. 32, brought her recognition in New York. In later years she described these works as 'expressing what I felt had not been said in any art I had seen.' She recalled sitting on the edge of a river and having a conversation with a friend about abstractions from nature. She then went home and made two pastels to show her friend what she meant. The wave-like forms refer to the water and the red to the clay soil, but direct references to nature are subsumed by O'Keeffe's abstract pattern and rhythms.



This was one of five works by eighteen-year-old Stuart Davis chosen for the groundbreaking Armory Show of 1913. According to Davis, it depicts a scene at a burlesque show in Hoboken, New Jersey, where he 'lummed' in bars and strip joints with friends. His teacher, Robert Henri, encouraged Davis to paint from his own experience, advice he followed throughout his career, even when he adopted a more abstract style.






Stuart Davis (1894–1964), Babe La Tour,1912. Watercolor and pencil. Smithsonian American Art Museum; gift of Henry H. Ploch.1983.84.

Marking an important stage in Man Ray's rapid development as a leading modernist, the dark outlines and simplified forms in this work reflect his decision to abandon the direct observation of nature in favor of a more spontaneous, imaginative rendition. He transforms the traditional landscape elements of land, horizon, and sky into a brilliant, jewel-like composition of curvilinear forms that bear little resemblance to an actual place but instead convey the exquisite landscape's startling beauty.




Man Ray (1890–1976), Landscape (Paysage Fauve), 1913. Watercolor. Smithsonian American Art Museum; gift of the Man Ray Trust. 1990.47.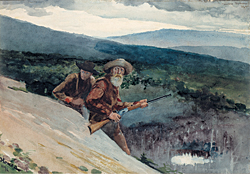 Winslow Homer (1836–1910), Bear Hunting, Prospect Rock, 1892. Watercolor and pencil. Smithsonian American Art Museum; gift of John Gellatly.1929.6.66.


Guns ready, two grizzled hunters balance against a steep rock face that drops precipitously to a valley floor far below. Though no bear appears in the painting, the danger is palpable. The men are modeled on guides from the North Woods Club, where Homer spent much of his time. Prospect Rock, located less than a quarter of a mile away from the clubhouse and reached by a graded trail, was one of Homer's favorite spots to paint. He often rearranged or modified details of the landscape to suit his compositional needs. In this watercolor Homer presents man as an essential part of nature, neither overwhelmed by its grandeur, nor fully in control of the wilderness.



In this dynamic composition, the rhythmic crashing of waves in the middle ground contrasts with the calmer, deep blue of the horizon as well as with the solid, curvilinear rock forms in the foreground. Marin's calligraphic lines suggest movement and energy. He spent part of almost every year in Maine from 1914 until his death and painted seascapes of its rugged coast throughout his career. He was less interested in portraying specific, recognizable sites than in conveying the forces of nature along the rocky, untamed Maine coast.


John Marin (1870–1953), The Sea, Maine, 1921. Watercolor and charcoal. Smithsonian American Art Museum, museum purchase. 1964.2R.



Poet and journalist Celia Thaxter's home on Appledore, one of the Isles of Shoals off the coast of New Hampshire, was celebrated for its luxuriant flower garden, full of brilliant color and wild beauty. Childe Hassam belonged to a circle of artists and writers who gathered at the informal salon she hosted during summers on the island. In 1894, Thaxter published An Island Garden, which included this watercolor and other Hassam illustrations.





Childe Hassam (1859–1935), Thaxter's Garden, 1892. Watercolor. Smithsonian American Art Museum; gift of John Gellatly. 1929.6.54.



One of thirty-two illustrations drawn by Maxfield Parrish for English writer Kenneth Grahame's The Golden Age, Parrish depicts the experiences of childhood from the perspective of an adult nostalgic for an ideal world that never was. Although the charming young girl, Charlotte, is sad and momentarily isolated, she stands in an idyllic garden, protected by the two sturdy posts that flank her. She seems poised in the portal between childhood and adolescence.




Maxfield Parrish (1870–1966), 'What they talked about'––'They make me walk behind, 'cos they say I'm too little, and musn't hear . . . ,' 1899. Pencil, chalk, pen and ink, and ink wash. Smithsonian American Art Museum; bequest of Olin Dows. 1983.90.122.



| | |
| --- | --- |
| | |
| John Henry Twachtman (1853–1902), Haystacks at Edge of Woods, ca. 1895. Pastel. Smithsonian American Art Museum; gift of John Gellatly. 1929.6.139. | |
| | |
John Twachtman delighted in depicting his home in Greenwich, Connecticut, especially its gardens and surrounding seventeen acres of land. He was particularly fond of depicting scenes such as Haystacks at Edge of Woods that showed nature in its wild state punctuated with accents of human habitation and cultivation. His practice of working out of doors emphasized the effects of sunlight and atmosphere.



Chase drew Terrace, Prospect Park at an important moment in his career. In 1886, after years of traveling back and forth to Europe and developing his skills as a portrait painter, Chase married Alice Gerson and settled down in Brooklyn, turning his attention to the natural world around him, especially Prospect Park in Brooklyn and Central Park in Manhattan.


William Merritt Chase (1849–1916), Terrace, Prospect Park, ca. 1887. Pastel. Smithsonian American Art Museum; gift of John Gellatly. 1929.6.12.


Graphic Masters I: Highlights from the Smithsonian American Art Museum is the first in a series of special installations of rarely seen works on paper from the museum's permanent collection. It is on display through May 25, 2009. For more information, visit www.AmericanArt.si.edu.



Joann Moser is senior curator of graphic arts, Smithsonian American Art Museum, and curator of Graphic Masters I.