by staff


| | |
| --- | --- |
| | |
| | Gustav Klimt (1862–1918), Adele Bloch-Bauer I, 1907. Oil, silver, and gold on canvas. Neue Galerie New York. This acquisition made available in part through the generosity of the heirs of the estates of Ferdinand and Adele Bloch-Bauer. |
| | |
In 1994, businessman, philanthropist, and art collector Ronald S. Lauder and his longtime friend, art dealer and museum exhibition organizer Serge Sabarsky (1925–2008), purchased a Beaux-Arts mansion on New York City's Museum Mile with the intention of converting it into a museum for German and Austrian art. Neue Galerie New York opened its doors in 2001 and quickly became one of the city's most treasured small museums. The museum occupies all six stories of its distinguished home, once the residence of Mrs. Cornelius Vanderbilt III and a designated New York landmark. Visitors queue up outside its doors on weekends not only to view the world-class collection of art and decorative objects, but also to sample delectable food at the museum's Viennese -style restaurant, Cafe Sabarsky. The restaurant shares the ground floor with the Design Shop, offering jewelry and other high-end gifts inspired by decorative objects in the collection, and the excellent Book Store, which specializes in works on fine art, architecture, and decorative arts from Germany and Austria.



| | |
| --- | --- |
| | |
| | Main entrance to 1048 Fifth Avenue. Architects: Carrere & Hastings, 1912–1914. |
| | |
Austrian art occupies the museum's second floor, with an emphasis on the works of Gustav Klimt (1862–1918), Oskar Kokoschka (1886–1980), and Egon Schiele (1890–1918) –– the gallery holds more than two hundred works by Expressionist artist and Klimt-protege Schiele in its collection. In 2006, Lauder purchased Klimt's dazzling 1907 portrait of Adele Bloch-Bauer, reportedly for $135 million, the highest sum ever paid for a painting at that time. An opportunity to view the portrait is alone worth the price of admission. Decorative objects on display include works of the Wiener Werkstatte by Josef Hoffmann (1870–1956), Kolomon Moser (1868–1918), and Dagobert Peche (1887–1923). Additionally, there are examples of furniture designed by Viennese architects Adolf Loos (1870–1933) and Otto Wagner (1841–1918).


An elegant central staircase leads to the third floor where, when not being used for a special exhibition, the museum's collection of early twentieth-century German art is displayed. The period's signature movements and their pioneering artists are well represented. Notable among them are Blaue Reiter works by Vasily Kandinsky (1866–1944) and Paul Klee (1879–1940); Brucke works by Ernst Ludwig Kirchner (1880–1938); and Neue Sachlichkeit works by Otto Dix (1891–1969) and George Grosz (1893–1959). Decorative arts by important Werkbund and Bauhaus designers are also on display.



| | |
| --- | --- |
| | |
| | Egon Schiele (1890–1918), Town among Greenery (The Old City III), 1917. Oil on canvas. Neue Galerie New York. In memory of Otto and Marguerite Manley, given as a bequest from the estate of Marguerite Manley. |
| | |
Special loan exhibitions bring greater understanding to the work in the permanent collection. Alfred Kubin: Drawings, 1897–1909 (through January 26, 2009) explores this Gustav Klimt contemporary whose black-and-white pen, ink, and spray drawings depict nightmarish beasts and scenes of human depravity. In keeping with the dark themes of the artist's work, the galleries were made-over with black and brown-painted walls and velvet curtains. Kubin's death mask is also on display. The Birth of Expressionism: Brucke in Dresden and Berlin, 1905–1913 (February 26–June 29, 2009) will delve into the work of many of the artists represented in the permanent collection.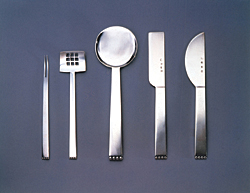 LEFT: Josef Hoffmann (1870–1956), Tobacco case for Otto Primavesi, Vienna, 1912. Execution: Wiener Werkstatte. Gold; lapis lazuli, pearl, turquoise, coral, opal, cornelian, and other semiprecious stones. Private collection. Courtesy Neue Galerie New York.

ABOVE: Josef Hoffmann (1870–1956), Five pieces from the 'Flat Model' flatware service, consisting of crab fork, sardine server, pastry serving spoon, cheese knife, and butter knife, Vienna, ca. 1904–1908. Execution: Wiener Werkstatte. Silver. Private Collection.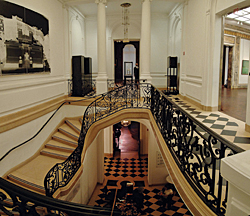 LEFT:
Max Beckmann (1884–1950), Self-Portrait with Horn, 1938. Oil on canvas. Neue Galerie New York and Private Collection.


ABOVE: Grand staircase of the Neue Galerie New York. Photo credit: Andre Maier.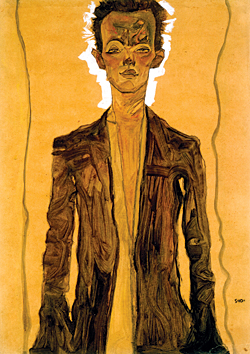 LEFT: Ernst Ludwig Kirchner (1880–1938), Standing Girl, Caryatide, 1909–1910. Carved and painted wood. Neue Galerie New York and private collection, New York.


ABOVE: Egon Schiele (1890–1918), Self-Portrait in Brown Coat, 1910. Watercolor, gouache, and black crayon on paper. Private collection, New York.



Neue Galerie New York is located at 1048 Fifth Avenue, New York City. For more information call 212.628.6200 or visit www.neuegalerie.org.

All images courtesy of Neue Galerie New York.