Boston, Massachusetts, 1750–1760
Silk and wool on canvas
17 x 14 3/8 inches
Courtesy of Stephen and Carol Huber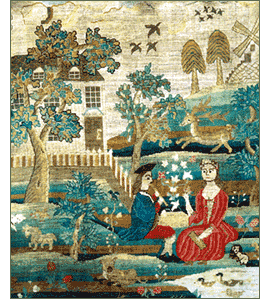 Very few early Boston canvas-work pictures can be linked to a particular teacher or maker since such work was rarely signed. We recently purchased and placed an important example that is inscribed under the original sand liner with the name of Sarah Moorhead, which was originally presumed to be the name of the maker. But noted needlework historian Betty Ring brought the following reference to our attention that indicates otherwise.

"Trades and Occupations JAPANNING---Drawing, Japanning, and Painting on Glass taught by Mrs. Sarah Morehead, at the Head of the Rope-walks, near Fort Hill" (Boston Evening Post, April 18, 1748; and published in George Francis Dow, The Arts & Crafts in New England 1704–1775, Gleanings From Boston Newspapers [Wayside Press, Topsfield, Mass., 1927], p. 267).

While it is unlikely that Mrs. Moorhead (or Morehead, as spelling took various forms in the eighteenth century) stitched needlework pictures herself, she was in all probability the designer and possibly had a hand in teaching the techniques of needlework to her students.

Two other canvas works nearly identical in design are in private collections. One is attributed to Mary Perrin, daughter of Noah, Jr., and Mary Perrin and born September 24, 1737. In 1748, the time of Mrs. Moorhead's advertisement, Mary would have been 10 years old, a typical age when girls made samplers. It is quite feasible that Mrs. Moorhead either drew or helped Mary design her canvas-work picture at that time or shortly thereafter.

Research reveals that Sarah Parsons Moorhead was married to the prominent minister Reverend John Morehead on June 22, 1730. They had two sons, Parsons and John, and a daughter, Mary.

With this new discovery, another teacher can be added to the ongoing list of the women who contributed to the needlework of Colonial Boston.