Philadelphia and its environs have played host to a rich tradition in the visual arts for nearly three centuries. The city lays claim to a wealth of renowned artists including some of America's most masterful colonial portraitists and history painters such as Matthew Pratt (1734–1805), Benjamin West (1738–1820), and Charles Willson Peale (1741–1827). The prolific and talented Peale family of painters helped create a strong tradition of neoclassical still life painting in Philadelphia. Landscape painting in the area at first developed with less fervor than its Hudson River counterpart, but by the mid-nineteenth century Ruskinian ideals had informed the detailed landscapes of painters in nearby Germantown. Soon after, impressionists such as Daniel Garber (1880–1958) began to paint the Pennsylvania countryside, instigating the creation of art colonies in the region. The establishment of art clubs and schools, including The Pennsylvania Academy of Fine Arts in 1805, further cultivated an enduring legacy of academic to modernist painting in the Philadelphia area that continues today. — JCE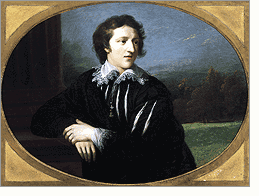 Benjamin West (American, 1738–1820, a. London 1763–1820)
John Williams, 1766
Signed and dated at lower left: B. West PINXIT/1766
Oil on canvas, 31 x 42 inches (oval)
Provenance and exhibition history available
Courtesy of Schwarz Philadelphia

The value placed on Benjamin West's work has fluctuated greatly according to changing fashions over almost 200 years, but his importance in both European and American art history cannot be denied. Although the Pennsylvania-born artist spent most of his life in London, for forty years almost every ambitious young American painter who had the chance traveled there to study with him. West's long career and his prominent positions as the second president of the Royal Academy in London and history painter to George III made him an influential figure in the European movements of neoclassicism and romanticism.

From the time of his first professional work with the German neoclassical painter Anton Raphael Mengs (1728–1779) in Rome in the early 1760s, West sought fame in history painting, which encompassed historical, religious, and literary subjects presented as moral lessons. He painted comparatively few portraits. The portrait illustrated here was executed in 1766, the same year as his Agrippina Landing at Brundisium with the Ashes of Germanicus (Yale University Art Gallery), a historical painting that captured the attention of the English king and the rest of Europe, making it unnecessary for West to depend on portrait commissions to earn a living. The horizontal oval format of this painting and the sitter's Van Dyck-style costume are distinctive. Although no biographical information on the sitter has been found, it is known that West painted portraits of his wife and mother-in-law in the same format, and presumably at the same time (of the three, only this portrait is signed and dated).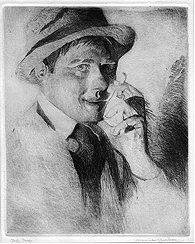 Daniel Garber (American, 1880–1958)
Self-Portrait, c. 1925
Signed twice, titled and annotated in pencil
Etching, edition of 25.
Courtesy of Ernest S. Kramer Fine Arts & Prints, Inc.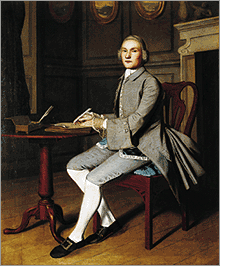 Matthew Pratt (American, 1734–1805)
James Stanhope Claypoole at age 24,1770
Inscribed on verso: James Stanhope Claypoole, age 24
Oil on canvas, 60 x 50 inches
Original frame
Courtesy of Vose Galleries of Boston

Born in Philadelphia, Matthew Pratt was the son of goldsmith Henry Pratt and Rebecca Claypoole, a member of the prominent Claypoole family of Philadelphia. For six years, Pratt was apprenticed to his uncle, James Claypoole. By 1755 he was an established portrait and sign painter in Philadelphia. In search of more technical and sophisticated instruction, Pratt went to London in 1764 and became the first pupil of Benjamin West (1738–1820). During this period Pratt created his most famous work, The American School, now in the collection of the Metropolitan Museum of Art. He returned to Philadelphia in 1768. In 1787, Pratt set up a drawing school and taught "likenesses in miniature" and ornamental painting.

The sitter for this portrait is James Stanhope Claypoole (1746–1822), a first cousin of the artist. Claypoole married a fellow Philadelphian, Lucretia Garwood, in 1763. After the Revolutionary War the couple left Philadelphia and moved to what was then known as a U.S. Military District (now Muskingum County, Ohio), where Claypoole was given extensive land grants. When he died in 1822, Claypoole was a wealthy landowner and a prominent member of the community.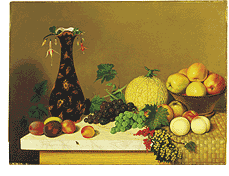 J. Watson (19th century)
Still Life with Fruit and Vase on a Tabletop
Signed J. Watson and dated 1848, lower left
Oil on canvas, 18 x 24 inches
Provenance: Estate of Carolyn Ryan Foulke, Palm Beach
Courtesy of Questroyal Fine Art, LLC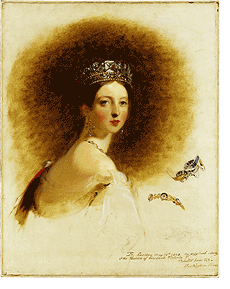 Thomas Sully (American, 1793–1872)
Queen Victoria
Signed, dated, and inscribed lower right: TS. [monogram] London May 15th 1838. My orginal study/of the Queen of England/Victoria 1st/Painted from life./ Buckingham House.
Oil on canvas, 36 x 28 3/8 inches
Courtesy of The Metropolitan Museum of Art; bequest of Francis T. S. Darley, 1914. (14.126.1) Photograph copyright 2000, The Metropolitan Museum of Art.

A compelling full-length portrait of England's 18-year old Queen Victoria, the acknowledged masterpiece of Philadelphia artist Thomas Sully and the work that catapulted him into international prominence, is the focus of the exhibition Queen Victoria and Thomas Sully.

Established as Philadelphia's leading portrait painter, Sully was commissioned by the city's chapter of The Society of the Sons of St. George (a benevolent association devoted to English emigrants) to paint a full-length portrait of the new British queen during her coronation year of 1838. Sully spent almost a year in London, negotiating complicated palace protocol in pursuit of a sitting, viewing great works of art, and meticulously recording his activities in a journal. The famous bust-length oil sketch of the young queen shown here, for which she posed at Buckingham Palace, served as the basis for the full-length portrait (in the collection of Mrs. Arthur A. Houghton, Jr.) that Sully completed in Philadelphia.

Queen Victoria and Thomas Sully, curated by Carrie Rebora Barratt, associate curator of American Paintings and Sculpture at the Metropolitan Museum, has traveled from the Metropolitan to London's Wallace Collection, where it is on view through April 29, 2001. A scholarly publication accompanying the exhibition is available through the Metropolitan's bookshop. For more information, please call 212.535.7710 or visit www.metmuseum.org or www.the-wallace-collection.org.uk.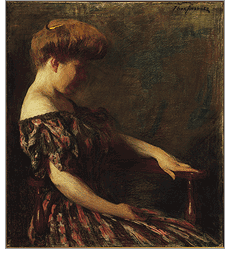 Thomas Pollock Anshutz, N.A. (American, 1851–1912)
A Flowered Gown, 1906
Signed at upper right: Thos. Anshutz
Inscribed on former frame verso:
1906 A Flowered Gown T.P.A. 1906
Pastel on canvas, 41 x 38 inches
Provenance: Eleanor Randolph Wilson McAdoo;
private collection.
Courtesy of Schwarz Philadelphia

The late-nineteenth-century revival of the pastel as
a popular medium in America and Europe was advanced by two renowned expatriate artists, Mary Cassatt (1845–1926), who grew up in Philadelphia, and James Abbott McNeill Whistler (1834–1903). In Philadelphia, Thomas Anshutz and Birge Harrison (1854–1929), both prominent teachers at the Pennsylvania Academy of Fine Arts, frequently worked in pastel. Anshutz's painterly approach to A Flowered Gown, as well as the impressive size of this work and others of the same date show how important the pastel medium was to the artist.

It has been suggested that the subject of this portrait may be Ellen Louise Axson Wilson, the first wife of Woodrow Wilson, the twenty-eighth president of the United States (1913–1921). Exhaustive research by the office of the White House, however, failed to discover any connection between Mrs. Wilson and the artist. It is likely that the Wilson's daughter, Eleanor Randolph Wilson McAdoo, purchased A Flowered Gown because she had known Anshutz and his work as a student at the Pennsylvania Academy of Fine Arts.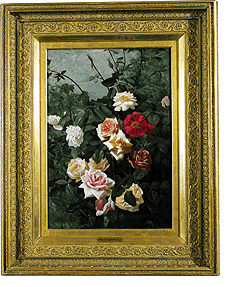 George Cochran Lambdin (American, 1830–1896)
White, Pink, Yellow and Red Roses
Signed lower left: Geo. C. Lambdin
Signed, inscribed and dated on back:
Geo. C. Lambdin, Germantown, Phila. 1877
Oil on canvas, 20 1/8 x 14 inches
Courtesy of Brown Corbin Fine Art
Raphaelle Peale (American, 1774–1852)
Lemon and Grapes, 1818
Signed and dated lower right Raphaelle Peale Phil. Oct. 1818
Oil on panel, 12 1/2 x 17 inches
Courtesy of Godel & Co. Fine Art, Inc.
Prior to the completion of the Erie Canal in 1825, which prompted New York City's rise to national preeminence, Philadelphia had been the most important city in the country. Foremost of Philadelphians were the Peales, America's first artistic dynasty. Led by patriarch Charles Wilson Peale (1741–1827), two of his sons, Raphaelle and Rembrandt, are considered to be among the finest artists this country has ever produced. The Peales began a Pennsylvania still-life tradition that extended to Severin Roesen (1815-–1871), William Harnett (1848–1892), and John F. Peto (1854–1907).

The example here by Raphaelle Peale displays superb draughtsmanship and luminescence. Importantly, the subject represents two significant artifacts of early Philadelphia. The lemon, a scarce and valuable commodity at the time, may have come from an early greenhouse (then called a "hot house") on the east bank of the Schuykill River, which was part of the country manor called "Lemon Hill". Originally, the property belonged to William Penn and served as one of the colony's first wineries. In Peale's time it was owned by Henry Pratt, son of the painter Matthew Pratt (1734–1805). Phoebe Lloyd, a Peale expert, has suggested that "Henry Pratt commissioned from Raphaelle a still life for his dining room to compliment the two most famed commodities of his country house grounds." While this view is not documented, what is known is that both subject and artist are truly representative of Philadelphia's golden age.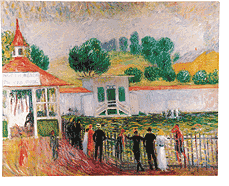 William Glackens
(American, 1870–1938)
North Beach Swimming Pool
Circa 1916
Oil on canvas, 25 x 30 inches
Courtesy of David David, Inc.

A native Philadelphian, William Glackens attended high school with artist John Sloan (1871–1951) and art patron Albert Barnes (who established The Barnes Foundation, Merion, Pennsylvania). In 1892, Glackens studied at the Pennsylvania Academy of Fine Arts, where he forged a long-term friendship with Robert Henri (1865–1929). Along with Henri and Sloan, Glackens became part of the group of artists known as "The Eight," or the Ashcan School, realist painters who explored themes of urban life. Glackens, whose style was heavily informed by Renoir, tended to paint the upper-class at leisure, in contrast to the grittier common man subject matter of his counterparts.