In reaction to the mass-produced goods and increasingly unskilled work force of the Industrial Revolution, John Ruskin (1819–1900) and William Morris (1834–1896), fathers of the English Arts and Crafts movement, proposed that laborers could be ennobled by "honest" handwork done in a healthy, rural environment. Among those who took this message to heart was architect and furniture designer Ernest Gimson (1864–1919), a founder of the movement's influential Cotswolds School.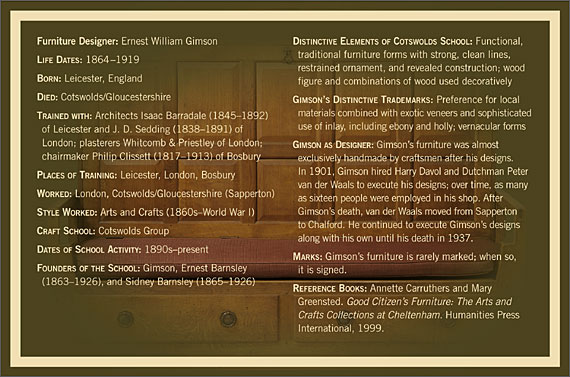 Gimson, the son of a well-to-do iron manufacturer/engineer, trained as an architect and embraced the Arts and Crafts movement's tenets in the 1880s. In 1893 he moved to the Cotswolds together with architect/designer/craftsmen Ernest and Sidney Barnsley, whom Gimson met in London. They founded the craft-based Cotswolds School in Pinbury Mill, moving to Sapperton in 1903. In communities throughout the district, Gimson, the Barnsleys, and additional members of the school sought to preserve and adapt to modern uses the traditional furniture forms born of pre-industrial needs and an agrarian lifestyle. While doing so, they integrated design concepts of the Arts and Crafts movement, combining the imposing scale of medieval and Gothic styles, the geometric decoration of the Italian Renaissance, and stylized floral motifs borrowed from the Near and Far East.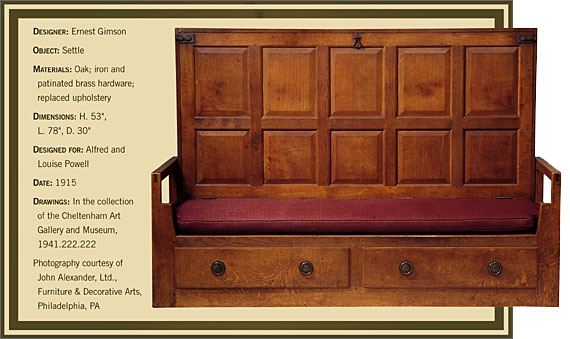 The furniture designed by Gimson is often simple in form and detailed in decorative effect. The visual impact of this settle is found in its architectural presence, decorative wood grain, and frame-and-panel construction. Typical of Cotswolds School furniture making, Gimson started with a local utilitarian object, in this instance a settle, integrating a paneled grid into the back and adding drawers. Ingeniously, a mattress is housed in the back, which falls forward to rest on the notched arm posts. The revealed construction of the back, exposed decorative joints of the arms, and hand-forged ironwork are all important hallmarks of the school, which celebrated artisinal craftsmanship. Other Gimson pieces are marked by an interest in combining straightforward vernacular forms with exotic wood veneers and sophisticated inlays in geometric floral motifs.

Gimson's furniture rarely surfaces in the market because much remains in private hands, and, given that Gimson's shop was small and produced custom-ordered pieces, the output was limited. When Gimson's pieces do appear, prices can be strong as a result of their rarity, such as this settle valued at $38,000. Examples of Gimson's and other Cotswolds group members' work is rare in the United States but can be seen at the Art Institute of Chicago, the Los Angeles County Museum of Arts, the Wolfonsian-Florida International University collection, Miami Beach, and the Virginia Museum of Fine Arts, Richmond. In England, the encyclopedic collection is at the Cheltenham Art Gallery and Museum in Cheltenham, the Cotswolds, where a small community of Arts and Crafts practitioners continue to labor today.

Photography courtesy of John Alexander, Ltd., Furniture & Decorative Arts, Philadelphia, PA

Ted Jones writes about antiques, art, and architecture. He is the author of Carnegie Libraries Across America.