by Johanna McBrien Photography by J. David Bohl


| | |
| --- | --- |
| | |
| | |
| | Views of the water surround the kitchen, where whimsical combinations of objects are arranged: Ice cream scoops from the turn of the 20th century hang on a wall above a rare 19th-century beehive apiary trade sign from Pennsylvania, which is in turn beside a series of "poor-man" silhouette decoys displayed hidden among some grasses. Hooked rugs add visual variety, as does the juxtaposition of a 19th-century barber pole and a contemporary carved dalmatian by Cuban-American folk carver Pucho Odio. The stairway provides display space for several important weathervanes: A peacock of 1883 by L.W. Cushing, desirable because of its extended tail; a late 19th-century Goddess of Liberty by Henis of Philadelphia; an early 20th-century full-bodied car and driver vane from the Vanderbilt estate; and an early 20th-century whale vane of wonderful form found in Maine. The hooked dog and star rug was a gift from a collector. |
This coastal New England residence, situated along a quiet estuary, provides the perfect setting for a collection of historic and contemporary folk art. Trade signs, hooked rugs, folk and outsider paintings, and a selection of antique furniture are arranged throughout the home, but the focus of the collection is its nearly two dozen copper weathervanes. Though most are no longer mounted with directionals to point toward the prevailing winds, they seem to welcome the summer breezes that blow through the open windows of this waterside retreat.

The collectors, a couple who moved from Connecticut nearly fifteen years ago, have been purchasing weathervanes for nearly as long. Their first was the wooden dragon in their office, which has a charmingly ferocious appearance, and is among their favorites. "We prefer unusual weathervanes," says the husband. "The only typical weathervane form we have is of a horse; it was a gift from dealer Steve Miller." A driving force behind their interest is the fact that weathervanes have been a part of the utilitarian and decorative culture of this country since the seventeenth century. America's first documented weathervane maker, Deacon Shem Drowne (1683–1776) of Boston, created the Indian archer, now at the Massachusetts Historical Society, in 1716 to grace
| | |
| --- | --- |
| | |
| | |
| | Decorating the lower stair landing is an 1887 Lancaster, Pennsylvania, hooked rug from Olde Hope Antiques, and a 1910 rug with a horse and carriage scene from Jeff Bridgman. The 19th-century hat trade sign from the Dr. and Mrs. Ed Hoffman collection was purchased at Northeast Auctions, Portsmouth, New Hampshire. On the window sill is a 20th-century figure by outsider artist William Duffy (left), and an 1880s figure of a man slicing a watermelon. |
the top of the city's Province House; his most famous weathervane was the grasshopper made for Boston's Faneuil Hall in 1742. In the early 1800s, Americans favored patriotic weathervanes that included the Goddess of Liberty and the bald eagle. Later, famous racing horses became a popular subject for vanes as did farm animals, angels, and a variety of subjects relating to the era in which they were manufactured. Early weathervanes were made by hand, and though individual craftsmanship continued, in the 19th century, manufacturers began to mass-produce vanes. Some of the more famous companies were L.W. Cushing, J.W. Fiske, Harris & Co., A.L. Jewell & Co., and E.G. Washburne & Co. The couple has acquired examples from manufacturers as well as hand-crafted weathervanes, with workmanship and quality of design being of utmost importance.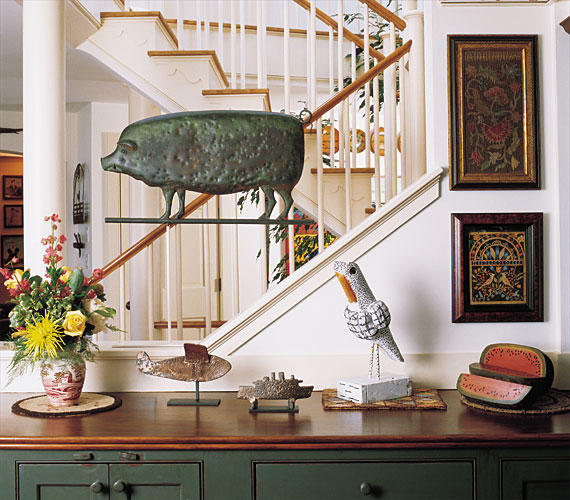 Central to this kitchen alcove is the large pig vane from the David Davies collection. It was also owned by curator, dealer, and scholar Robert Bishop and is illustrated on page 62 of his American Weathervanes and Whirligigs (1981). Beneath this piece are two Coney Island iron shooting-gallery targets, a carved owl by outsider artist John Gilly, and a contemporary carved wood and painted watermelon and slice. Mounted on the wall is a silk thread on linen crewel work wrought by Alice Woodwell for her father Gideon Woodwell and dated 1766. (Another crewel work by the same young girl is illustrated on page 88 in Bolton and Coe, American Samplers (1921).) On the wall below it is a watercolor cutwork picture on brown silk backing from 1820 to 1830, from the collections of Betty Sterling, the Garbisch Collection, Barry Cohen, and Dr. and Mrs. Ed Hoffman.
---
| | |
| --- | --- |
| | |
| | |
| | The most prominent object in the hallway is the 76-inch-high fireman's helmet and horn weathervane with cast-iron flame directionals attributed to J.W. Fiske. Discovered on a Maine firehouse by Robert Bishop, it was exhibited in 1993 at the American Folk Art Museum in celebration of the opening of the Bishop wing. The couple commissioned the 1993 carving of the fireman, placed beside the firehouse weathervane, from Kentucky artist James Allen Bloomfield. Further down the hall is a pair of carved wooden boxers from the Barenholtz collection. They were given to toymaker Louis Marx, who, in 1938, used them as prototypes for his "Rock-em, Sock-em Robots" game. Needlework samplers from Mary Balch's school in Providence, Rhode Island, Miss Patten's School in Hartford, Connecticut, Newburyport's Byfield Academy, and a number of schools in Pennsylvania, flank the carved 1987 hanging cabinet by Vermont artist Stephen Huneck (b. 1948). Below it is a painted blanket chest from 1830 by Joel Palmer of Fulton County, Pennsylvania, with initials for Henry Stoner. It descended in the Stoner family until purchased by Olde Hope Antiques and subsequently sold to the collectors. An 1890s horse silhouette weathervane is from Sam Herrup. |
Since stellar pieces are what set a collection apart, the couple has invested time learning about weathervanes by looking, reading books, and by working with experts, such as dealers Julie Lindberg, and Patrick Bell and Ed Hild of Olde Hope Antiques. The couple is particular about buying only the best, avoiding examples that have been regilded, repainted, or compromised in some fashion. Their most recent acquisition is a wonderful cod weathervane from the Daniels collection, purchased from folk art dealers Allan and Penny Katz at the Philadelphia Antiques Show in April.

The couple originally collected twentieth-century art, and still do today. "We were greatly influenced by Sue and George Viener, friends of ours in Pennsylvania, who are major collectors of outsider art," they say. "We began collecting it ourselves with their help." Over the years the couple has also purchased paintings by Milton Avery, Marsden Hartley, Charles Sheeler, John Marin, Arthur Dove, Oscar Bluemner, Childe Hassam, and Maurice Prendergast. Works by these and other artists are kept in the couple's New York apartment where the only piece of folk art is a very large full-bodied steer trade sign purchased from dealers Frank and Barbara Pollack at the Winter Antiques Show. "We have placed the steer right in front of our floor-to-ceiling windows," says the wife. "What pleases me is to see a farm animal in the context of tall buildings and Central Park. I often wonder what people in the building across from us must think. The steer works visually though, because it's really like a piece of modern art."


| | |
| --- | --- |
| | |
| | |
| | Hanging in the living room (to the left in the photograph) is a portrait of a young boy in a blue dress attributed by expert Don Walters to William Matthew Prior (1806-1873), circa 1845. Over the doorway is a carved "E. Pluribus Unum" eagle of 1875, attributed to John Haley Bellamy (1836–1914) of Portsmouth, New Hampshire, and Kittery, Maine. At 45 inches long, it has an unusually wide wingspan for a Bellamy. Ironware is mounted on the wall between the living room and hallway: a cast-iron barnyard scene from Pennsylvania hangs above a double rooster shooting target and a shoemaker's trade sign. A Rhode Island continuous-arm Windsor in the hallway is situated under a monumental Jack Savitsky (1910–1991) painting, Reading Rail Road Miners' Train, framed by early- 19th-century architectural iron hinges from dealer Rick Jorgensen. Mid- to late-19th-century redware plates from Olde Hope Antiques surmount the painting and hinges. |
Their interest in Americana began when a dealer friend introduced the couple to several board members of the American Folk Art Museum who were deaccessioning parts of their personal collections. This coincided with visits to antiques shows in Pennsylvania, where they met Pat Bell and Ed Hild from Olde Hope Antiques, Fred Giampietro, Thurston Nichols, and other dealers with whom they have since forged trusted relationships. When they began to seriously pursue Americana, they extended their network to include New Hampshire auctioneer Ron Bourgeault and Bill Stahl of Sotheby's, among others.


"The enjoyment we find in collecting Americana is certainly rooted in the decorative aspect, but equally so in the history and craftsmanship of the objects," says the wife. "The more we learn, the more there is to discover." She adds, "My particular interest is needlework, and I have been looking for years for a specific example from New Hampshire. The process of locating pieces is what makes collecting so exciting. The bonds and friendships formed are equally important."

The combination of period objects in their waterfront home with the work of contemporary and outsider artists is a continual source of pleasure for the couple, particularly when their grandchildren come to visit or when guests come by. "The material makes people smile," says the wife, "and it makes us smile. We are blessed by being able to live with such aesthetically pleasing and interesting pieces. Being able to share in the pursuit as a couple makes the experience all that much more enjoyable." •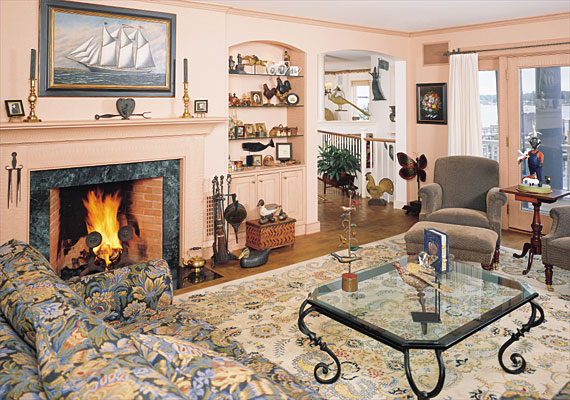 French doors open onto a deck from the living room. In front of the door a Connecticut candlestand with an elaborate base from Israel Sack, Inc. is juxtaposed with a whimsical contemporary carving by Brian McNutt. A 19th-century metal fireplace screen from North Carolina, in the form of a butterfly, sits beneath a rare floral painting of 1882 by almshouse artist John Rasmussen (1828–1895). The built-in cabinet houses an array of items including several portraits by Rufus Porter (1792–1884); transfer jugs and children's cups; Lehn ware; and a Reber rooster. A Pennsylvania miniature blanket chest supports a 1940 pintail drake by George Barto; a 1950 carved mallard by Robert Leibensperger is on the floor. The ship John J. Hanson, painted by S.F.M. Badger (1873–1919), circa 1885, is displayed over the mantel, which supports an 1880 cast-iron heart-shaped rope maker. A rare "Schtockschnitzler" Simmons (1885–1910). Pennsylvania bird tree with nine birds is placed on the glass table. Also on the table is a 19th-century iron gate weight in the form of a dove. The "Cinderella Whistle Book" is by contemporary carver Constance Roberts of California.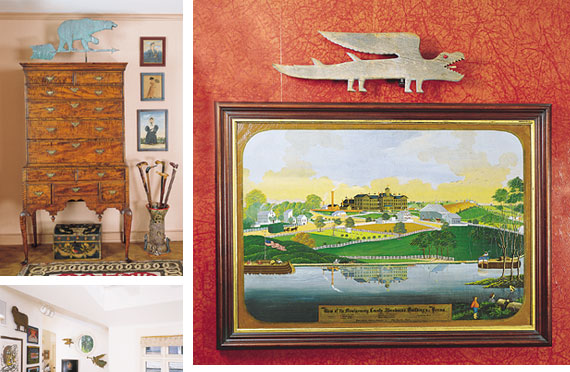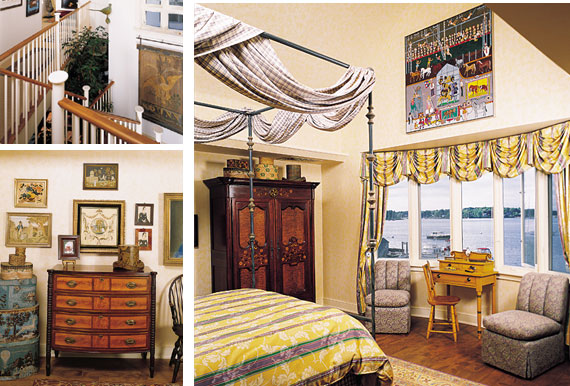 Clockwise from upper left: This Newburyport, Massachusetts, Queen Anne tiger maple high chest, ca. 1740–1760, from G.K.S. Bush is one of the few pieces of American furniture in the collection. The 1840 dome-top box with tole-type painted decoration is from the Barbara Johnson collection. Surmounting the high chest is a weathervane that was custom-made for the husband, an alumnus of Bowdoin College whose mascot is the polar bear. To the right are three watercolor paintings by Jacob Maentel (1763–1863) of Pennsylvania: a portrait of George Phillip Etchberger (purchased from David Wheatcroft); Woman with Fan (previously in several important collections including the Garbisch collection, Hirschl & Adler Galleries, and eventually to the Hoffman collection before being sold by Northeast Auctions to the couple); and Lady Holding a Book (purchased from Christie's Scott sale in Pennsylvania). The pottery umbrella stand from Kentucky holds assorted folk art canes.

A View of Montgomery County Almshouse (in Pennsylvania) by Charles Hoffman (1821– 1882) hangs in the couple's office. It was purchased from dealer Fred Giampietro after the couple saw a photograph of the painting. "I asked if it was as good in reality as it appeared in the image," says the husband. "Fred said it was, so I purchased it on the spot because it was such an important and visually striking painting." The couple's first weathervane is placed above the painting.

Memory of the Circus, a seminal oil on canvas by Albina Felski (1916–1996) hangs above the window in the master bedroom, which has a striking view of the water. The early 19th-century dressing table with original yellow paint and a fancy chair with grained seat are from Maine. One of the brushes seen on the dressing table is from Sotheby's Bert and Nina Little sale.

Alternating panels of flame birch outlined by mahogany crossbanding, as present in this chest, are the hallmarks of Federal furniture from New Hampshire. The 19th-century wallpaper-covered bandboxes are just a sampling of what the couple own. The elaborate hat box on top of the chest is from the Miriam and Arthur Spector collection. Also on the chest is a miniature watercolor on ivory of a young child, attributed to Mrs. Moses B. Russell (1809–1854), and purchased from Frank and Barbara Pollack. Needlework, a theorem, watercolors (attributed to J. A. Davis (1821–1855)), and a pastel of Abigail West by William M. S. Doyle (1769–1828) are displayed on the wall.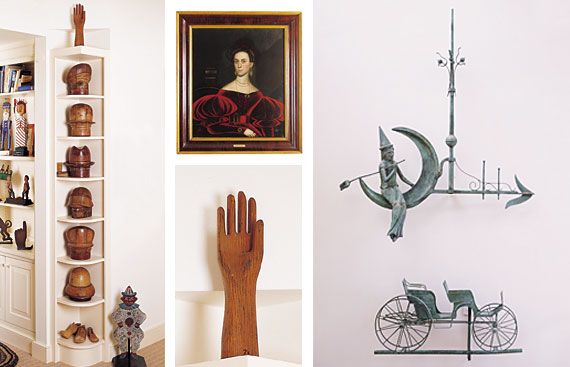 Clockwise from upper left: The corner shelves were added when the couple remodeled the house. Originally intended for books, the shelves proved to be the perfect size for a set of 1905 wooden felt-hat molds from the Empire Hat Company of New York, purchased from Wayne Pratt. An iron shooting gallery clown target is one of many figural targets displayed throughout the house.

Shown here are two of three particularly fine weathervanes that line the upper staircase wall. A witch seated on a crescent moon is one of only two such examples known. In 1981, when Robert Bishop illustrated the other example in his Gallery of American Weathervanes and Whirligigs he was aware of no others. Below it is a surrey weathervane manufactured by A.B. & W.T. Westervelt of New York, circa 1880. Not shown is a highly sought after J. Howard copper and zinc steer weathervane, circa 1860, purchased from Julie Lindberg.

The portrait of Rebecca Delano Brownell, circa 1829, by John S. Blunt (1798– 1835) of New Hampshire, is significant in that it depicts the only known female whale boat captain. Upon the death of her husband, the widow Brownell assumed her spouses duties and became quite successful in her own right. Her proud determination is evident in her expression.


---