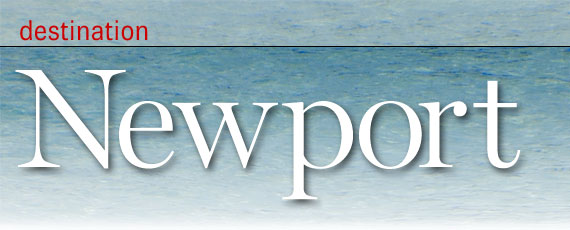 Rich in both natural and cultural resources, Newport, Rhode Island, has long appealed to travelers. Beginning in the mid-nineteenth century, Newport became notable for its grand summer residences built by industrial tycoons. Many of America's great artists painted "tokens of remembrance" for these wealthy patrons, who attracted artists to this summer retreat. This summer-autumn season, Newport is a particular draw for lovers of pre-war American paintings, which will be showcased at two consecutive exhibitions held by William Vareika Fine Arts, A Precious Muse: Art of the Narragansett Bay, Then and Now, an exhibition and sale to benefit Save the Bay, and All Creatures Great and Small, an exhibition and sale to benefit the Potter League for Animals.


| | | |
| --- | --- | --- |
| | | |
| DeWitt Clinton Boutelle (American, 1820-1884), The Chase, 1846. Oil on canvas, 18 x 24 inches. Courtesy of William Vareika Fine Arts, Ltd. | Marble House built between 1888 and 1892 will host events during the Newport Mansions Wine and Food Festival. Photo courtesy of the Newport Preservation Society. | Alexander Wüst (American, 1837-1876), Gathering Seaweed at the Coast, 1865. Oil on canvas, 24 x 36 inches. Courtesy of Roger King Gallery of Fine Art. |
A Precious Muse, running through September 9th, includes choice examples of paintings by William Trost Richards (1833-1905), John La Farge (1835-1910), and J. P. Newell (1832-1898). By emphasizing the artistic importance, past and present, of the Newport and Narragansett Bays, the exhibition raises consciousness about the fragility of the bays' ecosystem while raising funds to support Save the Bay's conservationist mission. All Creatures Great and Small, on view from September 21st to December 2nd features works by American and European animalia artists. Another attraction for painting connoisseurs can be found at Roger King Fine Art. With a select group of new acquisitions, the gallery explores nineteenth-century landscape painting by juxtaposing works by European artists with those of American painters.


| | |
| --- | --- |
| | |
| Yves St. Laurent white and rhinestone quilted dress from the 1960s. Photograph by Richard Walker. Courtesy of the Newport Restoration Foundation. On display at Rough Point's exhibit The Look! Doris Duke's Day & Evening Wear. | High chest of drawers, attributed to Benjamin Baker. From the Doris Duke Collection of 18th-century Newport Furniture on display at the Whitehorne House. Courtesy of the Newport Restoration Foundation. |
In Newport, antiques and art go hand in hand with philanthropy. The Newport Art Museum's annual art-making and fundraising event "Wet Paint," will conclude with a two-day auction on August 17th and 18th. This is an opportunity to purchase contemporary works inspired by the Newport area's unique landscape and to support the museum's education and outreach programs. The Newport Antiques Show, to benefit the Newport Historical Society and the Boys and Girls Clubs of Newport County, sponsored by William Vareika Fine Arts and Sotheby's, will bring together over forty of the finest dealers from across the United States. Noted antiques dealer Diana Bittel manages this year's show, which begins with a gala preview reception on August 10th and runs through the 12th.


---




All listings in Newport, RI, unless otherwise noted.


Upcoming Events
The Newport Antiques Show
Date: August 11

and

12, 2007;
preview gala Friday, August 10
Location: St. George's School,
Purgatory Road, Middletown, RI
Call 401.846.2669 or visit
www.newportantiquesshow.com

Newport Art Museum's "Wet Paint"
Date: August 17 and 18, 2007
Location: Newport Art Museum,
76 Bellevue Avenue
Call 401.848.8200 or visit
www.newportartmuseum.com
— Live benefit auction featuring works
of local artists of local scenes.

Newport Mansions Wine
and Food Festival
Date: September 27-29, 2007
Various locations
Call 401.847.1000 ex.140 or visit
www.newportmansions.org


Museums / Galleries
Museum of Newport History
127 Thames Street
Call 401.841.8770 or visit
www.newporthistorical.org
— Featuring a new exhibition Form,
Function and Finery: Silver from
300 Years of Newport History.

Newport Art Museum
76 Bellevue Avenue
Call 401.848.8200 or visit
www.newportartmuseum.com
— Command of the Sea: Highlights from the U.S. Naval Academy Museum, U.S. Naval Art Collection and the U.S. Naval War College Museum. Through August 12, 2007;
— The Collection of Elizabeth Brooke Blake. Through October 7, 2007.

Prescott Farm
2009 West Main Road, Middletown, RI;
May through October, Monday-Friday
Call 401.849.7300 ex. 14 or visit
www.newportrestoration.com
— Early New England 40-acre farm, with
outbuildings and pond; walking trails.



Preservation Society of Newport
County: Newport Mansions
424 Belleview Avenue
Call 401.847.1000 or visit
www.newportmansions.org

Redwood Library & Athenaeum
50 Bellevue Avenue
Call 401.847.0292 or visit
www.redwoodlibrary.org
— Natural Attractions: 19th-Century Views
of Newport from Redwood Library's Webster Collection. Through December 2007.

Rough Point: The Newport
Home of Doris Duke
680 Bellevue Avenue
To book a tour, call 401.849.7300 ex. 10
or visit www.newportrestoration.com
— The Look! Doris Duke's Day & Evening Wear. Through November 10, 2007.

Whitehorne House Museum:
The Doris Duke Collection of
18th-Century Newport Furniture
416 Thames Street
Call 401.847.2448 or visit
www.newportrestoration.com


Recent Publication
Newport: A Lively
Experiment 1639-1969
by Rockwell Stensrud
Redwood Library and Athenaeum (2006)
Hardcover; 544 pages; $49.95; call 401.847.0292; visit www.redwoodlibrary.org.
— This narrative history of Newport relays
the unique factors that made this city one
of the most dominant in the early colonial
era and continue to make it historically important today.


Art and Antiques Galleries
Roger King Fine Art
21 Bowen's Wharf
Tel. 401.847.4359
www.rkingfinearts.com

William Vareika Fine Arts, Ltd.
212 Bellevue Avenue
Tel. 401.849.6149
www.vareikafinearts.com



---





Download the Complete Article in PDF Format




Get Adobe Acrobat Reader